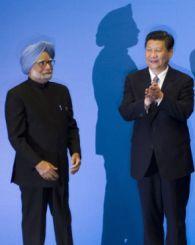 Dr Manmohan Singh would be faced with very few choices in Beijing given the Chinese conceived notions of the world today and India's low ranking in their calculus, says Srikanth Kondapalli.
When Prime Minister Dr Manmohan Singh lands in Beijing on Tuesday after nearly six years, he would have realised how China had changed so radically. Indeed, momentous developments are happening in China today with significant bearing on India.
China had become the 2nd largest economy in 2010 displacing Japan. It had displaced Germany as the largest exporting country. At $8.23 trillion in gross domestic product in 2012, China's economy is poised to reach the United States level in a decade if China maintains over 7 percent growth rate a year, restructures the economy towards domestic consumption and restricts the negative fallout of gini-coefficient and environmental degradation.
The new political leadership which took over the reins of China in November last year had demanded that the international community acknowledge and make amends towards China 'commensurate with its international standing'. The -Li Keqiang leadership also initiated a debate on a new hierarchy of power relations for the short-to-medium term even as they wish to address the global power transition issues with the US in the longer-term perspective. Many Chinese officials and analysts speak about definitive power diffusion in the world today with China in a favourable position.
Coinciding with the US plans to 'rebalance' in the Asia-Pacific region, the then vice president Xi Jinping, during a written interview to the Washington Post in February 2012, suggested that the "vast Pacific Ocean has enough space for two large countries like the United States and China". Later, after becoming President, Xi suggested to President Barack Obama, during their meetings in California in June 2013 that both should usher in a "new model of major country relationship".
Subsequently, China's state councillor and former foreign minister Yang Jiechi in an article on "Innovations in China's diplomatic theory and practice under new conditions" on August 16 identified the US, Russia, and European Union as "major countries" with other countries pigeon-holed as neighbouring or developing countries. Yang did not mention India in this article, even though Premier Li Keqiang visited New Delhi in May.
Later, Wang Yi the foreign minister of China, speaking at the US-based Brookings Institution in September 2013 suggested that Obama-Xi talks in June were of "strategic, constructive and path-breaking in nature". Wang also called for "joint contributions" and "accommodation" from the US and China for "world peace and stability". Wang also skipped India in this speech which focused on US-China arrangements in the Asia-Pacific region.
This "new type" construct in China's foreign policy recently is a strategy to avoid head-on conflict with the US. The US rebalancing is seen as a challenge but China is adjusting itself. The US "pivot" is in response to the quick rise of China and its assertiveness in the east and South China Sea -- often challenging the US primacy in the region.
In the light of the above US response, some in China argue that China should extend "constructive" cooperation to the US but more significantly avoid a confrontation with the dominant power in the international system today.
Wang Yi in fact suggested that in 11 out of 15 cases of rising countries, confrontation proved costly for both the challengers and the dominant power in history. Some Chinese analysts also suggested that US is at the "core" of the "new type" as the US is the most difficult issue to be resolved by China.
China wants to amplify its relations with other countries based on the outcome of the US-China relations. Also, the "new type" is to reformulate China's objectives and positions on different countries. The objective is to have stability and peace in the neighbourhood necessary for China to grow further and possibly subdue the US without the use of force.
In the Chinese lexicon, "major powers" include: "traditional" powers such as the US, the European Union, while France, UK and Indonesia are termed as "regional' powers. China treats itself as an 'emerging' power along with Russia, Brazil and India, although several Chinese think that Russia to re-emerge need decades while the Indian political system could be a drag.
China's analysts suggest different tactics to address all these three categories of powers -- with the traditional powers Beijing intends to work with them for capital, technology and markets even as it would like to deflect a conflict on non-core interests. Regional powers could re-enforce China's reach against the US, while "emerging" powers are useful in terms of their raw materials and markets but also in countering US unilateralism, regime change, interference on ethnic issues, etc.
This Chinese conception of a hierarchy of global order is based on comprehensive national power and indicates to a structured thinking in China recently. This trend in the Chinese thinking is also possibly of a revival of the 'Middle Kingdom' syndrome where China is at the centre of the universe with vassal states paying tribute to Beijing.
While China had accepted the United Nations system since 1971 with independent states as the units, in reality the recent "new-type" of major powers connote to the emerging understanding of the Mandarins. This new construct provides China with weighing diplomatic choices in dealing with any of the countries above.
Dr Manmohan Singh would then be faced with very few choices at Beijing given the above Chinese conceived notions of the world today and India's place in their calculus. He has to factor the repeated phrases coming from the interlocutors in Beijing -- multilateralism, against trade protectionism, climate change proposals, and the like with anemic attention on outstanding bilateral issues.
Srikanth Kondapalli is professor in Chinese studies at Jawaharlal Nehru University, New Delhi.