'The need of the hour is not a divisive, slanging match of accusations and counter-accusations, but a call for sanity,' says Vivek Gumaste.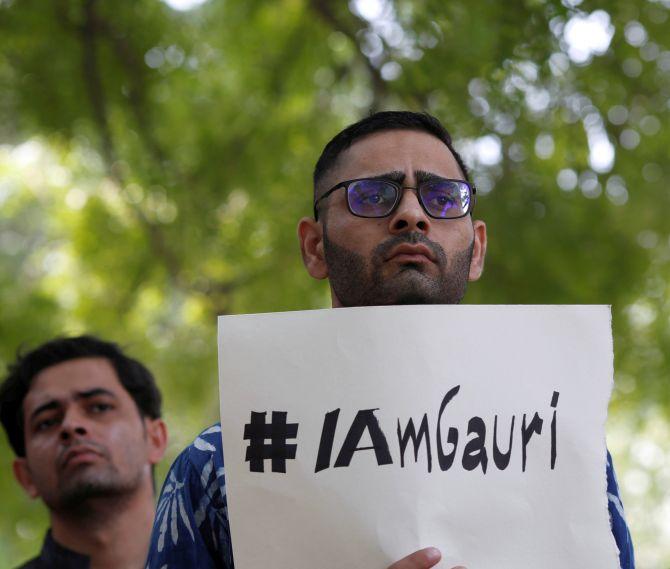 IMAGE: Rallies to protest Gauri Lankesh's murder were staged across the country last week. Photograph: Adnan Abidi/Reuters
There cannot be even an iota of doubt that the mafia-style elimination of veteran journalist Gauri Lankesh, editor of the Kannada weekly that bears her name, on September 5 outside her Rajrajeshwari home in relatively staid Bengaluru is a dastardly and brutal act of cowardice that warrants outright condemnation.
Neither can there be any qualms about the overarching sentiment that this is a significant event in the annals of Indian journalism, a point in time where free speech has violently collided with physical intimidation and raised concerns about its vulnerability.
Accordingly, the shrill public outrage and the contentious nationwide debate that it has engendered appears justifiable.
But this is where we need to pause, review carefully and deconstruct the post-murder narrative that has turned into a jamboree of sorts.
This is essential to demolish the myths and faulty conclusions, make sense of this ghastly murder and take appropriate measures accordingly to fortify the essential tenets of our democracy.
First, some bare facts.
Gauri Lankesh was a controversial bilingual journalist firmly ensconced in the left-liberal culture; an antagonist of Hindutva, a controversial facilitator of Naxalite surrenders and an activist enmeshed in a messy battle between Lingayats and Veershaivas that sought to cast Lingayats as a separate religion distinct from Hinduism.
Needless to say, she had more enemies than one. At the time of writing this, there are no credible clues to the identity of the culprits.
Nevertheless, the opening salvo in this media trial has been fired at the Bharatiya Janata Party and the Rashtriya Swayamsevak Sangh.
Nearly every newspaper and magazine has prefaced its report with the descriptor that Gauri Lankesh was a trenchant Hindutva critic, implying thereby that the RSS or its affiliates is automatically to blame.
Such irresponsible and biased reporting with acutely slanted logic has no place in a mature civilised society and must be frowned upon.
The extraordinary attention that Gauri Lankesh's murder has garnered has more to do with her symmetry of thought with the elite parochial club that reigns supreme in the English language media than with her fearless journalism.
For precisely that reason, the 18 other Indian journalist killed (with motives confirmed) in India over the last decade (as per the Committee to Protect Journalists -- an independent, nonprofit organisation that promotes press freedom worldwide) and who belonged mostly to the vernacular press have barely merited a footnote.
A key fact to emphasise is that 13 of 18 killings occurred under the previous United Progressive Alliance regime, a statistic that unequivocally negates the charge that freedom of speech is particularly in jeopardy under the BJP.
This is a skewed perception being furthered by false propaganda.
What makes this pretentious outrage even more galling is that it has selective moral indignation written all over it; a label that says: My freedom of speech and the lives of my comrades trumps your opinion and, more importantly, the lives of your ideological kin.
Or else, how can you explain the studied silence of these self-proclaimed champions of liberty who have shown no concern, remorse or even acknowledgment of the innumerable RSS volunteers hacked to death in Kerala for professing a different ideology, by Communist goons?
According to police records no less than 10 RSS workers have been killed in Kerala (external link) since February last year..
Such double standards make a mockery of the notion of freedom of speech for all and dilute the institution of democracy; a trait that becomes even more concerning when it emanates from supposedly respected thought leaders of society.
Ramachandra Guha's op-ed grandiosely titled 'Undermining democracy, one writer at a time' (external link) perpetuates the falsity of the current narrative through an imbalanced emotional outburst long on rhetoric but short on facts and logic; an unhinged tirade that is steeped in flawed argumentation, invokes the dubious principle of guilt by association and makes the ridiculously wild and laughable claim that the current political climate is more repressive than the Emergency.
Guha writes: '... Nitin Gadkari has denied that the BJP or its affiliates had anything to do with Gauri Lankesh's murder. How, so soon after the event, can he be so sure?... The political climate is now more poisonous and rancorous than at any time since the Emergency.'
Guha's askance at Gadkari's prompt exoneration of his party is a flawed legal premise, one that violates two fundamental democratic precepts: The decree that a man (or organisation) is innocent until proven guilty, and second, that the burden of proof lies with the accuser and not the accused.
In this case it is the duty of Guha and his kind to substantiate the evidence, not the other way around.
Next, espousing the dictum 'throw enough mud at the wall and some of it will stick', he attempts an alternative strategy: He invokes the dubious proposition of guilt by association by accusing the BJP of enabling a 'climate of hate'.
But guilt by association is a dicey proposition that cuts both ways.
By the same line of reasoning we could in turn say their ideology has contributed to a warped morality that condones the ethnic cleansing of Hindus from Kashmir, emboldens Naxalites to attempt a violent overthrow of our government and justifies terrorist attacks like 26/11 as a vindication for the 2002 Gujarat riots.
In summary, this vituperative national dialogue or monologue raging in the media, initiated, choreographed and sustained by a partisan ideological clique, is a false patois, an ugly language that reeks of selective moral indignation, speculative vindictive accusations and ideological bigotry.
We need to move beyond this crippling meaningless rhetoric and reframe this issue.
The need of the hour is not a divisive, slanging match of accusations and counter-accusations, but a call for sanity, bipartisanship and balance in dialogue to forge a unity of purpose that makes our democracy more robust.
Fortunately, in this din of negativism there have been sparks of hope visible on both sides of the divide.
Union Minister Ravi Shankar Prasad was quick to admonish members of the social media exulting at the demise of Gauri Lankesh . He tweeted: 'I strongly condemn & deplore the messages on social media expressing happiness on the dastardly murder of #Gaurilankesh.'
Barkha Dutt also attempted to inject a sense of rectitude (external link) when she wrote: 'Instead we have reduced grief to a contestation of ideologies, drawing lines in the sand between the Left and the Right and the BJP and the Congress and reducing the memory of Gauri Lankesh to a utilitarian plaything between warring, self-serving camps.'
Shekhar Gupta's sage advice with a hint of much needed reconciliation seemed to say it all, in Death for Disagreement (external link): 'And finally, the lesson for us in the media, and those with liberal claims: freedom of speech and ideas is common to all, irrespective of where we draw the fence. To have any chance of winning in angrily polarised times, our defence of these freedoms has to be unqualified and unequivocal, not selective.'
'Liberalism means engaging with the 'other', listening to them, not dismissing them as stupid or amoral. Then, we might have a chance of bringing the current discourse back from violence and abuse into bounds of civility.'
I wholeheartedly concur. It is this mature response that most mainstream nationalists have been waiting for years; an opportunity to be heard impartially, objectively and without ridicule.
Let us hope this opens up a new chapter of shared, constructive dialogue in India between mainstream nationalists and the saner lobby among the left liberal group so that we can fortify the elements of our democracy.
At the end of the day, what each of us desires is the wellbeing of our people and our nation and justness of our society.
That is a goal which we must never lose sight regardless of which ideological corner that we occupy.
Vivek Gumaste is a US-based academic, political commentator and the author of My India: Musings of a Patriot.