Only he, with his tremendous political capital and personal stature, can pull it off, observes B S Raghavan, the veteran civil servant.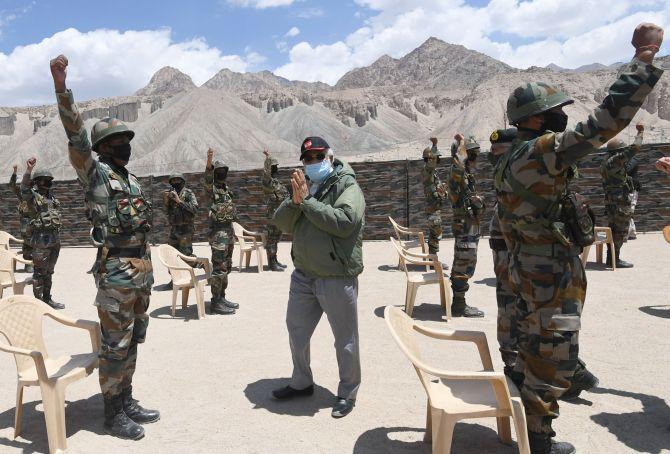 There are no takers for China these days around the world. Its stock has never been lower.
Everything it says and does is suspect.
Its goal is widely assumed to be nothing short of no-holds-barred domination of a world order of its making, by fair means or foul, exploiting its economic, technological and military prowess.
As for India, China has been a thorn on its flesh almost since Independence.
Tragically and ironically, it was from India, more particularly, it was from Jawaharlal Nehru, with his high moral stature as the foremost disciple of Mahatma Gandhi, that it got its respectability and acceptance.
Nehru took Zhou Enlai by the arm at Bandung Conference and introduced him to the leaders assembled there.
Nehru and Zhou Enlai were the original authors of the highly evocative Panchsheel as the memorable mantra for India-China relations.
In Nehru's time, India's goodwill for China knew no bounds.
India, adopting an ostrich-like policy, acquiesced in, and helped sanctify, China's occupation of Tibet.
Year after year, even after suffering in 1962 the betrayal of years of trust, India fought for the People's Republic of China's installation as a member of the United Nations and as a permanent member of the UN security council, replacing Chiang Kai-shek's Republic of China.
Nehru, in the true Gandhian mould, put his trust in Zhou's repeated explanations of the depiction in Chinese maps of territories in India's possession that they were mere matters of misunderstanding which will be corrected in due course, until, to his shock, he was confronted with the ugly reality of Zhou's aggressive impudence, asserting the correctness of Chinese maps.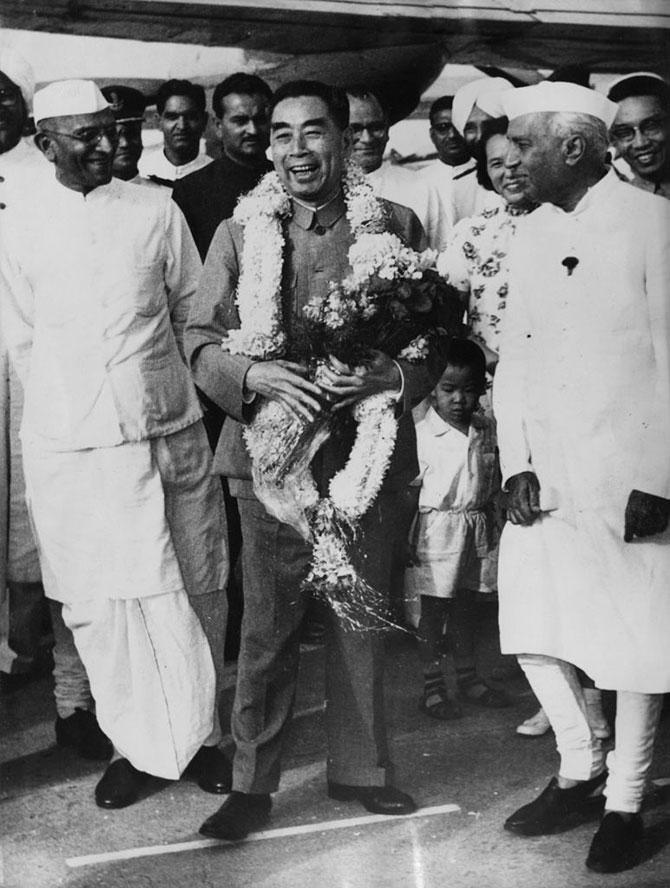 China has kept the wound it inflicted on India in 1962 festering by border incursions ever since.
In resorting to these incursions and in dealing with the situation created by them, China has been brazenly violating the terms of solemn Agreements entered into with India.
For instance, the Agreement of 1993 on the Maintenance of Peace and Tranquillity along the Line of Actual Control in the India-China Border Areas specifically lays down that 'No activities of either side shall overstep the line of actual control.'
'In case personnel of one side cross the Line of Actual Control, upon being cautioned by the other side, they shall immediately pull back to their own side of the Line of Actual Control./'
'When necessary, the two sides shall jointly check and determine the segments of the Line of Actual Control where they have different views as to its alignment.'
This has been further elaborated in the 1996 Agreement between the two countries on Confidence-Building Measures in the Military Field Along the Line of Actual Control in the India-China Border Areas to the effect that 'If the border personnel of the two sides come in a face-to-face situation due to differences on the alignment of the Line of Actual Control or any other reason, they shall exercise self-restraint and take all necessary steps to avoid an escalation of the situation.'
'Both sides shall also enter into immediate consultations through diplomatic and/or other available channels to review the situation and prevent any escalation of tension.'
In the 2013 Agreement on Border Defence Cooperation the two sides agreed that 'they shall not follow or tail patrols of the other side in areas where there is no common understanding of the Line of Actual Control in the India-China border areas.'
A close and clinical analysis of China's incursions will bear out that they have been in utter disregard of these crucial binding provisions.
In the latest ones in the Galwan Valley and Pangong Tso Lake areas in eastern Ladakh, Chinese troops created a new barbaric normal by attacking Indian security forces with sticks, clubs with barbed wires and stones and killing 20 of them.
The natural result of all this is that any talk of any kind of understanding with China on any matter has become taboo, indeed traitorous, in the eyes of the mass of Indians.
Unfortunately, though, closing one's eyes to the existence of China cannot make it go away.
This huge landmass, however off-putting its behaviour, is looming large as India's northern neighbour and, as Atal Bihari Vajpayee said, one cannot choose what kind of neighbour one should have, nor can one wish it away.
Therefore, ineluctably, India, drawing on all its glorious civilisational and cultural heritage, has to summon all its inner reserves of maturity and discernment, to find ways of coming to terms with it.
Any other alternative whether it is one of grappling with incursions till eternity like mice perpetually on a treadmill or a totally devastating war is only to be mentioned to be dismissed.
In an article published on Rediff.com on June 22, 2020, Ambassador M K Bhadrakumar wrote:'Only Modi is capable of taking the bull by the horns.
'It is unlikely that Indian politics will witness the emergence of such a towering figure in the foreseeable future who can take difficult decisions and, more importantly, get them accepted by the nation.
'To my mind, Modi's finest political legacy ought to be a border settlement with Beijing, which will go a long way to facilitate India's transformation as a middle-income country in a generation or two -- the point where China has reached today.'
I agree with him in toto. Narendra Modi alone can boldly grasp the nettle
Here is a suggested three-step process.
The first is to decide on a specific basis for settlement, without getting bogged down by all the acrimonious exchanges of the past and the conditioned reflexes of the present, and keeping clear of the discourses and diatribes of both Sinophiles and Sinophobes.
From a deep and intense study of all aspects of the issue, a viable basis, in a nutshell, would seem to be the McMahon Line in the eastern sector, and the Macartney-Macdonald Line in the Middle and Western Sectors.
A point in favour of this latter Line dating back to 1899 is that it follows the alignment suggested by the Chinese themselves.
Also, this Line is in tune with the natural watershed principle governing such alignment.
The Macartney-MacDonald Line in Eastern Ladakh runs along the Laktsang Range which is an acceptable natural boundary as it roughly divides that region into almost equal halves.
Acceptance of this Line would mean the Northern part going to China and the Southern part (Linzi Thang Plains) coming to India.
Actually, even after Independence, Indian forces have been patrolling only these southern portions.
The Tibetan caravans had used the northern portion for centuries to reach Kashgar and other places beyond.
The Chinese-built G219 also goes through that part.
A Joint Boundary Commission could be set up to go into slight adjustments needed here and there based on geographical features, ground-surveys etc.
The second step is to build up a political consensus for the initiative by open-minded, in-depth discussions in all-party meetings convened by the prime minister, keeping the nation's interests paramount and rising above party considerations.
If Xi responds favourably, the next step is the preparation of public opinion for the proposed move.
It may be necessary for the prime minister to explain through his Mann Ki Baat or even a couple of addresses to the nation the desirability of solving a long-existing problem once and for all, instead of repeatedly getting into skirmishes and tensions.
It is Modi's historic, now-or-never opportunity.
It is, indeed, his once-in-a-lifetime chance.
Only he, with his tremendous political capital and personal stature, can pull it off.
Thereby, India will be rid of a constant source of friction and conflict and able to concentrate on realising A P J Abdul Kalam's dream of India becoming number one in the world.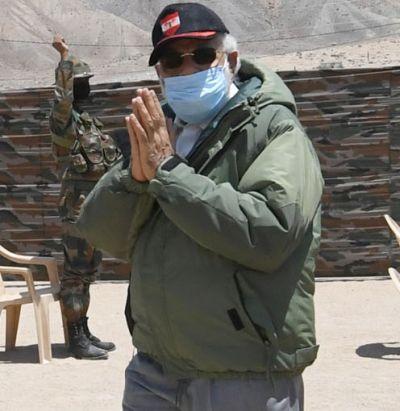 ---
B S Raghavan is a retired member of the Indian Administrative Service. He was formerly a US Congressional Fellow, Policy Adviser to UN (FAO) and chancellor, Jharkhand ICFAI University.
---
Feature Production: Aslam Hunani/Rediff.com