'What if Kim is alive as the latest reappearance suggests, but unable to rule?
'Will his sister be installed as the leader to continue with the Kims's hereditary dynasty that began with the present ruler's grandfather?' asks Dr Rajaram Panda.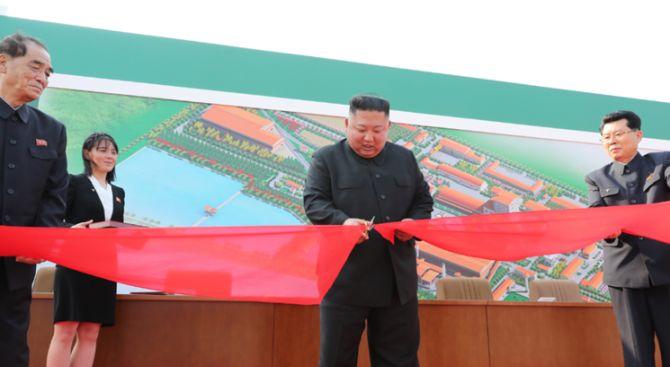 After North Korea's leader Kim Jong Un's prolonged absence for 21 days from public view triggered global rumours that he may be seriously ill, incapacitated or already dead, reports by State media on May 2 that Kim attended a Sunchon fertiliser ribbon cutting event in South Pyongan province, 50 kilometres north of Pyongyang, took the world by surprise.
While Kim's absence from public view sparked a storm of international media speculation about his health, intelligence agencies in South Korea, China, Russia, Taiwan and the US believed that Kim was alive and still in power.
Others felt Kim was unwell and/or was isolating himself to prevent catching COVID-19.
There are still many more rumours and most are backed by circumstantial evidence or just speculation given the culture of secrecy of the North Korean State.
Since independent journalists were not given access to cover the Sunchon event, the information and content of the image provided cannot be independently verified.
Thus, speculation on Kim's health continues.
As if to prove a point, North Korean State media released a photograph of Kim cutting the ribbon at the fertiliser factory on May 2 and conducting an inspection on May 1 to mark International Labour Day.
In the photograph, Kim was seen accompanied by his sister Kim Yo Jong as well as Pak Pong Ju, Kim Dok Hun, Pak Thae Song and Jo Yong Won, all said to be close to Kim.
Another startling revelation, if true, was that Kim -- who is said to have resurrected one of the regime's darkest traditions, the Pleasure Squad or Kippumjo of sex entertainers first created by his grandfather Kim Il Sung -- was sheltering from the coronavirus pandemic in a secure ultra-protected luxury compound where the Pleasure Squad provided entertainment for high-ranking officials.
The 2,000-strong harem is said to sing and dance for the nation's elite, but also take part in bizarre sexual games and orgies.
A third strand of the Pleasure Squad, the Manjokjo, is explicitly tasked with providing sexual services.
After Kim Il Sung's death, his son and successor Kim Jong Il maintained the Pleasure Squad.
Other members of the Kim dynasty were said to exploit the women too.
Kenji Fujimoto, a sushi chef who worked for the Kims between 1989 and 2001, claimed that Kim Jong Il's brother-in-law, Jang Song Thaek, would 'audition' women for the dictator during his reign.
Jang used to recruit women for Kim Jong Il and sleep with them himself.
Jang was ultimately executed by firing squad on his nephew Kim Jong Un's orders because he was a perceived a threat to the despot's authority.
Kim Jong Un is known to live a life of lavish indulgence, creating an entirely new pleasure squad of his own in 2015.
The Pleasure Squad that was started in the 1970s was disbanded when Kim Jong Il died in 2011 and his son came to power.
Kim Jong Un did not trust anyone in his father's administration including the women of the Pleasure Squad.
The women who entertained his father knew many secrets and have been ordered not to reveal any information before being sent back to their hometowns.
Members of the new Pleasure Squad received training at the Koryo hotel in Pyongyang.
The tyrant was said to have 'developed a taste' for the 'pliable maidens' while being treated for gout in 2014.
Some analysts say that was where Kim was headed to recuperate from his illness this time too.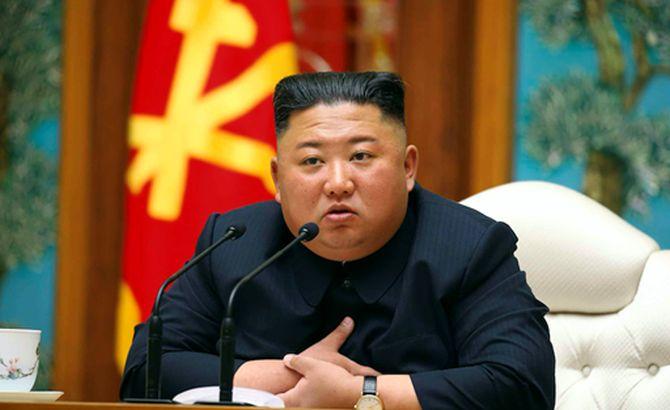 Kim's absence for three weeks from the public eye led analysts to predict that his sister Kim Yo Jong seen to have been groomed to be his successor if her elder brother is unable to rule.
How did the speculation start in the first place?
The appearance at the fertiliser factory on May 2 was -- if true -- Kim's first public appearance since April 11 when he presided over a ruling Workers Party meeting to discuss the coronavirus and reappoint his sister as an alternate member of the powerful decision-making Politburo of the party's Central Committee.
Kim Yo Jong's confirmation of a substantial role in the government gave reason to analysts and North Korea watchers to connect that the decision to empower her was a planned move in view of Kim Jong Un's deteriorating health.
Speculation about Kim's health further grew after he missed the April 15 birthday celebration for his late grandfather Kim Il Sung, the country's most important holiday, for the first time since taking power in 2011.
This led to the troubling question about the future of the secretive, nuclear-armed State.
The world in general and the US in particular could not ignore North Korea's arsenal since Kim had not stopped threatening hitting the US mainland after diplomacy between Kim and US President Donald J Trump stalled.
The worry and fear about possible regime instability seemed to be real.
It was reasonable for the US and South Korea to worry about possible chaos in North Korea if Kim was sidelined owing to health reasons, incapacitated or even dead.
They started to draw worst case scenarios, and with valid grounds, that if chaos was unleashed, refugees from North Korea would start flooding South Korea and China.
The possibility of military hardliners letting loose nuclear weapons was another concern.
Leif-Eric Easley, a professor at Ewha University in Seoul, observed: 'The world is largely unprepared for instability in North Korea. Washington, Seoul and Tokyo need tighter coordination on contingency plans while international organizations need more resources and less controversy over the role of China.'
Shamshad Ahmed Khan, an Indian scholar teaching international relations at a university in Dubai, has a different take.
According to Khan, it could have been a ploy on Kim Jong Un's part to deliberately remain out of sight to gauge how world powers behave/intervene in his absence.
Had he indeed died, Khan points out that Kim Yo Jong could have been at the helm of affairs immediately to avoid instability.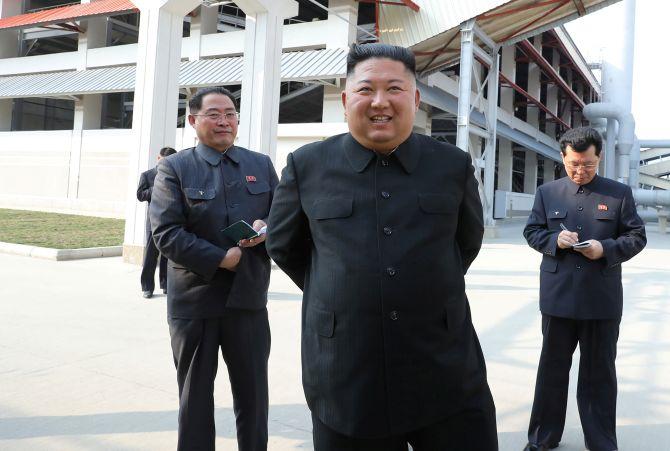 How did South Korea react to this sudden development?
The Blue House -- the Sputh Korean president's home -- in Seoul said it did not detect any unusual signs in North Korea or any emergency reaction by the ruling party, military and cabinet and therefore the rumours were false.
President Moon Jae-in was convinced that Kim Jong Un was still in charge and managing State affairs from an unspecified location outside of Pyongyang.
South Korea's Unification Ministry, which deals with inter-Korean affairs, while confirming Kim's visit to the fertiliser factory, stated it was part of his efforts to emphasise economic development.
It was dismayed that the 'groundless' rumours caused 'unnecessary confusion and cost' for South Korea's society and financial markets.
While downplaying speculation about Kim's health, it also felt Kim was in poor health following surgery.
While Trump declined to comment on Kim's reappearance, North Korean State media sent greetings to the leaders of Syria, Cuba and South Africa, expressing gratitude to workers building tourist facilities in the coastal town of Wonsan where it was speculated Kim was staying or recuperating from surgery.
Speculation about Kim's health was rife because he vanished from public view for nearly six weeks in 2014 and then reappeared with a cane.
This time, the ground for suspicion about his health was strong as he is overweight, smokes and drinks, and has a family history of heart issues.
What if Kim is alive as the latest reappearance suggests, but unable to rule? Will his sister be installed as the leader to continue with the Kims's hereditary dynasty that began with the present ruler's grandfather?
The other related question that arises is will the core members of North Korea's elite, mostly men in their 60s and 70s, accept a young and untested lady leader who lacks military credentials?
Still another scenario is that a collective leadership will take charge with Kim Yo Jong at the helm till Kim's son, who is believed to be 10 years old, comes of age to take over.
The worst case scenario could be a violent power struggle that could be pregnant with unintended consequences as the future of North Korea's nuclear arsenal remains unknown.
The consequences could be devastating for the region and the world even if Kim is alive but unable to rule because of health conditions.
---
Dr Rajaram Panda, former Senior Fellow at IDSA, was until recently ICCR India Chair at Reitaku University, Japan. He is currently Lok Sabha Research Fellow, Parliament of India, and Member of Governing Council, Indian Council of World Affairs, New Delhi.