'...a dazzling flash, and then, fizzle,' argues Shekhar Gupta.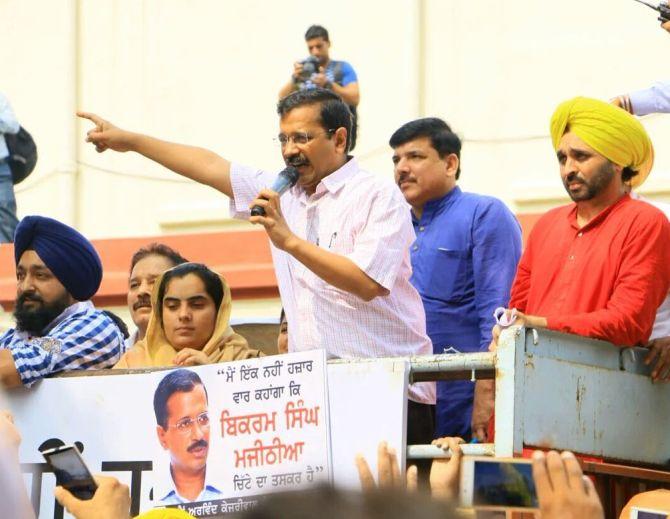 That defeat is an orphan is a very old truism. I might have had that metaphor on my mind because I am reading British journalist Myra MacDonald's book by the same name, on Pakistan's recent history.
But equally, the thought would have occurred to me also, reflecting on the setbacks Arvind Kejriwal's Aam Aadmi Party has suffered in Punjab and Goa.
While in Goa their flight had obviously stalled, in Punjab even its rivals and critics (including this columnist) expected it to do better.
First, or second, I had said, but honestly, I saw it at least a strong second, upwards of 40 seats.
It did finish second, which is creditable for a young, 'outside' party in a state almost as politically polarised as Kerala, but its tally of just 20 makes it look like a humiliation.
Of the many tough things said about AAP after these elections is that the way things are, Mr Kejriwal could end up being the Vinod Kambli of Indian cricket, a dazzling flash, and then, fizzle.
Defeat, after all, is an orphan.
Let's focus first on what AAP did right.
It focused on the right issue: Punjab's decline, joblessness, boredom and just the mass loss of self-esteem by a very proud, even vain population.
Second, it laid the blame at the door of those widely seen to be guilty, the Shiromani Akali Dal. Or more specifically, the Badals, who had reduced a fairly democratic 'Panthic' (religious, scriptural) party to a feudal dugout.
AAP made an early start, employed social media masterfully, recruited talented young stars of Punjabi popular culture and found impressive traction.
It also built an innovative alliance of the angry young from both extremes of the ideological spectrum, Left and Right.
The Dalits (Punjab has India's highest Dalit voter percentage, 32), many of whom traditionally voted for the Congress as a counter to the Jat Sikhs they see as bullies, found AAP an interesting proposition.
Note that the same Punjabi Dalits had never embraced the Bahujan Samaj Party, although its founder Kanshi Ram was from the state.
Mr Kejriwal was finding large crowds, the party had won the equivalent of 33 assembly seats in the last Lok Sabha elections and seemed on a roll.
AAP is led by a very well-educated, smart set of young people. Most of them have been activists or, more specifically, democracy activists, and work on the Right To Information being Mr Kejriwal's imprimatur.
Their politics is built around a three letter formula: CRY (corruption, revenge and youth).
It worked spectacularly in Delhi, following the Lok Sabha election when they broke Narendra Modi's mighty momentum and then made an impressive buzz in Punjab.
AAP's smart think-tank would reflect on why they still lost and find many reasons more plausible than 'fixed' electronic voting machines. I would limit myself to just one.
It is now evident that the party erred gravely in taking a purely communal view of Punjab. I am choosing words carefully.
The dominant motifs of Punjab are the turban, bhangra, balle-balle and the Golden Temple.
But it isn't just a Sikh state. Forty per cent of it is Hindu, and they are as Punjabi as the Sikhs, following the same culture, praying with equal devotion at the same gurdwaras.
Similarly, in so many ways, the Sikhs are as Hindu as Hindus.
The Punjabis are outgoing people, happy to embrace outsiders, but not at all complexed about their identity.
The last thing that would impress them is outsiders strutting about in ill-fitting turbans, pretending to be Sikh, particularly if they are seeking votes from you. It will both amuse and bemuse them.
The Punjabi reaction is more likely to be: I know you are an outsider, yet I like you. So why try to impress me in fancy dress?
Once AAP decided that all it needed in Punjab was to win the Sikh vote, its political appeal was structured accordingly.
The next big error followed.
It was to revive the grievances the Sikh community nurses since the violent eighties: The 'desecration' of their holiest shrines in Operation Bluestar and the massacres in Delhi after Indira Gandhi's assassination.
The party imported Delhi's most eminent activist-lawyer pursuing justice for the 1984 killings, H S Phoolka. He was hardly known in Punjab but became the party's local face.
The Bluestar alienation and vengeance were sought to be revived by striking alliances with the rabble that survived the Khalistan campaign but still had nostalgia for those heady times.
Further support, finance and manpower came from NRI Sikhs, particularly from Canada where the Khalistan fantasy is alive in rich gurdwaras.
All of these were expected to round up the Sikh vote and deliver it to AAP.
Effectively, this would mean sucking out all Akali vote with the rest brought in by the ideological Left in its old stronghold of dry, rebellious Malwa, and the battle was sealed.
Just as was in Delhi, where most of the Congress vote moved to AAP, giving it a landslide.
I had first noted AAP's dangerous liaison with dormant radicals during the Lok Sabha campaign of 2014 when many names from a near forgotten past were popping up.
Sucha Singh Chhotepur, then fielded against Vinod Khanna in Gurdaspur, is a former radical.
Former diplomat Harindar Singh Khalsa, who had resigned when posted in Norway and sought asylum in protest against Bluestar, was the candidate in Fatehgarh Sahib.
I can vouch for sure that he is now as much a patriot as any other Indian, but there was a dark history to cash in on.
I also found in Amritsar former Khalistani Mohkam Singh, my old acquaintance in Jarnail Singh Bhindranwale's inner-most circle as a 24 year old, and now the convenor of a loose association of radicals.
He had pledged support to AAP and spoke freely, posing under a framed portrait of Bhindranwale. The number of his quite new car was PB-2-A-1984.
Forgotten the year of Bluestar and Bhindranwale's death? His followers haven't.
Now the Canadian 'invasion' completed the picture for the frightened Hindus. They voted for the Congress, the party more likely to defeat AAP.
In 2014, Yogendra Yadav was with AAP, and argued with me that this was a way of bringing former radicals into the political mainstream, of giving a non-violent, democratic outlet to old grievances.
But Punjabis, Hindus and Sikh, who suffered in that 1979 to 1994 phase, had no patience for it.
Word did go around that what the Khalistanis (especially Canadians) were after wasn't really the government in Punjab.
They were just using outsider, well-meaning but gullible AAP, to destroy the Akalis and subsequently wrest control of the Shiromani Gurdwara Parbandhak Committee from them.
Once they got hold of the gurdwaras, they would resume the tragic movie we had seen earlier. Nobody in Punjab, especially the Sikhs, has stomach for that.
It has taken the state decades to recover and move on, if not forget and forgive.
The Congress has been elected thrice, radical Akali splinters have been losing deposits for 25 years and nobody wishes to go that far back.
AAP would, therefore, have done much better if it promised a better future than keep harping on the past.
That is my hypothesis, of course in full hindsight.