'To take his fight forward -- for "azaadi within the Indian system, not outside India" -- he will have to enter the very arena that has both his tormentors and apparent benefactors.'

'The former are easy to identify, but it is those who come bearing gifts that he has to be wary of,' says Saisuresh Sivaswamy.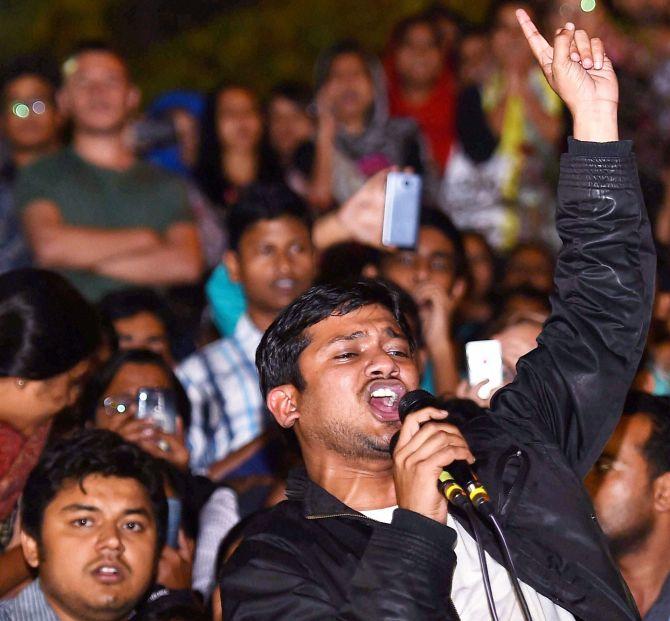 The night of March 3 has been a night of bonfires, in the Jawaharlal Nehru University campus, in assorted newsrooms, among the vocal percentage of Netizens (which, in any case, is about 1 per cent of the total user base). Also presumably the 69 per cent that did not vote for the present government but which believes -- in the face of Constitutional niceties -- that, given its numerical strength, it has more claim to governance despite not being in government.
And so everyone has found a new star. Kanhaiya Kumar, the falsely accused, wrongly beaten and thrashed, sadly jailed student union leader of Jawaharlal Nehru University.
Judging by the nearly one-hour extempore speech he delivered last night in the JNU campus soon after his release from custody, it is evident that the country's best orator has finally found his match in a 29 year old.
But the hopes of the 69 per cent, that Prime Minister Narendra Modi may have met his match not just oratorically but otherwise, too, are not only premature but also terribly, terribly misplaced.
It is one thing to capture the public imagination for a while, it is one thing to deliver captivating speeches -- and, yes, Kanhaiya Kumar is very good at the latter, having already done the former as the underdog in the fight against an unfair system -- but it is another thing altogether to ride that wave into a zone from where one is empowered, enabled to make the change that one has so ardently argued for, even suffered for.
Sure, India is turning into a start-up economy, but its politics is a long, long way from encouraging outliers and lone-wolf disruptors. The truth is, start-up disruptors of the Indian system inevitably end up as upstarts.
It is so wonderful to have a young demographic, but alas, that also means the absence of a long-term memory. As someone slowly creeping into the eminence grise category, I would like to caution the Kanhaiya coronators that he is not the first that the Indian public has set great store by, nor is he going to be the last.
And, it is educative to look at how successful the others before him have been.
One need not delve too far into the past to pluck out names. Just a few years ago there was an old man, a Gandhian from Maharashtra who sat on a dharna in New Delhi's Jantar Mantar and who, for a while, looked like bringing down the elected government of the day with his peaceful satyagraha.
Today, does anyone even ask after Anna Hazare, or what he is up to in his village, Ralegan Siddhi?
One of his lieutenants, a highly educated, aware man realised the truth of the Indian system, that disruptors can only disrupt, they cannot do anything. To make any meaningful, worthwhile change, one has to enter the Augean Stables.
Which is what Arvind Kejriwal did, when he abandoned Anna, started a political party, and rode to power in an unprecedented election in Delhi. Because he realised that all the support for their satyagraha, the huge public marches, the prime time TV focus, all of it amounted to zilch if they didn't enter the Chakravyuh of power, of electoral politics.
Entering it is the easy part, but the system is designed in such a way that all those who enter politics with the rallying cry of change, poriborton or call it what you will, find that the labyrinthine corridors of power are not welcoming of any alteration in building plans.
In effect, one gets co-opted into the very same system that one had set out to challenge, cleanse, change.
How successful has Arvind Kejriwal been in the one year in power? Where is the Lokpal, on the strength of which demand he roused the public's imagination?
Or, to rewind a little further, listen to what a newly-elected, genuinely young prime minister had said at the Congress' centenary celebrations in Mumbai in December 1985, and compare it to how Rajiv Gandhi ultimately ended up four years later.
In the first flush of such huge public adulation, it is easy to get carried away. It is a heady feeling, the sense of power and popularity. There is a reason why so many of our actors resort to psychotropic substances, how else can one bridge the chasm between illusion and reality?
For the political class, it is power that gives this high. Without it, the numbers cheering for you mean little. With it, the numbers may wane but your high continues.
Kanhaiya Kumar is at that sweet spot that so many others have found themselves earlier. He is the latest star of the anti-establishment brigade. There is tremendous expectations of him among those flocking to him. From the JNUSU, his net has been cast enormously wide, his footprint wider.
As I write this, there must be more than one political party raring to enrol him. As the election fever rises in the summer, he will find himself a star campaigner for all those taking on the ruling alliance.
His prosecutors have no doubt turned a student union leader into a national figure -- howsoever briefly -- with their miscalculations and misdeeds, and have done Kanhaiya a huge favour.
But he will soon realise that it is a double-edged sword that he has been handed.
To take his fight forward -- for "azaadi within the Indian system, not outside India" -- he will have to enter the very arena that has both his tormentors and apparent benefactors. The former are easy to identify, but it is those who come bearing gifts that he has to be wary of.
It is not an easy choice. Should he confine himself to campus politics, or dream bigger? There are two templates before him. He can either end up as Anna Hazare, albeit a youthful one, or an Arvind Kejriwal.
That, in short, is the beauty as well as agony of the Indian system. It welcomes change-makers, but is resistant to change.
It is a tantalising thought from one of the nation's finest epics, one I keep asking myself. If Abhimanyu could break out of the Chakravyuh, would the war have ended differently?
IMAGE: JNUSU President Kanhaiya Kumar seen after reaching the campus upon his release on bail in New Delhi, March 3, 2016. Photograph: Kamal Singh/PTI