'What I remember best is the vigour with which she threw herself into the job, the passion she had for issues, particularly those that affected the poor.'
Kalpana Sharma remembers her friend, the well-known journalist Shahnaz Anklesaria Aiyar, who passed away last week.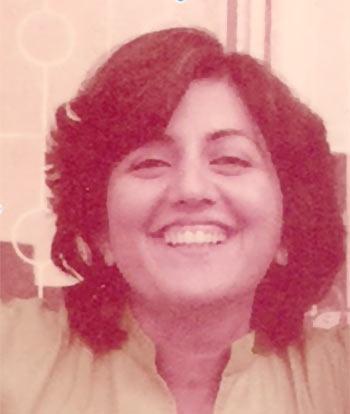 Shahnaz Anklesaria Aiyar (left), who passed away on July 4, was my colleague at Himmat Weekly in Mumbai from 1977 until it closed in 1981. She left a well-paid job to work with our motley crew, bringing out a weekly news magazine that aimed to speak truth to power. We had somehow survived the previous 20 months of the Emergency and censorship. Perhaps our survival is what got this small magazine a reputation far bigger than its circulation.
What I remember best from those days was the vigour with which Shahnaz threw herself into the job, the passion she had for issues, particularly those that affected the poor. She was willing to travel with very little money to unearth some of these stories and wrote them with remarkable insight and feeling.
We were living in a time of tremendous optimism following the defeat of Mrs Indira Gandhi and the Congress in the 1977 general elections and the ending of the oppressive Emergency. Many of us believed that what we wrote could make a difference and Shahnaz was certainly one of those who concurred with this view.
If you survey the media over that period, you would notice a virtual outburst of strong, investigative stories on subjects that had remained invisible during the Emergency and even earlier. We, in Himmat, had to function with limited resources. Yet, that did not prevent us from following up on many stories.
At the same time, mainstream media was also savouring the freedom that the end of censorship gave it and perhaps appreciated what freedom of the press actually means. Major news organisations backed journalists who pursued stories like the impact of the compulsory sterilisation campaigns, the lives of the urban poor in the face of cruel demolitions, bonded labour, the Bhagalpur blindings (where Bihar police poured acid in the eyes of 31 undertrials), all kinds of other police excesses, stories from Northeast India of gross human rights violations, etc.
When Himmat closed at the end of 1981, all of us had to look for jobs. Shahnaz got a job with The Statesman in Delhi. She chose to write on developmental issues and pursued subjects like child labour, health, women's issues and others such subjects. Her reporting stood out for its thoroughness.
In 1984, she received the People's Union for Civil Liberties award for human rights reporting and, in the year before that, the Chameli Devi Award for an Outstanding Woman Journalist.
I was working with The Indian Express in Delhi when Shahnaz was with The Statesman. We set up house together in a small flat in a Delhi Development Authority colony in Saket, at that time a distant suburb, and experienced the highs and lows of living in a typical middle class Delhi neighbourhood where two single women from Mumbai were looked upon with some suspicion!
Shahnaz Anklesaria Aiyar (circled) and Kalpana Sharma (seated, centre) with other staffers at Himmat Weekly.
Shahnaz did not remain single for long. In the course of that year, she got to know Swaminathan Aiyar, already a well-known journalist working with The Times Of India. They married in 1985.
In the book Making News, Breaking News, Her Own Way (edited by Latika Padgaonkar and Shubha Singh, published by Tranquebar, 2012), which featured articles by winners of the Chameli Devi Award, Shahnaz wrote: 'When India woke up each morning and shook out its daily newspapers, it was often women journalists who informed them of the state of their schools, hospitals, prisons and orphanages. After the initial reports of riots, droughts and floods had made the headlines, it was often women journalists who went back to the scenes of carnage or devastation and gave its victims a voice, telling their stories of quiet or repressed human suffering, bureaucratic neglect or worse.' Those words sum up her approach to journalism.
In many ways, the details of Shahnaz's journalistic career are not as important as the determination with which she pursued the issues that concerned her. It was this same determination that made her walk out of a good job yet again.
After The Statesman, Shahnaz worked with The Indian Express and was their Washington correspondent for a couple of years. She returned and continued with the Express and then joined India Today.
Although well-established in her career, she chose to leave it behind and go to the US to do a Master's in Special Education. She believed that children with learning and other difficulties were poorly served and needed trained people to help them find their true potential.
Shahnaz stayed on in the US and lived in Washington, DC with her husband and her son, Rustam. It is in her home there that she passed away in the early hours of July 4, at the age of 64.
Although Shahnaz lived on the other side of the world and in recent years we did not meet very often, she was always a presence. Her love for life and people lives on.
Photographs: Courtesy Kalpana Sharma
Kalpana Sharma was editor of Himmat Weekly from 1976 to 1981. She has worked with The Indian Express, The Times Of India and The Hindu. She is currently a columnist with The Hindu and consulting editor with Economic And Political Weekly.
REDIFF RECOMMENDS