'I am listing here what life in the city with a dependent (but grown up) family is really like,' says Kishore Singh.
Illustration: Uttam Ghosh/Rediff.com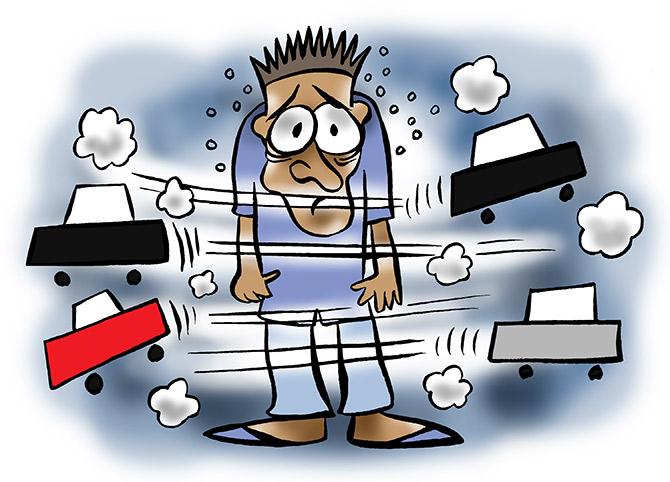 There was a time I thought longingly of living in a small town or cantonment such as the many I had grown up in -- Coonoor, Deolali, Mhow, Pathankot, Dharamsala, Jammu, Shillong, Bikaner -- which seemed ideal given their size, and not entirely devoid of facilities.
But these romantic notions took a toll every time one visited family, or friends, to return disheartened.
If one lacked in bookshops, another didn't have a bakery; if medical amenities were missing in one, another had resisted improvements in infrastructure. And charming as they were, their residents were given to vitiating gossip.
Slowly, the dream crumbled, and Delhi became our default home, the anonymity it offered making up in some measure for what we suffered by way of distances, traffic, and now pollution.
Even given its ugly smog, our relatives envy that choice.
"This is the good life," a cousin I am particularly fond of is prone to saying, "you really have it easy."
Since he wouldn't listen to any objections I might have to his sweeping generalisation, I am listing here for his and other family members' knowledge, what life in the city with a dependent (but grown up) family is really like.
On Thursday, just as I was leaving for work, my wife said she needed the car and driver, would I mind terribly taking an Uber?
She was to pick me up in the evening, having finished her chores, but had run into a friend with whom she was having coffee, could our daughter give me a lift?
My daughter retorted that coming home after a hard day at work was not something she look forward to, she had her friends and so on, could I not fend for myself?
So, I hitched a taxi ride instead, looking forward to a drink and a quiet dinner in front of the TV.
But my wife was dressed and waiting for us to go out. "I told you we had to attend the Mathurs' daughter's wedding," she admonished me, while the driver grumbled about overtime.
Before we could reach the venue at a distant farmhouse, my wife suggested we "show our face" to the Kochars who were having a sangeet in another part of the city, where she proceeded to greet friends while I sulked because I didn't know anybody.
Let the record show that we stopped once more en route to "do the social obligation thing, na", because her friend's cousin's nephew's father, who we'd become acquainted with the previous evening, had invited us to his divorced wife's birthday.
Having spent the evening air-kissing and with no time left over to eat, I came home starving, our return coinciding with our daughter's, who said there'd been a minor accident, could the driver attend to her car in the morning?
"Of course," I sighed, "I'll take a cab to work -- again."
Our 30-year-old son walked in then: "Dad, you have to wake me at five in the morning, I have a presentation to complete."
So, barely two hours of sleep later, I was at his bedside, but he asked to be woken at six instead.
At six, he said he'd like to snooze some more, and an hour later he decided to work on the presentation in office after all -- leaving me in a zombie-like state, hungry, sleepy, grouchy, and wondering if, midway between our perceived "chilled-out" life in the capital, and the claustrophobia of small town India, if there is some place where living gets a little easier.