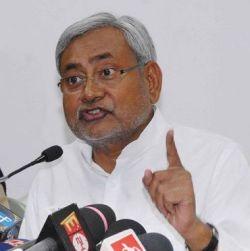 Dharmendra Kumar Singh says the Bihar chief minister may be fighting a losing battle.
The exit of Nitish Kumar after a 17-year alliance with the National Democratic Alliance has raised many interesting questions about Indian politics. Nitish says he considers the Bharatiya Janata Party-designated prime ministerial candidate Narendra Modi communal.
Three years after the demolition of the Babri Masjid demolition he had stitched alliance with the BJP but 12 years after the Gujarat riots he has moved out from the BJP. Interestingly Nitish does not seem to have done anything right in Bihar after the separation from the BJP. He has been a failure on many fronts including law and order.
The idea that Nitish Kumar might have decided to break away from the NDA owing to constraints of his carefully engineered Muslim vote bank has emerged as common sense but his decision seems as a disaster but he transformed himself into a vikas purush shifting from caste politics to development. Bihar has been changed due to good governance of Nitish Kumar but he has been trailing in alliance politics.
Alliance politics is crucial to survive in the state where four major parties are in the fray. He has already lost one alliance partner and also failed to compensate his party by entering into an alliance with either the Congress or the Lok Janshakti Party. Nitish Kumar's decision to break away from the BJP has not only backfired, but also it hasn't brought him any benefits that he hoped for. On one side the BJP-LJP-Rashtriya Lok Samata Party alliance and another side Congress-RJD-NCP combine literally have squeezed him into third place.
The BJP's calculation is that Modi will be a vote-multiplier and bring them many more seats in the state. In that sense, the BJP has compensated the snapping ties by Nitish Kumar. Nitish may have lost out due to over confidence. Recent poll surveys show that the BJP alliance in Bihar may bag 21-29 seats, the Congress' alliance between 7-13 seats while Nitish's Janata Dal-United may reduced to 2-6 seats.
Nitish was the first one to raise the banner of secularism against Modi as calculated game to get the Muslim community votes but it seems that they are not getting any benefit from the anti-Modi vote. One of the most patent things about Bihar politics is the caste combination that each political party tries to forge for forming a winning combination.
The stark reality is that caste is the deciding factor in Bihar politics. Muslim constitutes around 16.5 percent of votes in Bihar but JD-U has fielded only five Muslim candidates who are learnt weak candidates in comparison of Congress alliance, which has eight Muslim candidates including known faces like Md Taslumuddin, Tariq Anawar, A A Fathmi and Abdul Bari Siddiqui.
A Lokniti-CSDS poll shows that 53 percent of the Muslim vote is going to the Congress party, the BJP is in second place with 22 percent of the Muslim vote share while the JD-U is expected to get only 10 percent. Nitish Kumar has not lost only Muslim votes but he is expected to lose forward castes, Dalit and lower OBCs, who form the backbone of BJP's support base in Bihar. Muslim and Yadavs mostly may vote for the Congress alliance but Nitish Kumar has little hope of other OBC including 2.5 percent of Kurmi votes.
Obviously, Bihar has seen development in the last 8-9 years but not as much as the government claims because corruption has also increased during Nitish's government. It seems his arrogance is killing his fortunes.
After parting from the BJP, Nitish Kumar has not able to keep his flock together in his fold. Around a dozen of leaders have left the party. Many big leaders like N K Singh, Sushil Kumar Singh, Jai Narayan Nishad, Vishmohan Kumar, Purnmasi Ram, Mangli Lal Mandal, Shivanand Tiwari and Vijay Singh have left the party. Even his ministers Renu Kushwaha and Praveen Amanullah also left the party. This Lok Sabha election is a litmus test for Nitish Kumar. Perhaps the outcome of the poll may be eye opener for him.
Dharmendra Kumar Singh is a political analyst.