'Is Ansari flagging a genuine concern? Is a rectification called for?'
'And finally: Do minorities matter?' asks Shekhar Gupta.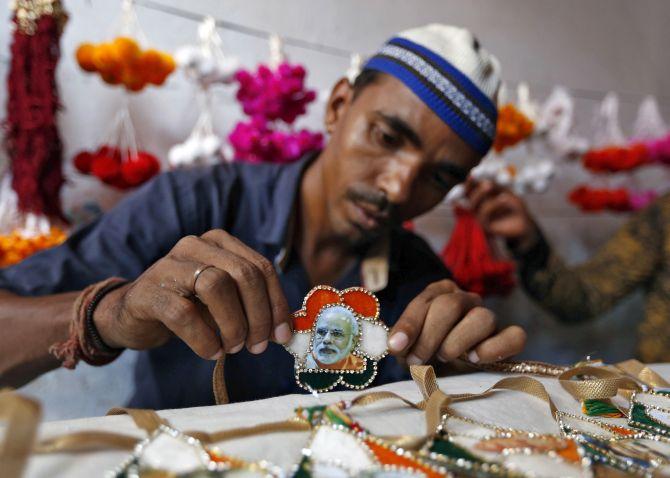 Let's set this argument up by borrowing our courtroom judges' method by stating the bare facts first.
We will argue and conclude later whether it is a good or a bad thing.
With the departure of Mohammad Hamid Ansari, Indian political history has opened a new chapter.
I have checked, even deep trawled the history of many short-term governments, but failed to find another instance at least in the past 50 years when none of our top political positions: President, vice-president, prime minister, Speaker of the Lok Sabha and top ministries (home, finance, defence, external affairs) was held by a member of one of our minority communities.
I know, you'd be tempted to Google and prove me wrong on this, but please do remember that not just Muslims and Christians, but Sikhs are a minority too.
Check, instead the names of the members of the Narendra D Modi Cabinet.
It's unique in our independent history for having just one member of a minority in the main Cabinet: It's the National Democratic Alliance partner Akali Dal's Harsimrat Kaur Badal with the all-important portfolio of food processing (or minister for chutney, pickles, jam and juice, as her resentful loyalists say).
Go further down to junior ministers and some names will pop up. Mukhtar Abbas Naqvi is the senior-most minister of state from the minorities now, with independent charge.
Please note his portfolio is minority affairs. We also find M J Akbar as minister of state, external affairs.
I don't find any others, although names sometimes can be misleading, especially for Christians.
So, is this council of ministers also unique in not featuring any Christian? That, when the Bharatiya Janata Party's allies rule some predominantly Christian north eastern states.
Besides Meghalaya, Mizoram and Nagaland, almost entirely Christian states, and Punjab and Jammu and Kashmir, none of the remaining 24 Indian states has a chief minister from the minorities.
Carry on further. The Modi-Amit Shah BJP is the strongest national political party since Indira Gandhi's heyday. Who are its most visible minority faces besides those holding political office: Shahnawaz Hussain, S S Ahluwalia and maybe, next to him, Tajinder Pal Bagga.
You could counter this with a similar count for the Congress, Left and heartland parties claiming to be secular.
But it only strengthens our first conclusion: India's minorities have never been so out of the power structure. They are justified in having a sense of unease about it.
Our politics provides the most fascinating paradoxes, rooted in reality laced with folklore.
L K Advani and Atal Bihari Vajpayee (the order is deliberately chosen) resurrected their party from the ashes of 1984 by working on one of these: The Hindu majority's minority complex. Contrary to the true-believing, Left-secular chic view, it wasn't all fictional or orchestrated by calculated mass self-pity.
Decades of Congress rule had seen Nehru's hard, yet relatively easy secularism, yield to Indira Gandhi's in-your-face minorityism and then Rajiv Gandhi's historic capitulation over the Shah Bano case.
It was so dramatic it even left his own party's liberal Muslims disillusioned: Rising Muslim star and an MoS then, Arif Mohammed Khan, who grew out of Aligarh Muslim University student politics, quit in protest.
For the conservative Hindu (not necessarily BJP voters) this was contrasted with the same party's reformist zeal in enacting the Hindu Code Bills. How could the same party now woo the Muslim clergy like this?
This gave Advani an opening and this minority complex among the majority changed Indian politics in a fundamental way.
The result is today's minority-mukt Bharat Sarkar.
In 1993-1994, I wrote a monograph India Redefines its Role (Adelphi 1995) for the London-based International Institute for Strategic Studies.
Anticipating the BJP's rise as India's dominant political force, it discussed this phenomenon.
Answering his first no-confidence motion as prime minister, Vajpayee quoted from it and said, with a tone of deep regret: Something unusual has happened. The Hindu majority has acquired a minority complex. He wanted this debated.
Far from defending it, he was noting it with disappointment and the promise that he would do something about it.
Please note, therefore, that in 1998 he was applauded for highlighting the majority's concern.
Two decades since, Hamid Ansari is attacked for noting the same concern among minorities.
We need to listen to him as seriously as we did to Vajpayee. Presuming that Vajpayee was right, has our politics over-corrected subsequently?
If so, is Ansari flagging a genuine concern? Is a rectification called for? And finally: Do minorities matter?
Three young, imperfect and distinct Asian democracies have wrestled with this question.
In an interview with me in 1993, the late Shimon Peres had said the only nations in a vast expanse from the Bay of Bengal to the Mediterranean which allowed all their citizens -- including Muslim minorities -- a fair vote were Israel and India.
So minorities did matter to his country, but it didn't give them full democratic rights and choices available to its Jewish citizens.
This dilemma, squaring the ideology of a Jewish State with a modern, liberal democracy was brought to us John Le Carre readers through the mind of Khalil the protagonist of his The Little Drummer Girl.
If Israel wanted to retain the West Bank territories and gave all its Arabs the vote, it would cease to be a Jewish State.
If it denied it to them, it would no longer be a republic.
Israel does remain an odd democracy, where everybody has a vote but not equality. No questions are raised if its Arabs can't rise to high positions.
Subsequently, Pakistan has joined Peres' two democracies, if a spasmodic one.
Like Israel, it's an ideological State and faces the same question. If minorities have equal political rights, can it be an Islamic republic?
Its founders put the white strip in its green flag to represent the minorities. But in politics, they continued with colonial style reserved constituencies for minorities.
It yields interesting tokenisms like the new minister for inter-provincial coordination Darshan Lal, or even a moment of secular pride in commemorating its army's first Sikh officer, Harcharan Singh, or now a Hindu martyr, Lance Naik Lal Chand Rabari.
At the same time, a politician who justifies abduction and forcible conversion of minor Hindu women is celebrated, widespread victimisation continues to drive Hindus out, diminishing their population.
Of course, besides Hindus, Sikhs and Christians there are also minorities such as Ahmediyas who are dismissed and persecuted as godless apostates.
The Indian Right has a point in previous Congress-secular governments playing the game of minority vote banks.
It's also true that the minorities voted against the BJP and kept Congress and allies in power and now, as demonstrated in the Uttar Pradesh elections, their vote banks do not matter.
Of course, our government will ensure their safety, improve their social conditions, but please do not ask for a share in power, barring a tokenism we might create at some point: Our own Darshan Lal.
We will then be choosing the Pakistani answer: Minorities do not matter.
Let us conclude with a question: As we redefine our nationalism, is Pakistan to finally be our inspiration?
By Arrangement with The Print
IMAGE: A Muslim artisan displays a rakhi featuring Prime Minister Narendra D Modi in Ahmedabad. Photograph: Amit Dave/Reuters