'The vehicles have evolved, the mindset hasn't. And it won't, not until boys are reformed to understand, imbibe and espouse the importance of consent,' says Veenu Sandhu.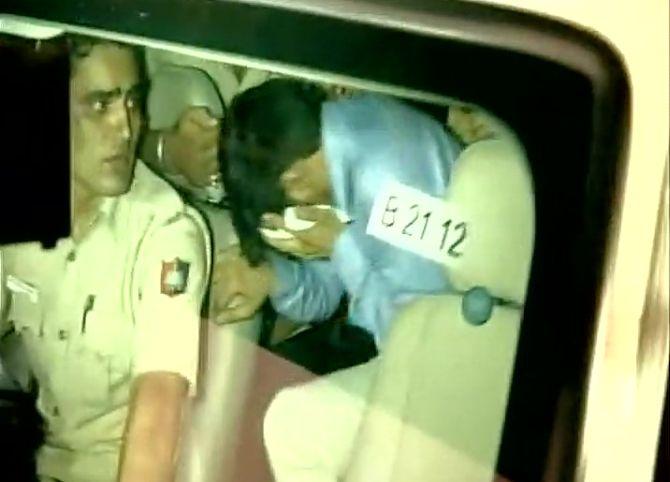 Chandigarh, for me, has always been one of the safest cities for women in India.
Back in the late 1990s and into the mid-2000s, I would routinely drive home alone well past midnight after sending the next day's newspaper to print, confident in the knowledge that a police van would be stationed every kilometre or so.
Quick to respond and proactive, the Chandigarh police is also known to have a zero-tolerance policy towards drunken driving.
Yet, the allegedly drunk son of the Haryana Bharatiya Janata Party chief and his friend had the audacity to not only chase a woman in her car with their SUV around the city, but also repeatedly block her way, bang on her window and practically attempt to kidnap her.
The men clearly thought it was okay to stalk the woman, that it was acceptable. A number of boys, in fact, believe that.
It is a twisted notion that is celebrated in our popular culture, especially in the movies that have given us stalker anthems such as 'Tera peecha na main chodunga soniye (I will not stop pursuing you)' or 'Khali peeli khali peeli rokne ka nahin. Tera peechha karoon toh tokne ka nahin (Don't stop me unnecessarily. Don't check me if I pursue you)'.
The first one is a song from a film back in 1973. The second one comes from a 2013 film. That's a range of 40 years.
In between there have been several other such songs and scenes that unequivocally tell you that a 'no' from a woman is, in fact, a 'yes', and so it is justifiable to chase her and harass her.
The concept of consent does not feature in this recurrent and popular theme. And the Central Board of Film Certification, which does not like being called the 'censor board' but which goes snipping at movies for all sorts of nonsensical reasons that range from the length of the consensual kiss in the James Bond movie Spectre to words like 'cow' and 'Hindutva' in documentaries on Nobel Laureates, sees no problem with this.
Boys are not taught to respect a woman's consent or lack of it. So, you have the editor of a news magazine reportedly brushing aside a woman's objection to his sexual advances because he reads a 'yes' into her 'no'.
And you have a political stalwart like Mulayam Singh Yadav dismissing questions about a rape case with a nonchalant 'Boys will be boys'.
And also, you have Janata Dal-United leader Sharad Yadav saying in Parliament, 'Who among us has not followed girls?' in effect saying that stalking is a 'harmless' activity.
Sharad Yadav's remarks came during the debate on the anti-rape Bill in the Lok Sabha in 2013 following the brutal gang rape and subsequent death of a young woman in a private bus on December 16, 2012 in Delhi. He was challenging the provisions to make stalking a crime.
Consent lies at the very core of sexual crimes against women.
Even before the Criminal Law (Amendment) Act, 2013, which followed the December 2012 gang rape and which strengthened laws related to sexual offences came into effect, the Indian Penal Code defined rape as sexual intercourse by a man with a woman without her consent or when consent was obtained through deception or threat.
The Justice Verma committee report, the recommendations of which formed the basis of the more stringent rape law, further defined the term 'consent' as an 'unequivocal voluntary agreement when the woman by words, gestures or any form of verbal or non-verbal communication, communicates willingness to participate in the specified sexual act'.
Where does consent feature for the boys and men who indulge in stalking, molestation, rape, acid attacks and so on? Clearly very low.
Back in the days when we went to school on bicycles, it wasn't unusual to encounter stalkers who would follow us to school or home on their bicycles, sometimes dangerously swerving towards us, at times almost pushing us off the road.
Ask any woman who has driven alone and she would tell you this is routine. We later graduated to those gearless Lunas. And stalking too got motorised. Some random guy would again be following the girls.
It wasn't always the same guy, but the leery, stupid-smile expression always was. Then came scooters and then cars, but the problem has persisted.
The vehicles have evolved, the mindset hasn't. And it won't, not until boys are reformed to understand, imbibe and espouse the importance of consent.
IMAGE: Vikas Barala and Ashish Kumar, accused of stalking Chandigarh DJ Varnika Kundu, being taken to jail, August 9, 2017. Photograph: ANI