'Many said his visit was very risky. But mercifully, Air Force One has taken off from Delhi without Mr Trump stepping on anybody's toes,' notes Ambassador T P Sreenivasan.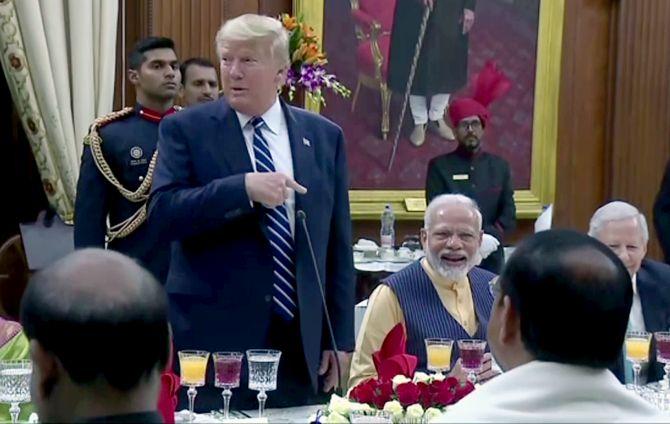 President Trump makes news when he follows his brief without making shocking and undiplomatic statements. As he himself claimed at the end of his visit, he did not want to say anything controversial in India.
Indeed, there were no gaffes and it was goodwill all the way. He appeared mesmerised by the 'Namaste, Trump' jamboree and Prime Minister Modi's solicitous posture.
Despite close scrutiny, no faltering step was detected except that the American president did not mention Gandhiji in his comments in the visitor's book at Sabarmati Ashram and he mispronounced the names of Swami Vivekananda and Sachin Tendulkar.
Finally, there was general agreement that the significant outcomes more than matched the spectacular optics.
However, in the run-up to the visit, there was considerable anxiety on account of his Bahubali tweet and his complaint that India was not cooperating on matters of trade.
What if he repeated his complaints about India, 'the king of tariffs'?
What if he declared a trade war against India?
What if he insisted on mediating between India and Pakistan?
What if he mocked Mr Modi as he has done before?
What if he raised the issue of religious freedom?
What if he endorsed the protests on account of Kashmir and the new Citizenship Act?
Many, who did not want improvement in India-US relations, said his visit was very risky. But mercifully, Air Force One has taken off from Delhi without Mr Trump stepping on anybody's toes.
Mr Trump did not complain against India. It is a trade agreement that is in the making, not a trade war. He would not have mentioned mediation if an Indian correspondent had not asked him about it. He naturally said he would be willing to do it, if he was asked. He inquired about religious freedom as it is a Constitutional requirement for every president to do so.
And he found that Mr Modi is as enthusiastic about religious freedom as anyone else. He heard about the protests in Delhi on the citizenship issue, but considered it an internal matter and left it to the prime minister to deal with it.
So, the worst fears about him proved baseless. Mr Trump is no more considered a bull in a china shop, but a man who protects the interests of his country in his own style. He is an elected president of the United States whose rating has only gone up in the last year of his first term.
The roller coaster of IndiA-US relations reached an all-time high when 'as the leaders of sovereign and vibrant democracies recognising the importance of freedom, equal treatment of all citizens, human rights and a commitment to the rule of law, Prime Minister Modi and President Trump vowed to strengthen a India-US Comprehensive Global Strategic Partnership, anchored in mutual trust, shared interests, goodwill and robust engagement of their citizens.'
They also pledged to deepen 'defence and security cooperation, especially through greater maritime and space domain awareness and information sharing; joint cooperation; exchange of military liaison personnel; advanced training and expanded exercises between all services and special forces; closer collaboration on co-development and co-production of advanced defence components, equipment and platforms; and partnership between their defence industries.'
Apart from the order placed for helicopters etc worth $3.5 billion, the close defence cooperation was upgraded to the level of interoperability of the armed forces by operationalising the necessary bilateral agreements. Mr Trump suggested energising the Quad consisting of the US, India, Japan and Australia to ensure security of the Indo-Pacific.
Mr Trump noted that there was considerable easing on the trade balance issue. US exports to India has gone up by 60% and if technology exports are taken separately, it has gone up by 500%!
With energy imports for which an MOU has been signed, the situation will improve further. In these circumstances, the prospects of a major trade deal became clearer, he said.
Prime Minister Modi and President Trump recognised the increasing importance of the trade and investment dimension of the India-United States relationship, and the need for long-term trade stability that will benefit both the American and Indian economies.
They agreed to promptly conclude the ongoing negotiations, which they hope can become phase one of a comprehensive bilateral trade agreement that reflects the true ambition and full potential of the bilateral commercial relations, advancing prosperity, investment, and job creation in both countries.
The rumoured agreement on setting up six American reactors in Andhra Pradesh was a non-starter. First of all, the Indian liability law imposing the liability of damage on the supplier is against international law and American law.
Moreover, Westinghouse, the company which had got the contract, was in financial straits. No foreign reactor has been set up in India after the nuclear deal. The Kudankulam project is continuing only because it predates the new regulations.
However, the joint statement 'encouraged the Nuclear Power Corporation of India Limited and Westinghouse Electric Company to finalise the techno-commercial offer for the construction of six nuclear reactors in India at the earliest date.' It remains unclear as to which insurance will undertake the huge liabilities involved.
On terrorism, India and the US are of one mind and this was reiterated. Mr Trump spoke of 'radical Islamic terrorism', while Modi spoke of cross border terrorism. Both of them agreed to combat terrorism jointly.
However, on Pakistani terrorism, Mr Trump said he would be in a position to persuade Pakistan to give up terrorism, knowing well that Pakistan would do nothing of the sort.
Prime Minister Modi and President Trump denounced any use of terrorist proxies and strongly condemned cross-border terrorism in all its forms. They called on Pakistan to ensure that no territory under its control is used to launch terrorist attacks, and to expeditiously bring to justice the perpetrators of such attacks, including 26/11 Mumbai and Pathankot.
They called for concerted action against all terrorist groups including al-Qaeda, ISIS, Jaish-e-Mohammad, Lashkar-e-Tayyiba, Hizbul Mujahideen, the Haqqani Network, TTP, D-Company, and all their affiliates.
The two leaders committed to working together to strengthen and reform the United Nations and other international organisations and ensure their integrity. President Trump reaffirmed the support of the United States for India's permanent membership on a reformed UN security council. He also reaffirmed US support for India's entry to the Nuclear Suppliers Group without any delay. But neither of these is anywhere near to fruition.
Against the backdrop of the impending agreement between the US and the Taliban, which would lead to the withdrawal of US troops, India and the United States expressed interest in a united, sovereign, democratic, inclusive, stable and prosperous Afghanistan.
They supported an Afghan-led and Afghan-owned peace and reconciliation process that results in a sustainable peace; cessation of violence; elimination of terrorist safe havens; and preservation of the gains of the last 18 years.
President Trump welcomed India's role in continuing to provide development and security assistance to help stabilise and provide connectivity in Afghanistan.
India and the United States committed to an open, reliable, and secure Internet that facilitates trade and communication. They noted that India and the United States recognised the need for an innovative digital ecosystem that is secure and reliable, and facilitates the flow of information and data.
The leaders intend to foster cooperation among their industry and academia for open, secure, and resilient supply of strategic materials and critical infrastucture, and to independently evaluate the risk associated with deployment of emerging technologies.
An anti-climax came when the media blacked out the president's visit and turned its attention to the violence in Delhi streets at the very end of the visit. Obviously, the organisers of the protests were not able to distract attention from the visit earlier.
The optics of the unprecedented welcome accorded to the first family of the United States and the mutual praise Mr Trump and Mr Modi showered on each other attracted global attention and criticism from the Opposition in India.
The boycott of the President's banquet for Mr Trump by the Congress party was the height of irony as two Congress prime ministers, P V Narasimha Rao and Dr Manmohan Singh were the main architects of the relationship with the US after the end of the Cold War.
---
Ambassador T P Sreenivasan, (IFS 1967) is a former Ambassador of India and Governor for India of the IAEA. He is currently the chairman, academic council and director, NSS Academy of Civil Services and director general, Kerala International Centre.
A long time columnist for Rediff.com, you can read Ambassador Sreenivasan's earlier columns here.