'Elections, my friends, are a boon for the Indian people.'
'That is the only time our high and mighty leaders are accessible to the masses.'
'So don't ruin that by agreeing to once-in-5-years elections,' argues A Ganesh Nadar.
Illustration: Dominic Xavier/Rediff.com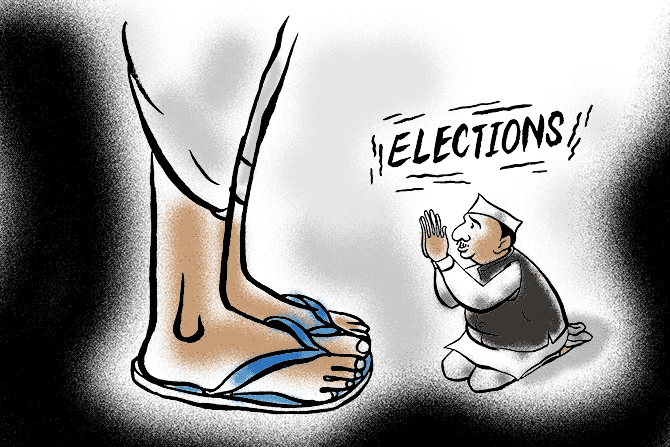 In a welfare State the government runs at a loss and the citizens are happy.
Take the richest nation in the world. The United States of America has the largest debt in the world, but its citizens are happy.
This was also the case in India, but in the last couple of years, for some strange reason, the government is determined to make a profit as citizens cringe in fear about what Prime Minister Narendra D Modi will come up with next, especially after that night of November 8, 2016.
Just as then PM P V Narasimha Rao and his FM Manmohan Singh were credited as the architects of India's liberalisation when the truth is that we had no option but to do what the World Bank wanted, I am sure this idea of running a government for profit must also the brainwave of some Indian-American economist in the US of A.
The only time the government abandons such thinking is when there are elections coming up.
At election time, fuel prices are cut, we get continuous power, new roads and new trains.
So imagine the horror if elections are held for all states and the Centre at one go, every five years, as this government is pushing for.
That means politicians don't have to worry about what the public wants for five years.
They can increase tax on fuel with impunity. Heck, they can increase the price of everything, tax us to death for four-and-a-half years and offer us some sops only in the last six months.
Don't be fooled by the line that simultaneous elections are good. They are not good, not for the people at least.
In fact, they are the citizen's death knell.
I should know. I live in Tamil Nadu, where for every election -- to Parliament, to the assembly, to the panchayat -- we citizens get money to vote and also free fans, TVs, wet grinders, fans, mixies, slippers, spectacles, bags, books, free lunches in schools, 20 kilos of free rice, you name it.
If something is not on this list, be sure we will get it at the next election.
Given the bonanza constantly coming our way, do you we want to miss out on all this?
If you want new roads, new trains, water, electricity, anything and everything, be no under no illusion, the government thinks of providing these things only when elections are due.
Imagine what would happen if the elections were clubbed together, and happened only once in five years.
There goes your free motorcycle, free cell phone, LCD TV...
I am convinced that this retrograde step of simultaneous elections has been floated to make us vulnerable 90% of the time, to deny us our rightful due.
We, India's citizens, must resist this move with all our power, and ensure that politicians, instead of enriching themselves and the government, make us happy.
And for that we need elections regularly.
We have the Lok Sabha election once in five years, which is fine.
In the intervening 60 months, the 29 states and 7 Union territories can hold their assembly elections.
And if you factor in panchayat elections in these provinces, then no month will be free from elections somewhere in the country.
That will ensure that politicians are on their toes constantly, plying the people with what citizens need.
You don't think politicians think of the people only at election time?
If you watched Arun Jaitley present the Budget on February 1 you would have hear the finance minister mention women 30 times, farmers 15 times, jobs six times. Why?
Because this year has a slew of elections and next year will be the mother of all elections.
Women constitute half the population, farming is the biggest employer in India and jobless youth need to be assuaged ahead of the polls.
Elections, my friends, are a boon for the Indian people.
That is the only time our high and mighty leaders are accessible to the masses. So don't ruin that by agreeing to once-in-5-years elections.