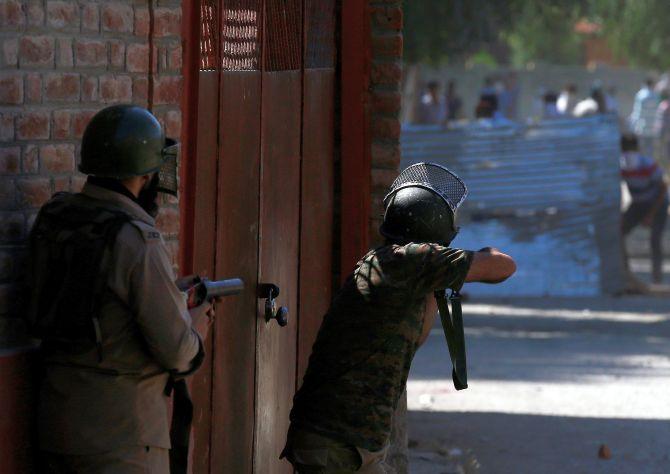 There is a great danger of the government getting stampeded into actions in Kashmir that could result in long lasting damage, warns Colonel Anil A Athale (retd).
There is a rising tide led by the chatterati/twitterati, the so-called liberal opinion, as well as some political pressure, on the government to do 'something' in the wake of violence in the urban areas of Srinagar.
There is a great danger of the Indian government getting stampeded into actions that could result in long lasting damage.
At a smaller level, what one is currently witnessing in the Kashmir valley is a re-run of Mohammed Ali Jinnah's 'direct action' ploy in August 1947.
On April 4, 1979, in the wake of ousted Pakistan prime minister Zulfiqar Ali Bhutto's execution in Pakistan, a mammoth public meeting was held at the Hazaratbal dargah in Srinagar.
A resolution was passed at that meeting condemning Pakistan and thanking Allah that Kashmir had made the right choice in 1947 in joining India.
There were mass protests in Kashmir and the property of pro-Pakistan Jammat-e-Islami cadres was attacked. Many prominent leaders of the pro-Pakistani Jamaat sought and were given shelter by the Indian Army, which saved their lives.
Feelings ran high against General Zia-ul Haq, Pakistan's military dictator on whose orders Bhutto was hanged. Mobs in Srinagar shouted slogans demanding death for Zia.
In less than a decade, by 1986, the Kashmiri mood had changed totally.
Portraits of Zia-ul Haq in military uniform began adorning many Kashmiri homes and wayside tea stalls. Even the once marginalised Jamaat-e-Islami became a popular organisation.
To some extent, the popularity of the Jamaat and Zia can be understood as the consequence of the growing spread of Islamic fundamentalism all over the world.
This had much to do with the petro-dollars that began flowing into Kashmir after the oil boom that began in 1973 and the US-Pakistan-Saudi Arabia-led jihad after the Soviet invasion of Afghanistan in December 1979.
Many Kashmiri separatists invoke Sheikh Abdullah to justify separatism. But they gloss over the fact that after the 1971 War and Pakistani atrocities in then East Pakistan, Sheikh Abdullah came out clearly in favour of J&K being part of India.
Even Sheikh Abdullah suffered at the hands of fickle public opinion. From near sainthood, someone who blessed babies, his grave has to be protected from the wrath of mobs intent on its desecration.
The Kashmir Valley is thus no stranger to the emotional rollercoaster ride of public opinion. The current unrest is thus no different from its several earlier avatars like the 2010 agitation.
Before India takes any steps in the valley, some salient points/questions need to be understood and answered.
The first and most important point about the current unrest is the limited nature of its geographic spread.
The unrest and violence is confined to the Kashmir valley with not a squeak from the Jammu, Kargil and Ladakh divisions.
It needs to be clearly asserted that the separatists and their followers have no support in the rest of J&K. It is bogus for them to claim to be talking of J&K and its future.
When agitators in the valley chant 'azadi' (freedom), in effect they want an independent Kashmir valley! The absurdity of this is not lost on the rest of the world. It is no surprise that the Kashmir agitation has not received any support from the world at large with the exception of Pakistan that wants all of J&K to merge with it.
The silence of the world media is due to logical fears that a tiny and unviable independent State of Kashmir will regress into a Da'esh or Islamic State den.
The ethnic cleansing of Hindus from the Kashmir Valley and slogans like 'Sharia rule' etc scare most countries. With the continuing campaign of terror worldwide, the Kashmiri cause of religion-based separatism has no takers.
Without global support Kashmiris have no hope of success. Pakistan has made three military attempts in the past to seize Kashmir, and failed. It will fail again should it try. That is the reality.
India guarantees freedom of faith and expression as a fundamental right to all citizens. It also promises equality before the law for all citizens.
As a result, India is home to all the world's religions and over 180 million Muslims. If 180 million Muslims can be part of India, what is the basis on which the 4 or 5 million Muslims in the Kashmir Valley wish to secede?
India should set the record straight and equivocally declare that since it gives all the fundamental rights to its citizens, including Kashmiris, it rejects the demands for secession based on religious identity.
I recall a conversation I had with a Kashmiri school teacher during an army search operation near Sopore. I asked him what he meant by 'azadi.' Which is the freedom he did not have as an Indian citizen? Be it freedom of faith, expression, movement or economic activity?
His vague answer was that yes he has all these freedoms, but he wanted 'Sharia' rule to be imposed on all!
The real problem in Kashmir is unemployment. This is due to a population explosion and continued unrest driving away tourists and investment. Thus, there is a Catch 22-like situation.
Over time, some mosques in the valley have ceased to be places of prayer and instead become dens of political propaganda.
All over the world -- even in Islamic countries -- political preaching in mosques is prohibited. Unfortunately, governments in India have been chary of taking action against this misuse of religious places due to the fear of accusations of interfering with faith.
Stopping political sermons in mosques and shutting down the constantly playing of tapes of propaganda from loudspeakers is the need of the hour.
It is time we made it clear that secessionism is not a freedom movement and India will not accept another Partition on the basis of religion, whatever be the extent of popular support in some pockets of India like the Kashmir valley.
We have learnt this lesson from 1947. What good has Partition done for the minorities?
Colonel Anil A Athale (retd) is a military historian who has been an observer of the Kashmir issue for over 40 years. His book on Kashmir, Let the Jhelum Smile Again!, was published in 1997.
REDIFF RECOMMENDS