India is failing to take advantage of its important ally, Japan as much as it should, notes Mihir S Sharma.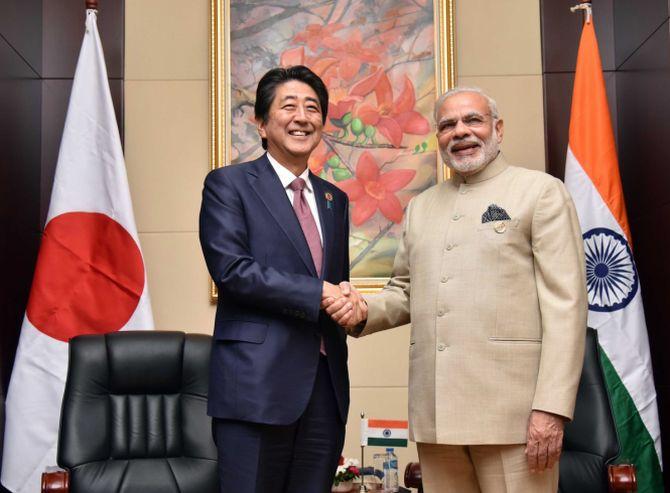 India's most important bilateral relationship may not be with the United States, or China, or even Pakistan. Objectively, it's our bond with Japan that may be most vital. No country is, at the moment, more capable of contributing to transforming our economy than is Japan; and only with the US does a security partnership have more potential.
But, in spite of the warmest possible atmospherics, under both current and past administrations, India has not moved swiftly enough to take advantage of the possibilities inherent in this relationship.
This is another way in which India's development trajectory and priorities are visibly different from what China's were when the People's Republic was at approximately the same level of development that we are now about 20 years ago.
China did not just embrace trade, but also went all-out to welcome Japanese investment in spite of deep, mutual cultural suspicion. And, second only to the savings of overseas Chinese, it is Japanese money -- hundreds of billions of dollars of it -- that has transformed China.
Now, as China turns hyper-nationalist and its growth model splutters, the Japanese are desperately looking elsewhere, including to India. And Japan's already doing more than its fair share in India.
As Commerce Minister Nirmala Sitharaman pointed out recently on her widely reported visit to Japan, when the financialised islands of Mauritius and Singapore are excluded, Japan is the largest investor in India; it's poured in $25.2 billion since 2000. And the country, which is awash in savings -- with over $8 trillion in its pension and insurance funds as long ago as 2010 -- is readying an infrastructure push comparable to China's Belt and Road Initiative.
The Shinzo Abe cabinet has sanctioned over $200 billion in infrastructure investment overseas -- money that will, needless to say, be disbursed on much easier terms than the Chinese will offer. When it comes to funds and expertise for infrastructure, we don't have any other more realistic options at the moment than Japan.
Then there's the strategic side of things. The Japanese military -- constitutionally limited to self-defence -- is now permitted to come to the aid of allies, under a new "collective self-defence" law.
Abe, who recently laid out a timetable to rewrite the pacifist post-war constitution, has been determined to see Japan's maritime reach increase; its huge new helicopter carrier Izumo -- the largest ship the country has built since the Second World War -- is currently "escorting" a much smaller US supply ship in the Pacific, amid heightened tensions with North Korea.
And in July, of course, the Indian, American and Japanese navies will conduct the Malabar exercise together; perhaps Australia will join, perhaps it won't. (Parenthetically, I'm not certain why reports emerged from the India-Australia-Japan trilateral meeting last week that it's New Delhi that's seeking to block Australian participation. If it's just about the recent visa legislation passed by Australia's government, then that's tremendously short-sighted. I hope there's something else there we haven't been told.) Simply put, if the US under Donald Trump pivots away from Asia, then there's little alternative for India but closer cooperation, especially at sea, with Australia, Singapore, and Japan.
As far as I can see, therefore, the logic to wholeheartedly embrace Japanese capital and fully engage with the Japanese military establishment is overwhelming. And yet it seems that we're failing to do so as much as we should.
In fact, tones in Tokyo can turn a little sour when it comes to India. Not all of it is the government's fault. It isn't the Indian state that is responsible for the extraordinary losses that Daiichi Sankyo took in its ill-fated purchase of Ranbaxy. But, certainly, the terrible saga of that big buy, the largest and most visible sign of Japanese commitment to the Indian private sector, had a chilling effect on further investment.
But there are other things that the Indian state must be held responsible for. One such is holding up the payment that the Tatas were contractually bound to make to NTT DOCOMO. It comes as an incredible relief that the Delhi high court put an end to that late last month by saying the Reserve Bank of India had no grounds to prevent the Tatas from following through and paying NTT DOCOMO what was owed. It incidentally also made it clear that India still respects international arbitrations, something that investors in Tokyo had begun to doubt.
And the irritants continue to come. Tamil Nadu, for example -- supposedly a business-friendly state -- is chasing after Nissan, refusing to refund Rs 2,000 crore that the company is owed under a bilateral investment treaty. This is after the company invested Rs 4,500 crore in the state in the years to 2015, and planned to double that investment. What is the point of ministers -- and the prime minister -- flying to Tokyo to promise investment, if this is what companies there read in the business press about India?
Here's my simple point: Japan is willing to make an exception for India, and to treat India as an exceptional partner. There are solid reasons for this; they are aging, we are not; they need returns, we have growth potential. But we are not willing to reciprocate. If Japan is our most important bilateral relationship, we have to go out of our way to treat them in the exceptional manner that they are trying to treat us.
This problem is mirrored on the security side of the relationship. True, this government has at least dumped the hesitations of the previous one, and included Japan in Malabar in spite of outraged bellowing from Beijing. But Japan went out of its way to offer us the new US-2 seaplane. That's a big deal as Japan doesn't normally sell on high-tech defence equipment. It fits our needs. It could be claimed that it was needed for search-and-rescue operations, but it was clearly dual-use.
Stationed at the Joint Command at the Andaman and Nicobar Islands, for example, its 4,500-km range would make it ideal to police the crowded shipping lanes going into the Straits of Malacca. It was offered to us first eight years ago -- the offer was upgraded four or five years ago -- but it is still under consideration. Are we mad? Why precisely are we going out of our way to antagonise an important ally, and one whom we will need ever more support from as time goes by?
There's a lot that must be done, and swiftly. India must send more students and trainees to Japan. It needs to take advantage of the technical training programme that Abe is stealthily using to increase inward migration. India must promise to do whatever needs to be done to make the Abe government more comfortable with the idea of Indian nurses practising in Japan.
There's an enormous demand for caregivers as the country's population ages. If it requires a string of new nursing colleges, perhaps in the Northeast, where Japanese is taught, so be it. But above all, an attitude adjustment is needed. Like China did for decades, we need to make Japan feel welcome. Its relationship with Japan transformed China; it could transform us, too.