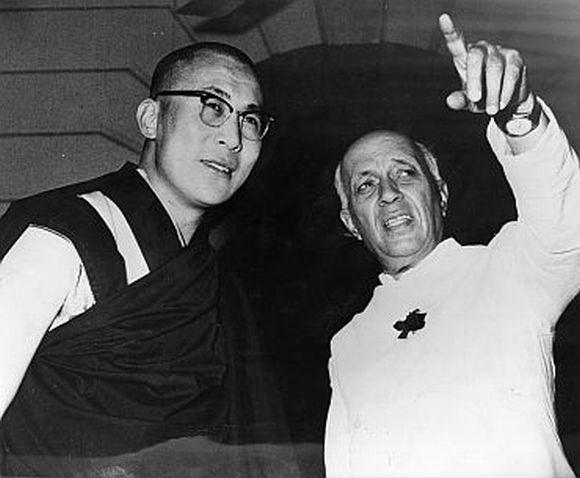 'The Panchsheel Agreement is unique in the annals of international relations as it stands out as a bizarre illustration of a prime minister trading his country's crucial national interests solely to buffer his personal international image,' feels R N Ravi.
The unofficial release of some parts of the Henderson Brooks Report on the untold story of the India-China war and the flurry of commentaries in its aftermath illuminate a tragic irony of India.
While the Indian government, wielding pernicious laws and rules, shields its culpable acts and omissions, including those bearing serious consequences for India's national security, from scrutiny behind a deliberately created smokescreen, concerned Indians are left to speculate until an enterprising Neville Maxwell casts some fortuitous light on them.
Pandit Jawaharlal Nehru, a well-known crypto-Anglophile, in his zeal to promote his anti-imperial image among the newly liberated countries, went overboard, undid India's historical relations with Tibet forged over centuries, and sacrificed India's special geo-political interests earned and accrued therein over a long period of time with a stroke of pen (Panchsheel Agreement, 1954).
He did it wilfully, ignoring the ominous rumblings from the border since 1951. While Nehru basked in his image in the high-sounding empty preamble of the agreement, China swallowed Tibet and made India dismantle its long established diplomatic and operational infrastructures and beat a quick retreat from Tibet.
This agreement is unique in the annals of international relations as it stands out as a bizarre illustration of a prime minister trading his country's crucial national interests solely to buffer his personal international image.
When China published its maps in 1957 showing large chunks of India as its own, causing commotion in Parliament, Nehru downplayed the concerns and called it a 'small matter'. Having already taken over Aksai Chin and built a motorable highway across it, China began baring its fangs on India's border claims.
Nehru underplayed Chinese belligerence and dismissed any possibility of a conflict with China, calling it 'preposterous'. In the winter session of 1957 he told the Rajya Sabha: 'I am convinced that that there is not the remotest chance, or if I put it more strongly, not the remotest chance of a remote chance of India coming into military conflict with China.'
Two years later, Nehru was proved vehemently wrong when Chinese troops inflicted heavy casualties on unsuspecting Indian troops at Longju in the east and Kongka Pass in the west in 1959. Nehru sought to calm an outraged nation with an air of injured innocence and false bravado.
He misled the country, apparently on the advice of his cronies, into believing that India had superior military advantages over China in the eastern sector.
The ground truth was just the opposite. Disregarding contemporary geo-political imperatives and the honest professional advice of field commanders, he made a series of moves detrimental to India's interests. A sequence of civil and military miscalculations resulted in India's humiliation in the war.
The Indian National Congress, steeped in the Nehru cult and tradition, blanches at the mere prospect of facing the bare facts of the biggest self-inflicted disaster of post-colonial India -- its defeat and humiliation by China in 1962.
The Congress recoils at the facts as it unveils the ugly warts on the assiduously chiselled and polished profile of its icon. However, for India's sake, the truth must be told and lessons learnt as it is the only way to redemption.
The 1962 war is not yet history for India though the Congress party and the Chinese would like us to believe so. India's continuing acquiescent compliance to the terms of defeat, including humiliating stringent Chinese strictures on Indian armed forces venturing within 20 km of their line of control, and intermittent low-intensity aggressions causing progressive loss of Indian territory, do not let 1962 and its shame slip into a dead past.
So long as India cringes from the truth of 1962, a war that was the inevitable culmination of Nehru's schizophrenic China policy, and shies away from looking squarely at it, it will remain caught in its self-created timidity trap.
Such an approach may help endure the 'clean' image of a dead man, but its enduring invidious legacy undermines India's future story. It stunts India and casts pernicious shadows over its legitimate regional and global ambitions.
India's perception of China and its policy to it, consciously or otherwise, underpin its broad geo-politics and its international standing, more pronounced in the immediate and extended neighbourhood.
The ghost of 1962 haunts the Indian establishment so much so that, as a matter of policy, it maintains a meek military profile in the border areas. It shies away from letting its army go anywhere in the proximity of the Line Of Actual Control and instead has entrusted the border guarding responsibility to a quasi-armed force, the Indo-Tibetan Border Police.
It does so in deference to Chinese strictures laid down in its 'ceasefire' declaration of the midnight of November 20-21, 1962, warning India not to let its armed forces venture within 20 km of its LAC in the middle and western sectors and similar distance from the 'illegal McMahon Line' -- as it calls it -- in the eastern sector.
China made the warning explicit, saying that it 'reserved the right to strike back' should India ignore it. Much to China's delight, the Indian establishment has taken the warning to its heart and has been diligently complying with it.
Since China has mischievously refused to specify the alignment of its LAC, a humbled India, fearing an accidental face-off, has set a strict limit for its border patrols, calls it the Limit of Patrols (LOP), far inside Indian territory, way behind what it claims is its own LAC, and leaves vast tracts of Indian land for Chinese troops to roam around freely and advance at will.
China keeps its LAC dynamic and shifting forward in areas of its strategic interests in the eastern as well as western sectors.
The war had decisively altered the India-China strategic equation in China's favour. With the air of a victor China made it explicit that for a border settlement it was not in a hurry and would 'wait with patience' (Chou En-Lai's letter of April 20, 1963, to Nehru).
China's 'wait' is not static. It keeps making incremental advances in the sectors that are of its strategic significance, mainly in the sub-sector north in Ladakh and tri-junction east in Arunachal Pradesh while mounting diversionary strategic pressure on all other sectors to keep India off-balance.
It took 30 years for India to see through the Chinese deception of 'status quo'. Prime Minister P V Narasimha Rao took a unilateral initiative in 1993 to engage the Chinese and sought to reduce the asymmetric disadvantages to India accruing from the 'status quo'.
Through a treaty he sought to contain China's belligerence along the borders and made an attempt to broadly define the 'Line Of Actual Control', an essential prerequisite for any eventual honourable settlement. However, Chinese apathy did not give the desired traction to Rao's initiative.
The official-level dialogue for a decade made no headway. The officials were limited in their mandate and constricted by bureaucratic rigmarole.
Prime Minister Atal Bihari Vajpayee understood the Chinese game of 'wait with patience' and assessed the need to upgrade tack. He succeeded in persuading the Chinese in 2003 to raise the dialogue to the political level with a broader mandate and greater flexibility. The two sides appointed special representatives. It was indeed an astute move by Vajpayee.
Prime Minister Manmohan Singh, however, with his little understanding and appetite for geo-politics, soon after assuming office in 2004, decided to rely more on trade and commerce to improve the relationship and resolve the outstanding issues with China. Greater emphasis on trade diluted the strategic resolve of Vajpayee's initiative.
With the change in thrust from strategic to trade and commerce, the special representative mechanism became routine, repetitive and trapped in inane diplomatic rituals. It gives India an illusion of motion in stasis. Eleven years and 17 rounds of tete-a-tete between SRs did not serve India's interests.
Ironically, the period of trade boom also witnessed enhanced Chinese belligerence at the border. They became more intransigent on Arunachal Pradesh in the east and moved far beyond their 1956 claim line in the sub-sector north in Ladakh. The hyped-up bon homie on trade relations has relegated India's strategic interests to the backburner.
India must work to break the strategic apathy of China on the border issue. But it can do so only if it breaks itself out of the self-created timidity trap.
An honest inquisition of the past is a sine qua non for a purposeful future.
Image: The Dalai Lama with Jawaharlal Nehru in New Delhi, April, 1961. Photograph: Getty Images.
R N Ravi is a retired special director of the Intelligence Bureau and monitored the China border for over 20 years.