The pandemic has brutally highlighted the inadequacy of India's administrative systems.
And the government has demonstrated its culpable inability to speed up vaccination in a timely manner, argues Jaimini Bhagwati.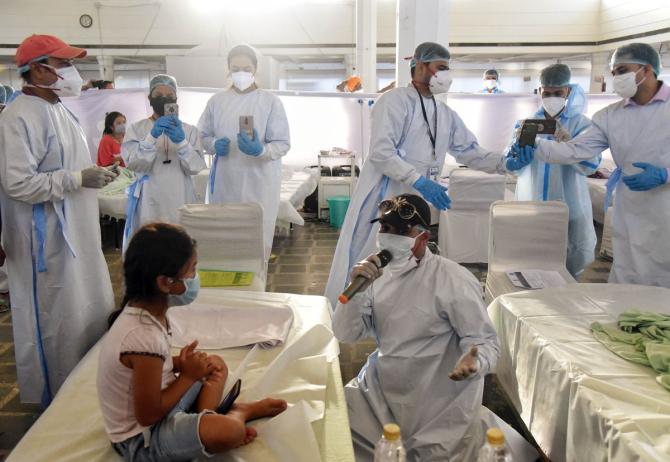 About 60 years ago, John Kenneth Galbraith, the US ambassador in New Delhi between 1961 and 1963, characterised India as a 'functioning anarchy'.
There have been so many heart-breaking reports about COVID-19 patients having to scramble for oxygen and hospital beds in Delhi and several other states for over a month since April 2021.
The pandemic has brutally highlighted the inadequacy of India's administrative systems.
And, the government has demonstrated its culpable inability to speed up vaccination in a timely manner.
Further, the reports about desperation at mass funerals and bodies thrown into rivers may make Indians wonder if the country is in a state of dysfunctional anarchy.
The government may claim that the virulence of the second Covid wave was impossible to anticipate. However, the need to take concerted action in collaboration with the private sector and medical research establishments to contain the deadly COVID-19 virus should have been obvious.
That should have included allocating adequate government financial support for vaccine production latest by mid-2020.
Instead, the tone of Prime Minister Narendra Modi's address at the World Economic Forum's Davos dialogue as recently as January 28, 2021, sounded self-congratulatory and complacent.
By mid-May 2021, spokespersons for the government and NITI Aayog were scrambling to suggest that they had anticipated a second COVID-19 wave and made public pronouncements to this effect.
The sheer effrontery of this claim is deeply galling. If government functionaries were aware of the heightened dangers posed by the possibility of a second wave, why did it not raise vaccine production in India instead of signalling that it had enough vaccine shots for domestic needs by sending over 60 million vaccines to foreign destinations?
Currently, there is considerable back and forth in official statements about a waiver of intellectual property rights on vaccines developed in foreign jurisdictions. Even if IPRs on vaccines that are currently not being used in India were to be waived, it would take six months or more to start sizeable production of those vaccines.
At the end of May 2021, India's best bet is to ensure that the Serum Institute and Bharat Biotech, the two Indian companies producing the AstraZeneca and Covaxin vaccines in Pune and Hyderabad, respectively, have adequate capital and government support to ramp up production sharply.
A BBC report dated May 5, 2021, commented that there were 'fewer than 10 doctors per 10,000 people and in some states that figure is less than five'. The BBC chose not to mention that the United Kingdom's National Health Service has about 26,000 doctors of Indian origin who received their medical degrees in India.
An article in the New Yorker magazine dated May 13, 2021, mentioned that 'India has nine doctors for every ten thousand people -- about half the global average, and only a third as many as the US. There's also the issue of maldistribution: two-thirds of India's population lives in rural areas, where only 20 per cent of the nation's doctors work ... shortages of nurses ... can be even worse'.
There are about one million physicians of Indian origin in the US, most of whom received their medical education in India but there was no mention of that number. Significant numbers of nurses of Indian origin are also settled in the US and the UK
On a positive note, despite the possibility of emigrating to developed countries to receive higher salaries and breathe cleaner air, so many doctors and nurses have chosen to work and settle in India. For the past 14 months, doctors, nurses, and the support staff in India have worked impossible hours in dangerously infectious conditions in Indian medical facilities.
The Indian Medical Association reported in mid-May that of the doctors registered with it, 728 died due to the first wave of COVID-19 and another 420 passed away during the second wave. It is not clear from the information in the public domain how many nurses have succumbed to Covid in India.
India's central and state governments should identify the families of doctors and nurses who have passed away due to Covid. In addition to public acclamation of their supreme sacrifice, taxpayer funds should be used to provide generous compensation to surviving relatives as a token of homage from a grateful nation.
On a separate note, in the Cairn Energy retrospective taxation saga we are again witness to the short-sightedness of a central government that is penny wise and pound foolish. According to media reports, Cairn has now targeted Air India in a US court to recover the $1.2 billion arbitration award it won at a tribunal at The Hague in December 2020.
The Indian government is reported to be preparing to challenge this arbitration award and there seems to be little concern about a likely adverse impact on India's image as an investment destination.
Consider a hypothetical discussion in a board meeting of a major multinational in the final stages of a large investment in a greenfield project in India. The board could well decide that it is better to wait till the Cairn and the Vodafone retrospective taxation issues are settled.
Incidentally, in calendar year 2019, prior to the pandemic, gross inward foreign direct investment that India and China (including Hong-Kong) received was $50.5 billion and $209.5 billion, respectively. Source: United Nations Conference on Trade and Development.
Since the 1960s, when Galbraith characterised our country as a functioning anarchy, India has made considerable progress in most fields. However, major Indian political parties have often diverted attention from the inadequate progress on public health, primary education, and job creation by fostering divisions based on religion, community, caste, and language.
It is tempting to use punchy expressions such as a functioning anarchy or a dysfunctional one to describe India. A more accurate summation would be that India continues to score self-goals and surprises even sympathetic observers by often snatching defeat from the jaws of victory.
Jaimini Bhagwati is a former Indian ambassador and World Bank professional.