... that's what teachers are telling students in many Indian schools. The only way out is to make sweeping changes in the way we select and train our teachers, says Shyamal Majumdar.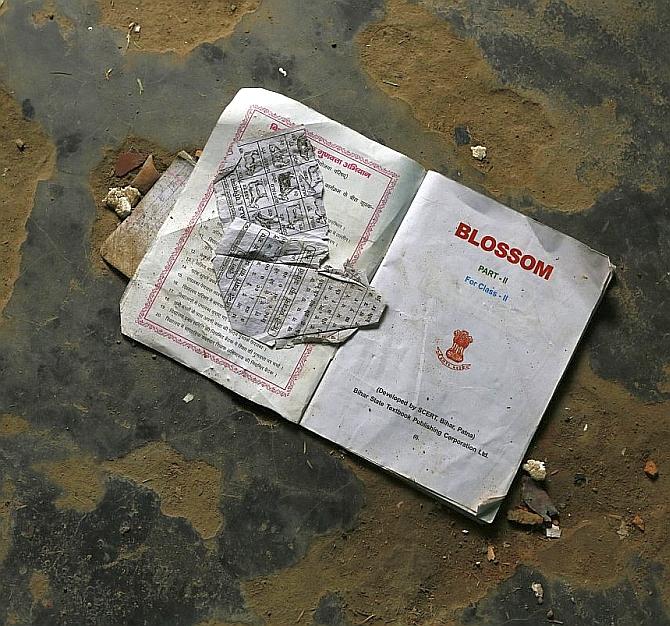 After media reports talked about school teachers in Punjab flunking an English language test after gems such as "leak of interest", "empty posts need to be fulfilled", inviting a rap on their knuckles from the state education minister, a couple of television channels didn't want to be left behind and rushed their cameras to schools in Madhya Pradesh and Bihar.
While it was perhaps unfair to humiliate teachers by making a public spectacle of them on prime time television, it showed why a huge number of students are leaving school with a stunning lack of knowledge.

While teachers in MP were seen making howlers by spelling should as "shud" and vacant as "vecent", their counterparts in Bihar were seen asking students to copy from what they were writing in the blackboards -- "Februari," "Mande" for Monday and "mego" for mango.
It wasn't English alone; teachers were also seen telling students that there were 360 days in a year and that the capital of India is Patna.
It's difficult to believe this, but YouTube is full of such sad videos of teachers in India's schools, who are contributing to the ignorance of their students.
So is it any surprise that the country ranked 63 out of 64 in the latest Programme for International Student Assessment study, with some of its best schools ranked about average among those surveyed?

To be sure, the situation is no better in urban areas.
A mathematics test conducted on teachers showed that most of them could not even do simple math; and 64 per cent could not give a correct title to a paragraph in a language comprehension test.
Another report said over 99 per cent of Bachelor of Education graduates failed to clear the Central Teacher Eligibility Test, 2012.
Under the Right to Education Act, a CTET certification is mandatory to become a teacher for classes I to VIII in any central government school.
What makes it appalling is that quite a high percentage of the BEd graduates who applied for the test are already elementary school teachers with a two-year Diploma in Teacher Education in District Institutes of Education and Training or their equivalent.
This only goes on to show how the DIETs have no systemic linkages with institutes of higher education, and how the mushrooming 10-month BEd courses in the country are good for nothing that focus on useless theory.

Agastya International Foundation says one of the main reasons for this is that the teaching profession has become "a profession of last resort" -- a stop-gap to moving on to a more financially rewarding profession, so much so that even the best schools find it difficult to attract and retain quality teachers.
After all, the salary of a call centre employee is double that of a mid-level teacher in a top private school.
How then will we resolve the issue that India needs about seven to eight million primary/secondary teachers, versus the three to four million available today?
To tide over the shortage, a host of state government schools have started employing para-teachers or contract teachers who are completely untrained and most of whom are paid salaries as low as Rs 3,000 a month.

The low level of teacher motivation is therefore not a surprise. More than a quarter of primary school teachers in rural India are absent on any given day.
The impact of absenteeism is exacerbated by the fact that the average primary school in India has a workforce of no more than three teachers, forcing them to do a wide range of duties completely unrelated to imparting education.
These duties, including administering government programmes such as immunisation clinics, assisting with data collection for the national Census, and staffing polling stations during elections -- in addition to their teaching responsibilities, place significant demands on teachers' time.

If a critical mass of good teachers has to be built, the only way out is to make sweeping changes to the way India selects and trains teachers.
And if the country wants smart, passionate people to become great educators, it has to attract them with comparably good pay and train them properly in the substance and practice of teaching. Just expanding access to education to comply with the Right to Education Act won't help.