'It is time again for Durga Puja.'
'Time again to be struck by India's astonishing cultural irony, one where the female form is worshipped as divinity while millions of real women are forced to lead restricted lives,' notes Shuma Raha.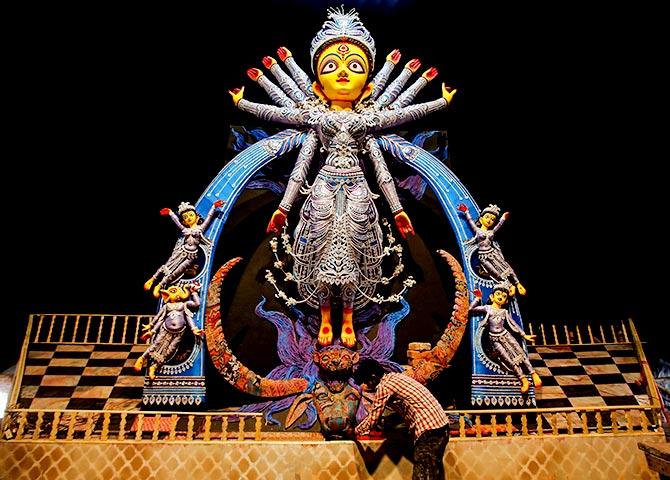 There is an abandoned movie hall near my home in Delhi's Chittaranjan Park. Faded red lettering on its scabbed, peeling walls say that it is called Chandralok. It shows up on Google maps too as Chandralok Cinema although no movie plays there anymore.
The place is silent. Derelict. A piece of prime real estate which, for some mysterious reason, has not yet had been subjected to the builder's wrecking ball.
I go there one evening because I recently came to know that it houses artisans from Bengal for a few months every year. They make idols for Durga Pujas that are held in these parts.
When I venture in, the grounds are utterly dark -- not even a hint of moonlight as a concession to Chandralok's name. But light comes from a looming shed, and sounds of activity, too.
I enter the shed and find myself in the thick of idols in various stages of readiness. There are rows upon rows of the ten-armed goddess, unadorned clay figurines even now, but the stylised anatomical details are in place: The vast eyes, the three folds on the neck, the voluptuous body, the serene expression that belies the warlike stance.
The dashabhuja carries no arms as yet, but the tip-tilted fingers of her hands are curled as if in anticipation.
They will hold weapons before long, and her gleaming spear will pierce the heart of the demon who lies vanquished at her feet, his face already frozen in the rictus of death.
I meet an artist called Gopal Pal who has come from Krishnanagar in Bengal. He sits on a high bamboo platform under the bright light of a halogen lamp. With infinite concentration, he slowly draws the eyes upon the face of an idol of Lakshmi, one of the so-called children of the mother goddess.
His practised hand moves unerringly even when he talks to me. The chakshudaan (the drawing of eyes) of Durga -- said to be symbolic of the goddess sparking into consciousness -- traditionally takes place on Mahalaya, the first day of the fortnight of the Devi. But Pal confesses that few observe the rule nowadays.
The goddess gets her sight as and when it suits the artist. There are deadlines to meet, scores of images to be finished and decked out. Some customs do fall by the wayside in the rush.
The work shed feels slightly claustrophobic, but I linger.
There is something mesmeric about the sight of a multiplicity of towering images of Durga in the raw, each a representation of Shakti or primal female energy, each a reminder of warrior goddesses worshipped across ancient cultures.
Scholars have written about the way the aggressive simhavahini, asuradalani (she who rides a lion and decimates demons) iconography of Durga in Indian myth, legend and antiquity has been softened in Bengali cultural tradition.
Perhaps the idea of venerating an almighty goddess before whom gods and demons quake was too unsettling for the good men of Bengal.
So the Durga of Durga Puja is also a soothing domestic figure with four godly 'children' tacked on to her iconic frame.
She is at once maternal and filial, the loving daughter who visits her father's home with her offspring every year.
It is time again for Durga Puja. Time again to be struck by India's astonishing cultural irony, one where the female form is worshipped as divinity while millions of real women are forced to lead restricted lives.
They are held back by restrictions of dress, speech, manners, movement, work, love, marriage, divorce or even worship -- their choices curbed, their potential undermined.
Last month, the Supreme Court did away with one of these restraints. It threw out patriarchy's writ and squashed the ban on the entry of women aged between 10 and 50 into Kerala's Sabarimala temple.
Women need no longer wait for menopause, a state of sexlessness in the eyes of patriarchy, to be considered fit to pray at Sabarimala.
This Durga Puja perhaps we could send up a prayer for more such enlightened judgments so the law can set women free wherever they are in chains.
Only then will they emerge in the goddess's radiant image: Liberated, empowered, and able to deal with any evil that comes their way.