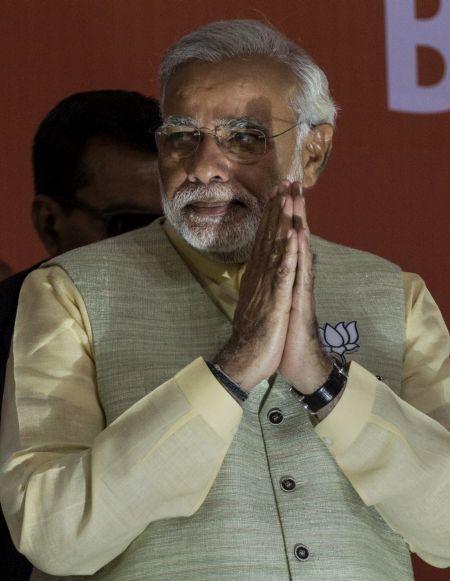 A strong leader, known for his strong speeches, uses his communication skills to guide and heal. He does not wait for 10 days to comment, provoking a worried President to speak instead-not once, but twice.
In the 2014 general election, Indians had many reasons for lining up behind a Bharatiya Janata Party central government. Some just wanted to see the taillights of the Congress disappear. Some were traditional BJP voters. Some wanted to give someone else a chance. But a large number of people who don't ordinarily vote BJP decided to put their faith in one man.
The winning campaign cast him as Neorendrabhai to the Matrix of our problems. He made 'the Gujarat model' a household term. His style and confidence electrified a country bored to death by Manmohan Singh. He would ensure work and action, whip systems into shape, get things done. He could connect with this restless, ambitious giant of a country, and play its frustrations back to it. He was the great communicator who tweeted, took selfies, and appeared to crowds in shimmering 3D -- high-flying, adored. He was The One, and he was everywhere.

In advertisements, corruption fled the country because Modi was coming. India would develop when Modi came. Hoardings everywhere showed the single face of Modi, set to chase the Congress offstage. Modi would be the colossus who would take India into a proud new era of prosperity and international validation. Modi would show strong, effective, visible leadership.

Well, Modi's here now, but he's nowhere. Where is his leadership? Did we really just get the hologram?

He's been flying around propping up foreign policy. But nice flowers in the garden mean nothing when the house is on fire. India is seething with emboldened criminals and bullies. It is reeling under strategically ignited religious tensions, and the cultural terrorism of vigilante groups. Hindu bigotry is in an open, all-out war with pluralism. There's unrest in Gujarat, Punjab, and Jammu and Kashmir. Caste and gender atrocities continue unabated. Ministers and members of parliament regularly make ugly statements that don't cost them their jobs. Cow worship and beef wars have replaced development at the top of the noise spectrum. None of this goes so well with 'Make in India'.

But India has always suffered from communal tendencies, caste and gender violence, vigilantism, political unrest, and misogyny. No central government has fully overcome this, and no government has failed to make political capital out of it; Narendra Modi didn't start this sea of troubles. The Uttar Pradesh state government is indeed responsible for the Dadri lynching, just as the Gujarat state government was responsible for the 2002 Godhra riots. Modi did not himself bash Mohammad Ikhlaq's head in with a sewing machine on the basis of a rumour, nor pour petrol through the windows of the Dalit family in Haryana. You can't blame Modi for everything -- a prime minister is often not responsible for what's going wrong. But a prime minister is responsible for helping to make it right.

Modi is therefore also The One upon whose desk the buck stops, The One of whom the country expects leadership. Strong leadership, in a plural country, demands that when watershed moments like Dadri come to pass, one steps up to the national microphone and says, very loudly, something to this effect: I mourn the tragic death of an innocent; I declare zero tolerance for violence, communal or otherwise; I condemn vigilantism; I deplore the openly communal statements made by my ministers and members of parliament; I urge every public servant and citizen in India to maintain peace, to respect the constitutional plurality of this country, and leave grievances to the legal process.' (Preferably in less plodding words.)

A strong leader, known for his strong speeches, uses his communication skills to guide and heal. He does not wait for 10 long days to comment, provoking a worried President to speak instead -- not once, but twice. He does not, when he finally speaks, use terms like 'accident', or insert venal qualifications like 'but it's not my fault'. He does not drag cow worship and beef-eating into his next election speech in Bihar. He does not merely start a rumour that he's upset.

If you're upset Mr prime minister, don't bottle it up, it's bad for the heart. We're dying to hear you let it all hang out.

Or perhaps he's not that upset. This same man, after all, stood at the ramparts of the Red Fort last year and called for a 10-year moratorium on communalism. What does one make of a leader who thinks of peace and harmony as time-bound, and loses his voice when it needs to be heard?

There are two deeply unattractive possible answers: either Mr Modi is bigoted, or he is a weak leader. Do you prefer to believe that we elected someone who would rip holes in our constitution, or that we elected the Wizard of Oz?