'Why are states important to win for national parties?'
'What is the significance of local power?'
'That was what we should have a look at because the Congress has been squeezed out of power in more states today than it has ever been in history,' says Aakar Patel.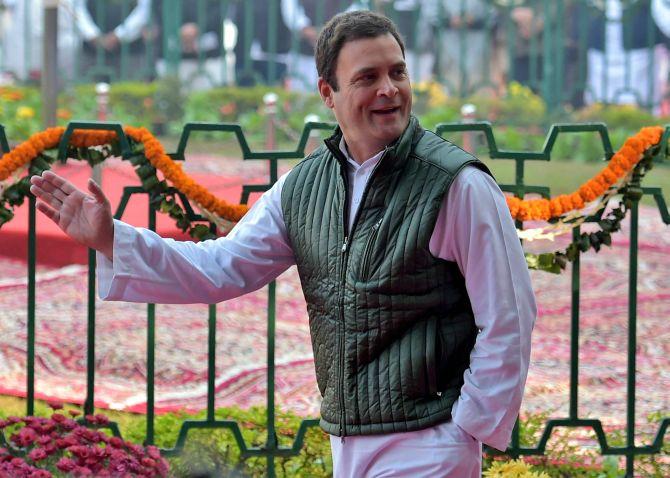 IMAGE: Congress President Rahul Gandhi. Photograph: Atul Yadav/PTI
We have never seen as much interest in an election concerning India's north east as we did this week.
I usually wake up early, around 5, and was surprised to see that on Saturday before 7 am the news channels were all ready with their panellists, awaiting the results in Tripura, Meghalaya and Nagaland.
This is a good sign for us as a nation. I remember a few years ago, the magazine India Today running an editorial which complained about how India was ignoring the north east.
In that same issue, which was covering some eight or so state assembly elections, the magazine's cover featured only five larger states from north India, ignoring the north east ones also going to the polls.
This attitude seems to be changing and that as I said is good for us.
The results were fascinating, especially the one in Tripura. India is one of the last remaining major democracies to have active Communist parties and they add great colour and value to our politics even if they have become a much reduced force.
However, I'd like to focus on the Congress today.
After winning some by-elections in Rajasthan in February, Congressman Sachin Pilot said this: 'To win states, you have to win municipal elections, ward elections etc. Those are elections that form the bedrock of an organisation. We have to win states. No party can think of conquering New Delhi nationally unless they have a good number of states under their belt.'
Why are states important to win for national parties?
What is the significance of local power?
That was what we should have a look at because the Congress has been squeezed out of power in more states today than it has ever been in history.
Perhaps that will change later this year when some states like Madhya Pradesh, Rajasthan and Chhattisgarh go to the polls. Why is it vital for Congress President Rahul Gandhi that his party perform well in the months leading up to 2019?
The first advantage is the most obvious one. Being in power is what politics is about.
The party can execute the specifics of its ideology and therefore set the agenda. For example, the BJP could make beef and cattle slaughter a national issue for months by banning it in Haryana and Maharashtra.
The second advantage is that power at the level of corporation and state assembly gives politicians the agency to serve their constituents.
Most politicians begin and end their day with people pestering them for all sorts of things from electricity connections to admissions for their children.
It is the party in power that can deliver this and not the Opposition.
The third aspect is funding. This works in two ways. The reality is that leaders make and take money for their party, even when they may not be personally corrupt.
There is an excellent anecdote about this by the late journalist Dhiren Bhagat in his book Contemporary Conservative about V P Singh.
Official funding from corporates also will flow towards the party in power for obvious reasons.
The fourth and related aspect is that of spending by candidates. Individuals who are contesting for parties which are usually in the Opposition will not spend as much of their money on their campaign. This results in their not being as competitive.
The fifth aspect is that the party in power can control messaging.
For example, through government spending on advertising. The largest advertiser in India is the Union government. Last year it spent Rs 1,280 crore (Rs 12.80 billion) on advertising the prime minister and his schemes.
To put the number in perspective, Hindustan Unilever, which sells everything from Axe deodorant to Lux soap to Taj Mahal tea spent Rs 900 crore (Rs 9 billion).
India's telecom companies all put together spend less than the Union government. All state governments have publicity budgets that are used primarily for self-promotion.
Arvind Kejriwal's Delhi government spent Rs 526 crore (Rs 5.26 billion) on publicity in 2015.
The sixth aspect is that these large sums keep the media on the side of the ruling party. This is especially true for regional newspapers that have high dependence on government advertising.
To give one example, Rajasthan Patrika, India's seventh largest newspaper with a readership of over 1.5 crore (15 million), went to the Supreme Court because Vasundhara Raje's government stopped giving it advertisements (presumably because of unfavourable coverage).
The seventh and last reason is the use of the machinery of the state.
The Election Commission keeps watch over this to some extent, but that is only in the phase after elections are announced.
For the rest of the 5 years, the party in power can use the police force, give positions to supporters and generally use and misuse the infrastructure of government.
These are the things which, especially in our part of the world, nourish and sustain political parties.
Without consistently and regularly gaining strength and sustenance through local power, it will be difficult for Rahul Gandhi to automatically become a contender nationally in 2019.
Aakar Patel is Executive Director, Amnesty International India. The views expressed here are his own.