'We should credit Prime Minister Modi with having foresight and courage and showing leadership on climate change,' says Aakar Patel.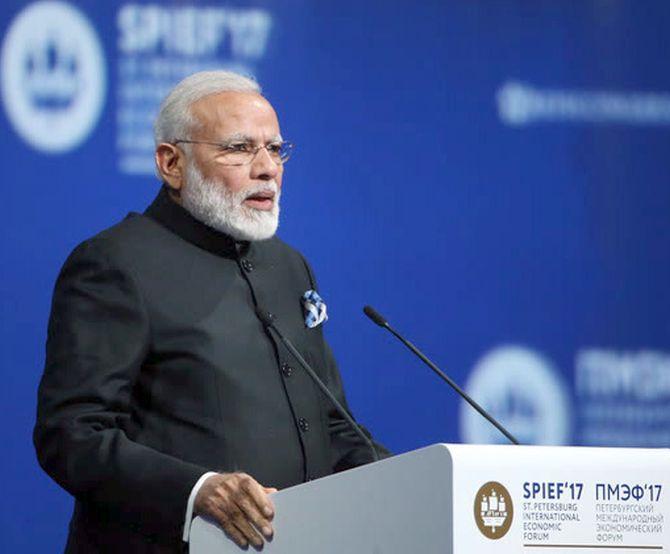 The world faces a dangerous moment, though the media in India is not focused on it.
The United States has gone back on its commitment to help reduce global warming.
The Paris Agreement was signed in 2015 in which nations agreed to lower the carbon dioxide emissions from their industrial plants and automobiles.
This would be done by voluntarily cutting fuels like coal and petrol and diesel and shifting to solar and wind.
India is already the largest market for solar power and because of this the prices of solar energy have dropped very low.
If all nations that signed the agreement met their commitments, the rise in global warming would be limited to 2 degrees Celsius more than it was in the time before industrialisation.
China is the biggest source of CO2 emissions, with 30% of the world's total, followed by the US (15%) and the 28-nation Euro zone (9%).
India contributes 7% of the emissions, but has about 15% of the world's population, so on a per person basis, India is not contributing to the problem as China and the US are.
However, India is rapidly industrialising and adding a large middle class that uses electricity and petrol and diesel.
We can no longer ignore the problem as one being caused by others.
We should credit Prime Minister Narendra Modi with having foresight and courage and showing leadership on this issue. He said 'Paris or no Paris, our commitment to preserving the climate is for the sake of future generations.'
The Government of India has also said that all cars sold in the country by 2030 will have to be electric.
The details of how this will happen are not known, but if Modi can pull it off, it will make him a true world leader.
Meanwhile, Trump said he was putting American jobs ahead of concerns on climate change.
He claims that if America sticks to its commitments, 27 lakh jobs will be lost in the next seven years.
This is disputed and in fact one of the biggest creators of jobs in the US in the last decade has been the electric car and solar industry.
It shows how isolated Trump is that even American industrialists and many of its largest companies said that America had taken the wrong decision.
One can only hope that the shift from fossil fuels continues, even if it is because of economic viability and efficiency rather than because of climate change.
Why I say we are at a dangerous moment is because the data is absolutely clear.
Climate change is happening as a result of man-made global warming.
Since 1880, the earth's surface temperature has risen at an average pace of 0.07°C every decade. This has resulted in a net warming of 0.95°C as of now.
Land temperatures have risen faster than the ones of the ocean so far.
But this will change by 2030 unless the world's nations cut their emissions.
And once the oceans start to warm up, many countries will quickly be in deep trouble.
Indians will be vulnerable in three ways.
Climate change will mean higher oceans and this will lead to huge problems in cities like Mumbai and Chennai and Kolkata, near the sea.
It will also mean that the monsoon will become much more volatile and unpredictable. This will bring misery down on the Indian farmer.
The third problem will come if we continue using fossil fuels like coal.
The source of our coal is the Adivasi belt in Chhattisgarh, Jharkhand and Odisha.
The tribals there are being most cruelly exploited and must give up their forests and their lands for the rest of us to get coal.
When Mumbai proposed to build a flyover opposite Lata Mangeshkar's house, she threatened to leave the country and got it cancelled.
Adivasis do not have that power and must give up their land.
If we move to fuels like wind and solar, we will stop their exploitation.
Stopping the use of fossil fuels will help all of us.
More than 12 lakh Indians die of pollution every year.
However, these deaths, and the danger of climate change are not the focus of our media.
Because of this there is not enough pressure on government and industry to change faster.
As a nation we must use the Trump decision to bring our focus on a problem that has enormous implications not just for India, but the entire world.
In the nations of Europe, climate change is a large election issue and requires candidates to debate on what they must do.
The Indian voter, particularly the educated middle class one who is aware of the issue, must ensure that this also happens in our country.
We owe it to ourselves and the next generation and the ones to follow.
IMAGE: Responding to a question about US President Donald Trump withdrawing the US from the Paris Agreement, Prime Minister Narendra Modi, addressing the International Economic Forum in the St Petersburg, Russia, said, 'Paris or no Paris, our commitment to preserving the climate is for the sake of future generations.' Photograph: Press Information Bureau
Aakar Patel is Executive Director, Amnesty International India. The views expressed here are his own.
You can read Aakar's earlier columns here.