'What shame is there in the government accepting a drought situation and taking appropriate measures to help people live?' a Marathwada farmer asks Neeta Kolhatkar.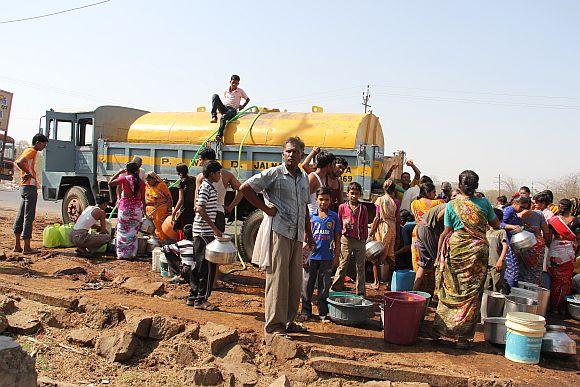 IMAGE: A Public Works Department tanker arrives in a village on the outskirts of Jalna town, 2013. Not much has changed in the past two years for Marathwada. The situation has worsened. Photograph: Uttam Ghosh/Rediff.com
Over a month ago I received a telephone call from Nathrao Karad, a farmer from Beed. Seven years ago I had reported on how Nathrao's efforts in farming had drawn Marathwada's youth back to farming. The group farming Nathrao had introduced had made farmers richer as it brought them new, profitable, options.
Nathrao had called to tell me how disappointed he is with the Maharashtra government for not taking any initiatives to store water as the situation in Marathwada is dismal. "The one bucket of water you use for yourself, here we use it for the whole family over two days," Nathrao said.
Nathrao and I spoke at length about his efforts to ease the situation and what the government could do. He wanted the Devendra Fadnavis government to start cattle sheds which the administration is required to do as per a government resolution during a drought situation. Nathrao lamented that the Fadnavis government was late in acknowledging the water crisis and declaring Maharashtra a drought affected state.
"What shame is there in the government accepting a drought situation and taking appropriate measures to help people live?" Nathrao asked, adding, "I am not exaggerating: We are facing death."
Nathrao has a good network of contacts. He wrote to the Siddhi Vinayak Trust to sanction money to build canals. The trust provided Rs 1 crore (Rs 10 million) which Nathrao deposited with the district collector. He then wrote to the state irrigation department and sought its machinery.
The whole village then came together to build a canal 35 metres wide, 600 metres long, 3 metres deep.
Today, Nathrao's village gets drinking water every alternate day.
This at a time when the Fadnavis government is shy of admitting that the state confronts severe drought.
In many villages in Marathwada, people have absolutely no water to drink.
As per state government figures, Maharashtra has only 49 percent water stock; Marathwada has only 8 percent. Over 183 tankers supplying water to areas in Marathwada have stopped operations.
The Indian Meteorological Department accurately predicted insufficient rainfall, much before the summer set in. But governments react only when it is often too late to contain the damage.
For a politician who when he was in the Opposition would have rocked the assembly with his loud voice, Chief Minister Fadnavis meekly ignored every dire warning of a severe drought.
The Opposition Congress and Nationalist Congress Party are not ferocious like the Shiv Sena and Bharatiya Janata Party, but Congress and NCP MLAs were on top of this situation, demanding a waiver of loans, calling on the Fadnavis government to declare an emergency and seeking the Centre's intervention.
Every second Congress-NCP leader, it appeared, demanded that the Fadnavis government declare a drought in Maharashtra. But the chief minister, his administration and the central government refused to heed the demand.
This issue concerns thousands of lives. Indians have fled villages in Marathwada, seeking refuge in Maharashtra's metros like Mumbai and Thane, working as manual labour for survival. These Marathwada villagers have been compelled to opt for a dehumanised way of living, just to stay alive.
Marathwada has always been treated like a stepchild by successive state governments. Predominantly inhabited by Dalits, Other Backward Classes and tribes, Marathwada is one of India's most backward regions.
As the festive season dawned, the Fadnavis government announced the sale of grain at Rs 2 per kilogram, which may help people live for that one day. The urban elite who have absolutely no idea of the landscape and economics of Marathwada, must understand that subsidising food grain is just one way of helping this region's people live with self-respect.
All the fields along the long no-tree roads in Marathwada currently lie barren. My memories of this area with its large halogen lamp-like sunflowers are in the distant past. Marathwada's soil lies dead because of lack of water.
While we in Mumbai and other cities consume water freely, let us remember that the bucket of water we use liberally is consumed by families in Marathwada over two days.
The whole village has to come together and compel the government to get things done, says Nathrao. "Isn't it better," he asks, "to work for one's tomorrow than do manual labour for others?"