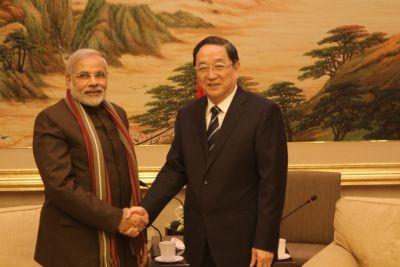 Being a pragmatist Modi is not likely to give preference to China over Japan. Both security and economic aspects are likely to shape Modi's decision in terms of engaging the two biggest economies of Asia, says Sana Hashmi.
With Narendra Modi taking oath as the 15th prime minister of India, speculation ishigh regarding fine-tuning of India's China policy. By inviting the leaders from neighbouring countries of the Indian subcontinent, he has already indicated that strengthening relations with immediate neighbours will be a key issue for the Modi-led National Democratic Alliance.
Foreign media, particularly the Chinese media, comprehensively covered the 2014 Indian election for the simple reason that Modi's coming to power is bound to bring about changes in India's foreign policy outlook. Though his foreign policy priorities are not finalised at this stage, it is apparent that China will be the one of the top priorities for the new prime minister.
Contrary to the popular perception that Modi will adopt a hard-line approach vis-a-vis China, Modi, who is famous for devising his economic policies in Gujarat, will reach out to the Chinese leadership. It is noteworthy that during his term, former prime minister Atal Bihari Vajpayee consolidated the basis for a strong yet realistic India-China relation. Seemingly, Modi will not be departing from Vajpayee's policies towards India's neighbours.
One may argue that given that China's direct investment to India is still limited, Modi who had visited China as Gujarat's chief minister thrice would be interested in exploring greater opportunities for seeking investments from the Chinese side. His last visit to China was in September 2011 when he signed a MoU worth Rs 400 crore with a Chinese firm for setting up high voltage transformers and reactors' plant in Gujarat. In fact, in March 2014, he stated that, "the ministry of external affairs should focus on 'trade treaties' rather than strategic issues." Essentially, in all likelihood, the scope of India-China economic cooperation will be expanded under the tenure of Modi.
However, there is another side to it. There is a possibility that Modi will be assertive with regard to India's protracted border dispute with China. This is likely if there is a border clash between India and China in the next few months. Modi was quoted saying during his election campaign in Arunachal Pradesh that "China should abandon its 'mindset of expansionism' while dealing with India". China maintains that Arunachal Pradesh is an integral part of China and refers it to as 'South Tibet'.
It's already been a year since the military deadlock at Daulat Beg Oldi happened. On April 15, 2013, Chinese platoons entered 19 km inside the Indian side of Line of Actual Control and established tents for three weeks. After a month, in May 2013, Chinese Premier Li Keiqiang, who took charge in March 2013, paid his maiden foreign visit to India. Initiation of Confidence Building Measures and attempts to address lingering issues such as limiting stand-offs at border by signing the Border Defence Cooperation Agreement and touching the issue of huge trade imbalance tilted in favour of China by holding strategic economic and financial dialogues marked the year 2013 with respect to India-China bilateral relations.
Given that the Modi government holds more than half the seats in India's lower house, he will be better placed to take tough decisions, without depending on the opposition; a factor that has the potential to change India's approach towards China and India-China relations. Additionally, the Bharatiya Janata Party's statement about reviewing India's 'no first use' nuclear weapons policy might be an indication towards India's tougher stand on the boundary issue.
As far as the Chinese leadership is concerned, they have expressed optimism with regard to the new leadership in India. The statement by the Chinese foreign ministry spokesperson, Hua Chunying, on the day of the election result is a testimony to that. On May 16, he stated, '[China is willing to make joint efforts with the new Indian government, maintain a high-level of exchanges, deepen exchanges and cooperation in all areas and bring the India-China strategic partnership to new heights.' Moreover, academia in China is also quite hopeful that Modi's approach towards China will be pragmatic and his policies will inch India and China closer. In fact, Modi is being regarded by the Chinese media as Richard Nixon who was the key role player in the China-US rapprochement in 1972.
However, two game-changing factors have the potential to change the course of India-China ties beyond imagination: the role of the Rashtriya Swayamsevak Sangh and hard-liners in the BJP as also the NDA coalition members like the Shiv Sena, and India's ties with Japan.
Japan has been supportive of a greater role for India in Asia as well as at the international level. Moreover, Japan has the potential to uplift the Indian economy by massively investing in India's infrastructure, energy, education and defence sectors -- matters close to Modi's heart and the NDA's agenda. Already, India is one of the top beneficiaries of Japan's Overseas Developmental Aid. Japan's remarkable success in executing the Delhi Metro Rail Corporation and the ongoing Delhi-Mumbai Industrial Corridor have strengthened its reliability in India; something which China has failed to achieve so far. In fact, apart from China, Modi has visited Japan twice in 2007 and 2012. These visits were aimed at opening avenues for investments in Gujarat.
Given that economic cooperation between India and China is one of the founding stones of the bilateral relationship, in all likelihood, India's policies towards China will remain unchanged. However, the new government's approach would be two-pronged.
On one hand, the focus will be on strengthening its relations with countries like Japan and Vietnam while constantly working on the military modernisation; whereas, on another hand, maintaining cordial ties with China so as to receive investments from China will be one of Modi's top priorities.
Once Modi assumes his responsibilities, it is believed that while he is expected to be firm on the border issue, he would be more flexible on the economic front.
To sum it up, being a pragmatist Modi is not likely to give preference to China over Japan. Both security and economic aspects are likely to shape Modi's decision in terms of engaging the two biggest economies of Asia.
Image: Narendra Modi with Yu Zhengsheng, member of the political bureau of the Communist Party of China Central Committee, during his visit to the region in 2011. Photograph: Consulate General of India in Shanghai.
Sana Hashmi is associate fellow, Centre for Air Power Studies.