'We need to be in a perpetual state of aggression, and able to swiftly change the goal posts to keep Pakistan in a state of imbalance,' argues Sanjeev Nayyar.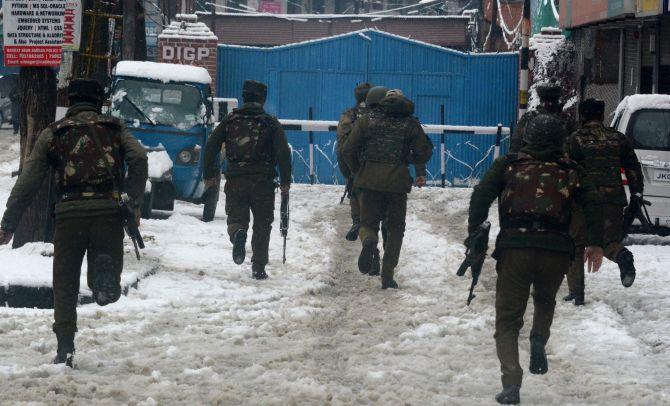 IMAGE: CRPF troopers during a gun battle with terrorists who attacked their camp in Karan Nagar, Srinagar, February 12, 2018. Photograph: Umar Ganie
Over the weekend, terrorists attacked the Sunjwan army cantonment in Jammu, and six army personnel made the supreme sacrifice. Soon after, on Monday, February 12, the CRPF camp in Srinagar was attacked, in which one one jawan was killed.
Terrorist attacks in Jammu and Kashmir continue unabated. While Modi bhakts are yet to get over the surgical strikes of September 2016, Modi baiters ask where is the vaunted 56-inch chest he boasted of during the 2014 Lok Sabha election campaign.
Both are besides the point, so let us leave emotions aside while dealing with Pakistan. India needs a comprehensive Pakistan policy that encompasses the government, media and the people of India.
At the outset India must take certain things as a given whilst dealing with a country that has made export of terror the reason why the world must not ignore it.
One, as long as Pakistan exists as a nation, it will make every effort to make India fail because, if India succeeds, there was no justification for the creation of Pakistan.
Two, we can live in peace with Pakistan only when India becomes a Muslim-majority nation.
Three, India is the reason for the Pakistan army's pre-eminent position. If relations between the two nations improve, it weakens the army's hold over its national affairs, something they do not want.
Four, China uses Pakistan to keep India busy with internal problems and boxed-in in the Indian subcontinent, diverting attention from all that China is doing and planning astride in the Himalayas, the Indian Ocean region and in Afghanistan, to quote Lieutenant General Prakash Katoch in the India Defence Review.
Five, India has to fight its own battles. The US does say good things from time to time, but it can go that far because 'Pakistan has also hinted that the US would be unable to arm and equip its military in Afghanistan, as its only viable lines of communication to Afghanistan are through Pakistani territory and airspace', as former high commissioner to Pakistan G Parthasarathy wrote in Business Line.
Since US troops are unlikely to leave Afghanistan in the near future, this dependence shall continue.
Six, the US administration's anti-Russia policies have forced Moscow and Beijing to come closer. Naturally it was only expected that Russia's attitude to Pakistan would change.
India cannot count on Russian support like it did earlier.
Seven, the Bhagavad Gita repeatedly refers to the importance of perseverance. Pakistan has been implementing its plan to bleed India with a thousand cuts for decades. It is high time Indians abandon their craving for peace and sustain a tough stand versus Pakistan.
In fact, Modi is one of the few prime ministers who, after learning it the hard way, has not continuously succumbed to Western pressure and resumed a composite dialogue (however meaningless they were in the past).
Eight, India needs an integrated policy to deal with Pakistan. A tit-for-tat military approach worked initially, but it has its own limitations.
Nine, it is difficult to effectively isolate Pakistan internationally because of its geographical location.
So, we can expect a surge in terrorist attacks in the run-up to the 2019 election. The intent is to tell Indians that Prime Minister Narendra D Modi is a paper tiger because he has failed to rein in Pakistan.
To combat this, India needs a multi-pronged approach.
1. Former foreign secretary Kanwal Sibal recently wrote, 'An important reason to continue robust action on the LoC is also to create uncertainty in Chinese thinking about the security of its China-Pakistan Economic Corridor passing through PoK.'
The timing and place of response should be of India's choosing. The public should have faith that the government will take decisive action, so unnecessary public pressure and jingoism should be avoided.
2. We are reactive -- get attacked first and then say we will retaliate.
We need to be in a perpetual state of aggression, and able to swiftly change the goal posts to keep Pakistan in a state of imbalance.
3. Strategic analyst Brahma Chellaney wrote recently, 'Unless India raises the cost for Pakistan nothing will change. Use Chanakya's sutra of Saam, Daam, Dand and Bhed.'
The key for these techniques to work is that Pakistan must believe India is capable of using Dand effectively. So far India has limited the cost to a tit-for-tat policy at the border.
Remember that Chandragupta Maurya, a brave warrior, would have achieved little without the statecraft of Kautilya.
4. Pakistan has several ethnic, religious, sectarian, political and inter-provincial fault lines. Can't those be exploited?
5. India as a nation went into celebration mode post the surgical strikes. Did the government not expect and prepare for a Pakistani response and military escalation?
6. India has failed to follow through on its announcements.
During his 2016 Independence Day speech, Prime Minister Modi raised the human rights issues of Balochistan, Pakistan-administered Kashmir and Gilgit-Baltistan. What happened thereafter?
So also in the aftermath of the Uri terror attack (in which 19 soldiers were killed), it was said that blood and water cannot flow together, and the Indus water treaty would be reviewed. Thus in September 2016 India decided to suspend the Indus Water Commission talks till 'Pakistan-sponsored terror' ended. But the U-turn came soon when an Indian delegation left for Islamabad in March 2017.
India is forever threatening to increase the utilisation of its share of waters under the said treaty. The reality is that India is not even using waters as permitted.
7. General Katoch pointed out in First Post on the day of the Sunjwan army camp attack that 'there are 734 Rohingya settled near police lines in Jammu near Channi Himmat, 206 near the army station in Sunjwan which was attacked, and 40 near HQ 16 Corps at Nagrota', and asked, 'Why hasn't the NDA government not moved them to a refugee camp outside the state?'
War veteran Brigadier S S Saini said a military station should not have any constructions within a 100-metre radius of its compound, yet in the Sunjwan army camp people have constructed homes right next to the fence. The state government must answer why such construction was allowed.
No one claims that the Rohingyas had a hand in the Sunjwan attack. However, the Modi government has failed to impress upon the Supreme Court that national security is outside its domain and the deportation of Rohingyas would go on.
The plea for their deportation was first heard in the apex court on September 18 and the next hearing is on March 7. Why cannot the court have daily hearings on such an important matter?
The state government's approach has not helped either. The Peoples Democratic Party-BJP government is a weak link in Modi's Pakistan policy, be it filing FIR against army personnel or giving amnesty to stone-throwers.
If the Modi government does not respect the army, the consequences would be serious.
8. Successive governments need to realise that asymmetric warfare (use of guerrilla tactics by terrorists from a smaller nation against a larger professional army) by Pakistan since the 1980s will dissolve the will of the Indian army sooner than later. Hence, India must consider the following steps:
Consider downgrading diplomatic relations.
Stop export of those items that contribute to the Pakistan economy -- for instance, livestock and steel. The former would reduce beef exports from Pakistan that leapfrogged post 2005.
Frequency of the Samjhauta Express should be substantially reduced.
Undertake short-term measures to utilise its share of waters under the Indus Water Treaty.
Keep the lines of communication open with the Sufis, Shias, scholars, members of civil society, etc.
Keep Pakistan under pressure from the West by continuing with infrastructure-building and education scholarships in Afghanistan.
No country will declare Pakistan a terrorist State unless India, being the worst affected country, does so first.
9. Speak sparingly, let the guns talk. As G Parthasarathy wrote: 'It is often forgotten that the Indian response to infiltration, between 2000 and 2003, was so devastating that in areas like the Neelum river valley life was regularly brought to a standstill. It was this policy that forced General Pervez Musharraf to ask for a ceasefire in November 2003.'
As a nation we are flattered easily, celebrate prematurely, brag about small victories and are unable to take matters to a logical conclusion.
10. All television channels should, as a temporary measure, be barred from inviting any Pakistani guest on their programmes.
11. We need a change in mindset, to fully assimilate that conventional war is NOT the answer to sub-conventional war; the government must get military professionals into the ministry of defence and start the process for defining a National Security Strategy; the deputy national security advisor should be a military person.
If that had been the case we would not have used the National Security Guard in Pathankot.
12. The army's technical support division must be re-established since it was getting excellent trans-border information about terrorist infiltration.
13. Two years after the 2016 attack on Pathankot air base, the government has sanctioned Rs 1,487 crore for the army to boost perimeter security at its bases across the country.
Why was this not done in 2016 itself?
14. Stop giving Pakistan so much importance by referring to it in election speeches.
15. Proof of how well Pakistan has cultivated Bollywood is reflected in the way it is portrayed in films.
Talking of which, Professor Dheeraj Sharma of the Indian Institute of Management, Ahmedabad, wrote a very interesting article in the Hindustan Times on this subject.
<p'I am not a regular movie viewer. However, I was cajoled into watching the Salman Khan-starrer Bajrangi Bhaijaan and I was surprised at the director's treatment of the subject. The majority of Indians were projected as narrow-minded, conservative, and discriminating. However, a majority of the Pakistanis were shown as open-minded and non-discriminating. This led me to empirically examine if this portrayal is a one-off presentation of stereo typicality or largely prevalent in Bollywood films.'
'In addition, we examined 20 Bollywood movies that had Pakistan as the setting. In 18 of those films, Pakistanis were projected as welcoming, courteous, open-minded and courageous,' he writes here (external link).
On one hand successive governments have spoken about terrorism emanating from Pakistan (since the 1980s) while on the other Bollywood shows Pakistan positively.
China has realised the gains from its Pakistan approach and is patronising Aamir Khan's movies in a big way.
Notwithstanding freedom of speech, the Central Board of Film Certification in conjunction with the ministry of external affairs must lay down guidelines on how movies made in India must portray Pakistan and China. The movie must, as a temporary measure, be jointly reviewed to ensure that portrayal of either country does not create a new reality.
National interests are paramount. Courts must realise that human rights cannot be more important than national security.
Sanjeev Nayyar, an independent columnist, tweets @sanjeev1927