'A stronger response on the border, some action needs to be taken against Pakistan from where the terrorists come, and finally what needs to be done is to calm Kashmir down,' Lieutenant General D S Hooda (retd) -- the Northern Army Commander under whose watch the Indian Army conducted the 2016 surgical strikes -- tells Rediff.com in an exclusive interview.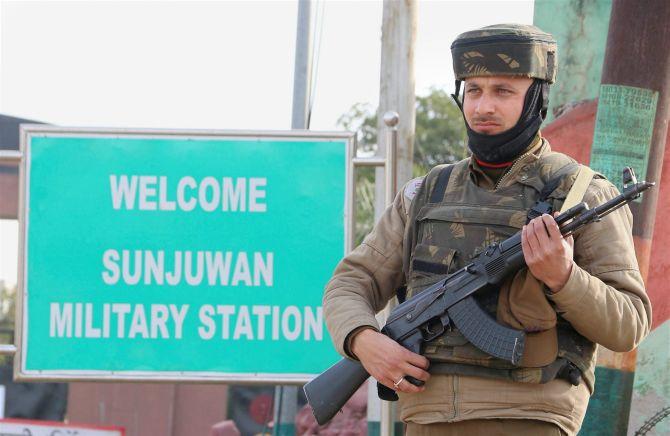 IMAGE: The Indian Army's Sunjuwan military base in Jammu which was attacked by terrorists on February 10.
Since 2008, according to the South Asian Terrorism Portal, as reported by The Hindu, 135 soldiers have been martyred and 55 terrorists killed in 33 attacks on security forces in Jammu and Kashmir.
Six soldiers were martyred in a pre-dawn attack by heavily armed terrorists on a military camp in Sunjuwan, Jammu, on Saturday, February 10.
The last terror attack on an army garrison was in November 2016 in Nagrota.
One of the martyrs, Lance Naik Mohammad Iqbal's father was also killed in the Sunjuwan camp which also housed soldiers' families.
Doctors battled to save the life of a pregnant woman who sustained bullet injuries and delivered a baby in the military hospital.
Two officers, three men and six relatives are injured. The operation to cleanse the Sunjuwan camp of all terrorists has not ended yet.
As the highest-ranking army officer in charge of the Line of Control and Jammu and Kashmir, Lieutenant General D S Hooda (retd) has had his boots on the ground in fragile J&K.
He was the general in charge of the surgical strikes across the Line of Control on September 28-29 2016. It was the most difficult operation under his watch.
"If there is a semblance of calm in Kashmir, automatically Pakistan will start losing some of the support for such activities," General Hooda tells Rediff.com's Archana Masih in an exclusive interview.
"Ultimately, you have to get people on your side," he emphasises in a detailed, candid, conversation.
As the former Northern Army commander, what thoughts go through your mind when you hear of attacks on army camps like at the Sunjuwan military station in Jammu?
The first thing you hope is for the casualties to be minimal.
When it is a base which has families and children the first fear and thought is that hopefully there won't be many lives lost or people hurt.
The casualties among women and children worsens the situation.
By targeting women and children in a military camp, do you think the terrorists are changing tactics? Pushing the limits of barbarity?
I don't think so. These are terrorists. The more horrific the act, the more eyeballs will it grab.
In regular military operations the idea is to minimise civilian casualties, but these terrorists don't have any such compunctions or compulsions.
Why are our military installations so vulnerable to terrorist attacks?
These are questions that are always asked.
The answer is -- sure you need to protect your bases better. But can we today completely rely on a human being, an individual and expect him to do everything?
And not empower him, not help him by giving him security measures which are required to strengthen garrisons.
There was a whole plan that was made to integrate technology and have better systems to protect garrisons. Then it sits with the government for 2 or 3 years. That is an area we need to look at.
If we are going to say there is a laxity and soldiers are to blame every time an attack takes place, we are putting too much pressure on the individual.
It is night time, there is a perimeter which spreads over kilometre on kilometre, if we are going to say we are going to keep soldiers every 100 metres at night, then who is going to man the borders?
You can't deploy them all in protecting the garrisons and leave the borders!
I think we need to empower soldiers a little more.
We have been saying this for a long time. We had the General Philip Campose Committee (which probed the attack on the Pathankot air base on January 2, 2016) which came out with a plan.
Individually, all of us had sent detailed plans on how we need to make our garrison security better.
And those plans have not been worked upon optimally?
Suddenly after the attack takes place, the ministry of defence gave a statement that it has released Rs 1,400 crores which should have been done two years ago.
After the Pathankot attack how has security at military camps improved? Has it not improved as it should have?
It is not like that. I know an attack has happened and people will ask how has it happened one more time.
A garrison has been attacked after a year or so. The last attack on an army camp was in Nagrota in November 2016. There are thousands of garrisons in Jammu and Kashmir.
Measures are in place and the army is doing its best with whatever funds are available within the army.
A lot of improvement has taken place, but we need to look at it with a larger perspective and see how garrison security can be bettered.
What you are saying is that the soldier needs to be equipped with better technology, in addition to physical security like patrolling the fencing of camps?
Absolutely. There are limits to human endurance. How much can the soldier do?
We need to empower and equip him and do everything for him.
If you expect soldiers to stand every 100 yards in the winter through the night when temperatures are below freezing, we are asking for too much.
SOPs (Standard Operating Procedures) are all there, but it is not as if the required technology is not available today. If it is available, it should be provided, it is as simple as that.
What is the most important equipment needed by soldiers for securing military camps?
You need a physical perimetre security like a wall, which is largely there in place in all camps.
What is required is sensors, which set off an alarm when somebody cuts the wires.
You need night vision cameras with motion detection software. These are simple equipment.
Yes, you need to physically guard your gate, but around the perimeter you need a smart sensor system which alerts you when there is a breach.

We had made the plan for each individual garrison.
A detailed plan for each garrison was made and sent with the requirement of funds for it.
But it has been sitting with the government for two years.

Are there no garrisons in J&K which have these kind of sensors currently?
I am not saying that. It is being done slowly with whatever funds are available with the army. But those funds are meagre. They are used for a lot of things.
It needs to be taken up as a project. If the MoD figure is Rs 1,500 crore or so, obviously that kind of money is not available to the troops on ground.
It has to be taken as a full fledged project. The funds have to be allocated. Merely making announcements won't do.
If you go back last year after an attack, there was a statement from the MoD that we have issued an advisory.
Troops don't need advisories. They know they have to be careful, they know these terrorists are about.
What they need is the funds to get the project going. That is going to help.
I am not saying that soldiers don't have to do their bit. They have to be prepared, awake, SoPs have to be in place.
All that is also being done, but we need to help and equip the soldier better.
We used to struggle to provide sleep to the guys.
In the morning, the jawan does work assigned to him. A soldier does his training in the mornings, does administrative office work, tends to his equipment and at night, he gets up to man the security.
Soldiers in military cantonments are not only doing security duties.
There is no separate security corps.
Do you think a separate corps is needed to secure cantonments and garrisons?
Where will that come from?
As it is there is so much criticism that the army has so much manpower, and they have a huge revenue budget.
I don't think we need more men. We need more technology and communication.
That is going to help. I am told some of the big private companies have super fancy surveillance systems. That is what is needed.
And the government needs to take this up very proactively?
Yes, everything is there. The data has been compiled. We had made the plan for each individual garrison, I remember.
We had stated what was required. Some had boundary walls, some did not.
A detailed plan for each garrison was made and sent with the requirement of funds for it.
But as I said, it has been sitting with them for two years.
Now the day the attack takes place, the MoD comes out with a statement that they have approved it knowing that they would invite some criticism.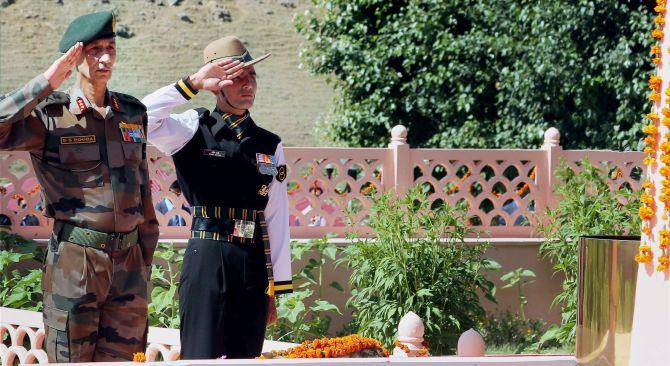 IMAGE: General Hooda pays tribute at the Kargil War Memorial at Drass in Jammu and Kashmir, July 26, 2016. Photograph: PTI
Data in the Hindu newspaper says that since 2008, 33 attacks have taken place on security forces in J&K, where 135 soldiers have been martyred and 55 terrorists killed.
The surgical strikes were undertaken, yet no one expected that it would stop all future attacks -- so what is the way forward and the best way of dealing with such attacks?
While we are talking about one attack that has been successfully done by the terrorists, we don't know how many have been thwarted.
There are two things, while you have to protect yourself, in the larger context, where are these guys coming from? Pakistan.
That is something we need to seriously think about. What are we going to do about Pakistan?
I don't want to sound like a war monger, but some action needs to be taken against Pakistan.
Some action like?
Some action on the border to put pressure on Pakistan.
Like the surgical strikes or more aggressive than that?
A stronger response on the border.
Some cross-border strikes and finally what needs to be done is to calm Kashmir down.
If that happens there won't be so much support for such kind of activity.
As long as Kashmir is on the boil, Pakistan will continue to take advantage of the situation, and some of these guys will get support from the local population.
We need to seriously look at how things can be improved in the valley. We are trying to underplay the problem in Kashmir.
Until there is calm in Kashmir, India cannot deal with Pakistan?
If there is a semblance of calm, automatically Pakistan will start losing some of the support and motivation.
There was a time when areas of Jammu -- Rajouri, Doda, Kishtwar -- were as violent as Kashmir was, but things have calmed down there.
The population does not support militancy. This is not only in areas of Hindu population. Rajouri, Poonch are Muslim dominated districts and things have cooled down.
Ultimately, you have to get people on your side. The same thing holds true for Kashmir.
It is going to be a little more difficult but unless people don't come out and say what is happening is not good, things will not get better.
So you have to continue to put pressure on Pakistan on the border and at the same time maintain some element of calm in the valley?
Exactly. It (the government) should be hard on Pakistan and soft on the population.
Sometimes the impression gets created that it is the other way around -- muscular against our own people and a ceasefire with Pakistan.
My personal viewpoint is that at least the impression that is being created is the opposite of what should be conveyed.