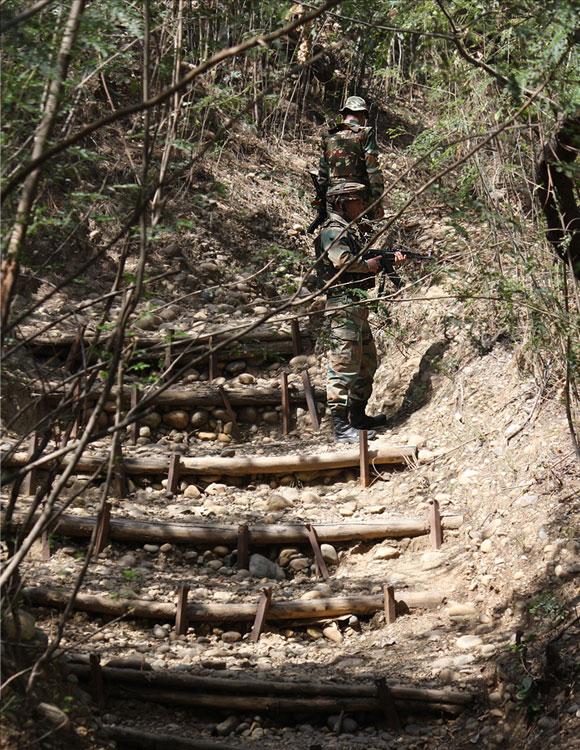 The allocation in the defence budget is inadequate to meet India's long-term threats, especially from China and Pakistan, says Gurmeet Kanwal.
The funds allotted for defence expenditure by Finance Minister P Chidambaram in the interim budget are inadequate to meet the growing threats and challenges facing the country, for undertaking modernisation of the armed forces to fight and win future wars and for discharging India's increasing responsibilities as a regional power.
The interim defence budget is also insufficient to expeditiously make up the 'critical hollowness' in defence preparedness pointed out by General V K Singh, the former army chief, in March 2012.
The increase of 10 per cent in the budget estimates from Rs 203,672 crore in 2012-13 to Rs 224,000 crore for 2014-15 is too little to allow for inflation, which is ruling at about 8 per cent annually. Also, the rupee's slide against the dollar from Rs 55 in March 2013 to almost Rs 62 in February 2014 has further eroded its purchasing power. In dollar terms, against last year's figure of $37.46 billion, this year the defence budget totals $36.13 billion. Hence, in real terms the defence budget has actually declined and not increased.
China's People's Liberation Army has been modernising at a rapid pace for over a decade, backed by a double-digit annual hike in the defence budget. At $112.50 billion, China's official defence budget for the year 2013-14 is 10.7 per cent more than the previous year and it is over three times India's planned defence expenditure.
As China invariably conceals many items of expenditure on national security, its actual expenditure in 2013-14 is likely to be well over $150 billion. In 2014-15, China is likely to spend over $160 billion on defence.
China is investing heavily in modernising its surface-to-surface missile firepower, fighter aircraft and air-to-ground strike capability. It is acquiring strategic airlift capability, modern aircraft carriers and new submarines. It is investing in modern command and control and surveillance systems (C4I2SR) and is enhancing its capacity to launch amphibious operations. It is also upgrading the military infrastructure in Tibet to induct large forces quickly and sustain larger deployments over longer durations.
Despite the long list of obsolescent weapons and equipment in service with the Indian armed forces, the present military gap with China is quantitative rather than qualitative. However, as India's military modernisation has been stagnating for several years, this gap is likely to soon become a qualitative one as well. By about 2020-25, China will complete its military modernisation and will then be in a position to dictate terms on the resolution of the territorial dispute if India continues to neglect defence preparedness.
The total revenue expenditure planned for the year 2014-15 is Rs 134,467 crore (60 per cent of the budget). This goes towards paying salaries and allowances and expenditure on rations, ammunition and transportation. Of the total revenue allocation, the army will get Rs 92,601 crore, the navy Rs 13,975 crore, the air force Rs 20,506 crore, the Ordnance Factories Board Rs 1,343 crore and the Defence Research and Development Organisation Rs 6039 crore.
The remaining amount of Rs 89,537 crore (40 per cent of the budget) has been allotted on the capital account for the acquisition of modern weapon systems and equipment. An amount of Rs 7,868 crore was transferred from the capital account to the revenue account in December 2013 so as to eliminate the need to bid for supplementary grants. This effectively reduced the funds available for modernisation to just 38 per cent of the annual budget.
India is expected to spend approximately $100 billion over the 12th (2012-17) and 13th (2017-22) five-year defence plans on military modernisation. Major purchases this year are likely to include initial payments for 126 multi-mission, medium-range Rafale combat aircraft, 197 light helicopters, 145 Ultra-light Howitzers and C-17 heavy-lift aircraft, among others. The army has also begun the raising of a mountain strike corps and will have to find the funds to arm and equip it.
The government has earmarked Rs 59,387 crore for the central armed police forces in the annual budget of the ministry of home affairs for internal security. Of this, the CAPF and the state police forces will be given Rs 9,677 crore for modernisation.
This year's defence budget has been pegged at 1.74 per cent of the projected GDP, which is the lowest since 1961-62 when it was 1.66 per cent. The 13th finance commission had recommended that the nation's defence expenditure should progressively come down to 1.76 per cent of the GDP by 2014-15.
The finance minister has quite obviously decided to go by that recommendation. China and Pakistan spend between 3 and 4 per cent of their GDP on defence. India's per capita expenditure on defence is less than $10 (about Rs 620), while the average expenditure of the top ten spenders in Asia is $800 (about Rs 49,600) approximately. India's soldiers-to-citizens ratio, at 1.22 per 1,000 citizens, is among the lowest in Asia. The average of the top ten Asian nations is about 20 soldiers per 1,000 citizens.
The 11th defence plan, which ended on March 31, 2012, was never accorded "approval in principle" by the government and, therefore, continued to lack committed budgetary support. Following the publication of the army chief's letter about 'critical hollowness' in defence preparedness, it was heartening to note that the defence minister had accorded approval in principle to the 12th defence plan (2012-17). However, so far the Cabinet Committee on Security has not approved it. That means it still has not been given committed budgetary support.
Continuing neglect of defence planning will result in the lack of development of critical operational capabilities in the time frame that is necessary. While some tightening of the belt is understandable when the economy has taken a downturn, India's expenditure on national security is clearly inadequate to squarely face the emerging threats and challenges. The government must insulate planning for national security from the vagaries of fluctuating economic fortunes by backing five-year defence plans with firm budgetary commitments.
Gurmeet Kanwal is a Delhi-based strategic analyst.