'India has already suffered in the raid of January 2, and taken punishment. If comparable or higher retribution does not visit Pakistan, there is no reason why it should not undertake such a misadventure again,' says Lieutenant General Ashok Joshi (retd).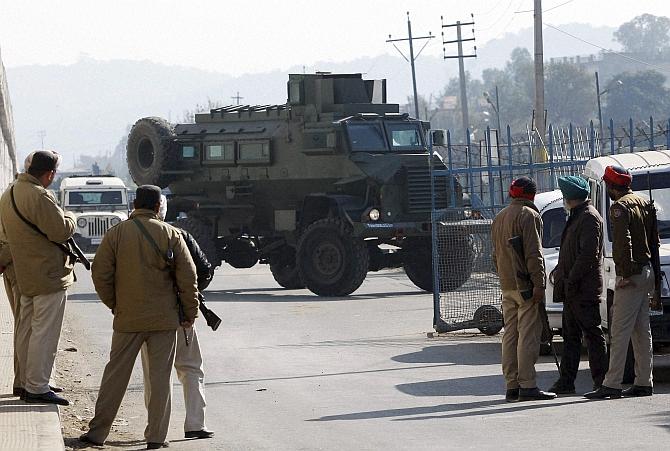 IMAGE: An armoured vehicle moves into the Indian Air Force base in Pathankot, January 3. Photograph: PTI Photo
The raid on the Indian Air Force base at Pathankot that began on the 2nd January has continued.
The worst seems to have been averted by the ongoing heroic actions of our armed forces, all of whom have promptly answered the call of duty. Some of them have paid the ultimate price.
Details are pouring in: The origin of the terrorists, their organisation and preparations, and their commitment to their cause -- militant Islam. Coming in the wake of Prime Minister Narendra Modi's internationally acclaimed surprise visit to Pakistan on Christmas day, the raid from Pakistan was not totally unexpected.
Of course, what else does one expect from the extremist radicals in Pakistan? They are certainly bent on ensuring Pakistan's confrontation with India, and detest the lowering of tension between the two countries.
The rabid terrorists who are carrying out the raid have put on display their place of origin and the organization that they represent, namely Jaish-e-Mohammed. This is a subterfuge invented by their launchers in Pakistan for the benefit of the credulous in and outside India. It makes it convenient for the Pakistan government to deny its accountability.
As far as we in India are concerned, it is a Pakistan raid, it does not greatly matter to us if it is carried out by Jaish, or by Pakistan special forces. Deniability by Pakistan suits the US too, although the US could not have known of the raid before it was launched.
We in India have no reason to create and offer an alibi for Prime Minister Nawaz Sharif. The onus of proving that he is not playing both ends against the middle must lie with Pakistan in general and Sharif in particular. We have no reason to script his lines for him. It is none of India's concerns if there is this demoniac ISI that is not amenable even to General Headquarters in Rawalpindi.
If General Raheel Sharif, quite rightly, is fighting the extremists on the western border, it is for Pakistan to realise that the chickens are coming home to roost, and India has no reason to show special consideration. Pakistan's actions must vindicate its stand that it does not back the 'good terrorist' any longer.
If Jaish-e-Mohammed is behind the raid, then the Jaish leadership has to be dealt with by Pakistan. It is for Pakistan to conclusively demonstrate to the world at large that it is not covertly backing terrorists.
This flows out of the fact that Pakistan had hidden and protected Osama bin Laden even from its closest ally, the US. Ploys of not producing sufficient evidence against the organisers of similar raids have been used, and used up, by Pakistan in its courts of law already.
This time around, if it wishes to deny accontablity, Pakistan would have to come up with something more imaginative.
It is only right that we honour our martyrs who have limited the damage that the raiders could possibly have inflicted, and also be grateful that nothing worse happened. This logic is somewhat comforting, but what does it do to prevent the next raid from Pakistan that could well be in the works already? It has to be prevented because if successful, it could well inflict unacceptable damage.
No matter how good the defensive preparations, they will do nothing to deter the next raid from Pakistan. The wages of inaction now could well be another raid from Pakistan.
Defence by itself does not suffice; conceptually, it is meant to protect assets but it does not deter the adversary's offensive action.
Say, nine brigades constituting three divisions are spread out across International Border fences, minefields and all to guard against aggression along a particular approach. Understandably, there would be a similar or comparable deployment across the IB. The fact that such a deployment is considered necessary would be indicative of mutual distrust.
In such a situation, stability of sorts may well prevail, but if adversary A were to turn inimical, he could concentrate one of his divisions, redistribute the two remaining brigades to hold ground, and threaten any of adversary B's defended sectors, at any point of his choice.
If he does so by surprise, he may possibly succeed at marginally additional risk to himself. This is an advantage intrinsic to aggression.
Absolute superiority is not necessary for aggression, although it is of help. It is the attitude that matters. An adversary who is avowedly committed to purely defensive measures, and so announces 'first strike', voluntarily abjures an advantage that can be exploited to his own advantage.
In fact, voluntary foregoing of offensive operations points to the absence of a strategic culture which, over a period of time, could well permeate into the armed forces, and reduce their effectiveness.
In such a situation, there is no reason why the adversary should not concentrate even a larger strike force. Defence, by itself, imposes progressively additional costs on the defender.
To maintain the right balance, offensive forces have not only to be maintained, but their full effectiveness has to be demonstrated from time to time. This confers credibility without which even the available deterrence is less than effective.
The punishment for provocation must be fully spelt out and credibly backed by periodic demonstrations.
India has already suffered in the raid of January 2, and taken punishment. If comparable or higher retribution does not visit Pakistan, there is no reason why it should not undertake such a misadventure again.
If the raid was also a surprise for Pakistan's civilian government, the compulsion and the urgency to prove its credentials must lie with Pakistan.
There is a need to spell out to Pakistan -- alike to the common man and its government -- the the cost of misadventure against India so that potential mischief mongers stop in their tracks.
India is not required to train 'non-State' actors for this purpose.
Intense but calibrated and controlled bombardments across the Line of Control could well be planned in advance. Then such a response could be activated even with a code word by the empowered authority whenever there is mischief in evidence.
Even as the electronic media in India starts covering the misadventure by Pakistan, the news of retribution should flood Pakistan. If it leads to escalation, so be it. If escalation leads to terrible things, the common man in Pakistan must be made aware that his accountability for inviting the disaster is not any the less than that of his government.
It seems that the terrorists from Pakistan do bask in some kind of public approval. Have a look at the internationally known terrorists who belong to or have been associated with Pakistan. This would not have been the case if there was public disapproval of terrorism.
If escalation were to take place unavoidably, Pakistan will fully realise the implications of lack of depth. But India need not go that far; more imaginative ways can be found to create a nuanced scale of conventional and non-conventional deterrent measures that will keep Pakistan away from misadventures.
In the meantime, peace talks must continue without let or hindrance. Goodwill needs to be cultivated even as the wages of perfidy are spelt out to Pakistan.
Lieutenant General Ashok Joshi, PVSM, AVSM, saw active service in Jammu and Kashmir in the 1965 and 1971 wars. General Joshi was Director General of Military Training, overseeing the policy and planning of training in the Indian Army during the final two years of his long and distinguished service to the nation.