Instead of isolation, India should respond militarily to every act of terrorism assessed to have come from across the border, unilaterally declare Pakistan a State that supports terrorism and cease all economic dealings with it, notes Vice Admiral Premvir Das.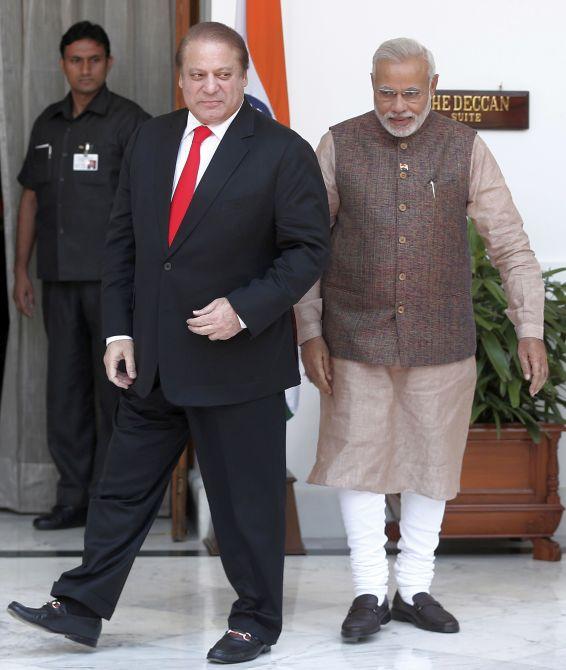 In recent weeks a great deal has been said about how, post the 'surgical strikes,' we have 'isolated' Pakistan.
First, Bhutan and Bangladesh closed ranks with us in condemning the terrorist attack in Uri and supporting the retaliatory action across the Line of Control.
Later, they were joined by Sri Lanka in regretting their inability, along with India, to attend the SAARC meeting scheduled to be held in Islamabad later in the year.
Nepal, not so forthcoming had, perforce, to back out as well.
To some extent, therefore, it could be said that Pakistan stood isolated, at least, in the South Asian region though why Sri Lanka and then Nepal, did not join immediately in condemning the Uri attack or in supporting our action thereafter, remains a question unanswered.
The fact is that few countries stood up to condemn the attack on our military base in Uri as a terrorist action aided by or from the Pakistani State; most merely voiced their opposition to all forms of terrorism.
As for India's retaliatory military attack, the great majority have either not responded or treated it as another exchange of fire across the LOC, as propagated by Pakistan, some possibly to avoid taking sides and, thus, implicitly buying the Pakistan line.
Of the five countries which are permanent members of the United Nations Security Council, only Russia could be said to have directly supported India's response against the terrorist camps; yet, it did not consider it necessary to cancel or at least defer its two-week joint anti-terrorism exercise with Pakistan's military, thereby giving credence to the notion that the latter was itself the victim of such acts, let alone sponsor it against others.
The United States merely supported our fight against terror and advised both countries to sit across the table and talk, as if those perpetrating crimes and those who are the victims have anything much to talk about.
The United Kingdom and France have spoken against terrorism generally without referring to Pakistan. None of the above suggests that Pakistan has become a global untouchable as we seem to have convinced ourselves that it has.
China falls in a different category; its relationship with Pakistan is something special. Leave aside the strategic determinants resulting from the latter's unique geostrategic location, its importance as leverage against India is also not something to be scoffed at.
Apart from the ongoing defence engagement in which the bulk of Pakistan's military hardware has come or is coming from China, there is clear nuclear interface between the two countries, including in the field of nuclear weapon technology.
This has a momentum of its own. These are not considerations that are likely to change anytime soon.
One of Chinese President Xi Jinping's ambitions is his One Belt, One Road project which links China across Asia, both in terms of infrastructure connectivity and strategically.
This vision is unachievable without the participation of Pakistan. It is in this context that one has to view the $46 billion China Pakistan Economic Corridor envisaging development of infrastructure, including industries across a region which runs through Pakistan occupied Kashmir, a territory claimed by us as our own and recognised as disputed by China itself at some earlier time.
This route ends at Gwadar port, thereby connecting the Chinese hinterland with the North Arabian Sea, through which flows all of China's West Asian oil.
The significance of this project to China and, indeed, to Pakistan -- both for different reasons -- cannot be underestimated.
Gwadar, and its purported development as a base which could, at some time, host permanent Chinese military facilities is yet another link in the China-Pakistan bonding.
To think that this relationship can be altered by India's increasing interface with its giant neighbour is idealistic.
It is not surprising that China has not allowed any reference to cross-border terrorism in the joint statement put out after the recent meeting of BRICS countries in Goa, despite the strong position taken by us.
If anything, the engagement will strengthen, such is the dynamic of the emerging geopolitical environment as seen by Beijing.
But this is not all.
Pakistan is not some small insignificant country. With a population exceeding 170 million, it is not a trifling piece of real estate which can be ignored much less isolated.
Let us not forget that we, ourselves, are not willing to brand it a rogue or terrorist State with which we will have no dealings.
Banning participation of some of their actors in Indian television programmes or in our films is merely cosmetic and may satisfy our vanity, but does not isolate a country in the eyes of others who continue to deal with it.
It is true that in recent years, Indian diplomacy has made significant strides in persuading some West Asian nations to be more proactive to our sensitivities, but that is more due to India's emergence as an economic powerhouse and its vast market potential and not because of any hostility, even coldness, towards Pakistan.
The Organisation of Islamic Cooperation has consistently held positions adversarial to our interest and promoting those of Pakistan.
It has remained silent on the provocations which led to our responding in the way we did. These are ground realities.
The bottom line, therefore, is that none of the measures that we are taking or may be feeling smug about will alter, in any substantial way, that country's military strategy of dealing with India through non-State actor terrorism aided by the State, period.
So, what should India do is the question.
First, let us put aside any thoughts of isolating Pakistan even as we pursue diplomatic moves.
Two, respond militarily to every act of terrorism which is assessed to have come from across the border.
Three, unilaterally declare Pakistan as a State, that supports terrorism in our land and cease all economic dealings with it.
Four, reduce the level of our diplomatic representation there and, consequently, theirs in ours.
Five, do not enter into negotiations of any kind, unless Pakistan reiterates the commitment made by General Musharraf some years ago -- that it will not allow its territory to be used for terrorism against India.
And to sweeten all this, allow its actors to be seen on our television screens and in our films; just to show that we will be friendly to the people, but not to the State.
This also fits in with Prime Minister Narendra Modi's assertion at the Bharatiya Janata Party convention in Kozhikode last month.
Glib talk of isolating Pakistan does little credit to our awareness of global realities or of the compulsions of 'realpolitik.'
Vice Admiral Premvir Das is a former Commander-in-Chief, Eastern Naval Command. He has also been a member of the National Security Advisory Board.