If things work out, it will be a great leap forward in the Indian-Iranian economic ties in the new phase of Iran's reintegration with the world market following the lifting of sanctions, says Ambassador M K Bhadrakumar.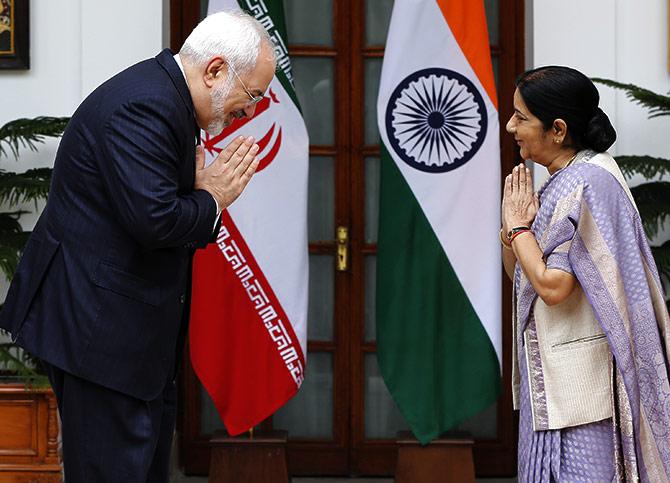 The Narendra Modi government is approaching the home stretch in a historic reset of the India-Iran relationship.
Two senior Cabinet ministers are heading for Teheran this month. Petroleum Minister Dharmendra Pradhan will visit Tehran on April 9-10, to be followed within a week by the External Affairs Minister Sushma Swaraj on April 16.
Conceivably, it isn't too early to begin pondering about a landmark visit by Prime Minister Narendra Modi to Iran. A historic visit seems to be in the making.
Pradhan's is a 'working visit' insofar as he has so much business to transact -- and they involve tens of billions of dollars in business ranging from Indian companies investing in the production of oil and gas in the Iranian fields, transportation of the gas to India possibly in LNG form, a possible swap deal and transportation of the gas through the construction of a subsea pipeline from Chabahar, setting up of petrochemical complex in Iran, and, of course, the development of Chabahar container port itself (external link here).
If things work out, it will be a great leap forward in the Indian-Iranian economic ties in the new phase of Iran's reintegration with the world market following the lifting of sanctions. There can be no two opinions that economic partnership is the cornerstone of an enduring India-Iran reset in the 21st century. Both countries' leaderships attach high importance to the development of the economy in their respective national agenda.
Significantly, within no time Swaraj proposes to follow up on Pradhan's talks in Teheran and endeavour to give an overarching political direction to the new emergent impulses of strategic partnership. One can well anticipate that a top agenda item the Iranian leadership will bring forward as talking point with Swaraj will be an early visit by PM Modi to Iran.
Possibly, Swaraj's mission could be to firm up Modi's visit and prepare the ground for it.
As I had written earlier, Modi's recent visit to Saudi Arabia had an eye on Pakistan (see my article Modi's tight rope walk in Saudi Arabia in Rediff.com), but it was never intended to be a 'tilt' in India's Persian Gulf policies nodding approval of any form of regional axis as such. Teheran did not appear even for a moment worried about Modi's visit to Saudi Arabia. Actually, it was already preparing for the visits by two senior ministers in Modi's cabinet. .
This brings to the fore a consistent trait in the Iranian diplomacy, namely, its marvellous capacity to view life as a many-splendoured thing and to never reduce relationships to zero sum terms. Unlike Israel or Saudi Arabia -- or the US in a bygone era -- Iran has no problem if India maintains diversified relationships in the Persian Gulf region (or anywhere else in the Middle East.) There is no paranoia in the Iranian mind that Israel sells a lot of high-technology weapons to India or that Saudi King Salman has conferred the Abdulaziz Sash on Modi. Our pundits have a long way to go to appreciate the subtleties and sophistication of the Persian mind.
Be that as it may, much depends on how fast and efficiently India can advance the economic collaboration with Iran. Unlike in the past three or four decades, the Iranian market is going to be highly competitive (external link here).
Another aspect to be kept in mind is that India should not waste its breath too much on the containment of Pakistan. It is simply not worth our while. The Iran-Pakistan relationship has been a deeply flawed one all along for a variety of reasons. Admittedly, the atmospherics has distinctly improved of late but a relationship of genuine trust and mutual confidence will take a very long time to develop, the reason being Pakistan's historical role as Saudi Arabia's sidekick in the region.
Trust the Saudis to put a spoke in the wheel whenever the Pakistan-Iran ties show signs of looking up or to summon their influence with the Pakistani generals to continue to make attempts to foster terrorism and destabilise Iran's eastern regions bordering Pakistan's Baluchistan. A complete break from this pattern is unlikely anytime soon -- that is, until and unless the tensions in Saudi-Iranian relations ease. No doubt, this is also a pattern that Pakistan's political class can easily jettison. Things were probably better while Benazir Bhutto was in power but that was an exception for obvious reasons.
India's big advantage here is that we have no conflict of interests with Iran. In fact, Iran is a natural ally in the fight against terrorism, in the diplomatic effort to force Pakistan to rethink its policies on using terrorist groups as instruments of state policies, in the stabilisation of Afghanistan, and in preserving regional stability and security on the whole. Today, happily enough, the US-Iranian engagement also means that it is possible for India to now develop a full-spectrum partnership with Teheran. In the ultimate analysis, energy cooperation will be the flagship of this partnership (external link here: Press TV).
The heart of the matter is that given its population size (80 million), land mass, mineral reserves and human resources, industrial and technological base, a relatively developed agriculture and geographical location, it is genuinely a regional power. A strategic understanding with Iran will be to India's advantage. There is also a congruence here insofar as Iran has great awareness of India as an emerging powerhouse and it also prioritises cooperation with India.
Suffice to say, the best part of our Persian Gulf diplomacy is that we are steering clear of the discords in that region, and without being prescriptive or partisan, we are endeavouring to pursue our core concerns and vital interests. This is a wise, far-sighted policy.
Finally, it is a tantalising thought but it must be put on paper -- the revival of the Iran-Pakistan-India gas pipeline project.
Against the backdrop of the prevailing tensions in India-Pakistan relations and the signs of a very grim and dangerous scenario on our western borders, the gas pipeline still offers a ray of hope to stabilise the regional security situation. It can indeed prove to be a peace pipeline.
Make no mistake, Iran will be only too willing to cooperate. In fact, not many would know that the Iranians were lukewarm about cooperating with Pakistan alone, without India as the ultimate destination for the pipeline. But, of course, all in good time, as they say.
Image: Foreign Minister Sushma Swaraj and her Iranian counterpart Mohammad Javad Zarif greet each other before their meeting in New Delhi, August 14, 2015. Photograph: Adnan Abidi/Reuters.
Ambassador M K Bhadrakumar is a retired diplomat, who is widely acknowledged as one of the most authoritative experts on Afghanistan. Mr Bhadrakumar blogs at http://blogs.rediff.com/mkbhadrakumar/