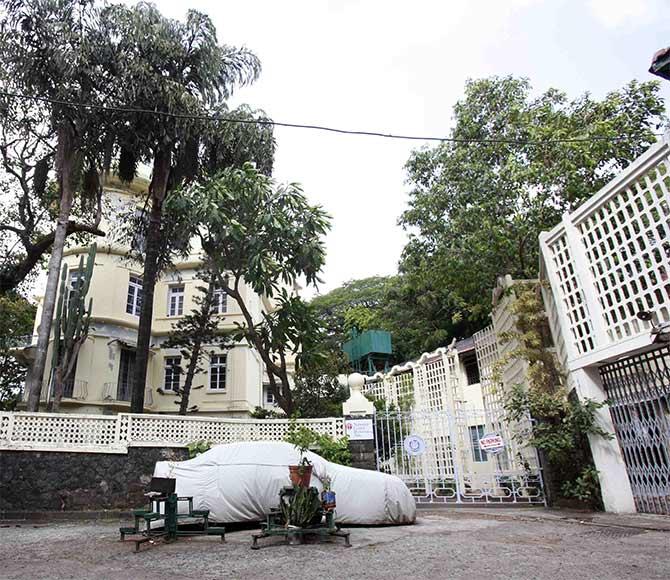 Every blade of grass and grain of sand in Mehrangir has a story to tell: The story of how one of the greatest sons of India lived here, planned and executed from here a technological and scientific enterprise which became the envy of the world. The government must save Mehrangir for future generations, says Dr K S Parthasarathy.
The unseemly controversy over the legacy of the father of India's nuclear programme Dr Homi Bhabha, particularly over declaring Mehrangir, the house in which he lived the most productive part of his life, as a national monument is regrettable. The disinformation campaign on Homi's home is unbelievably shocking.
Scientists want the government to declare Mehrangir a national monument. The National Centre for the Performing Arts wants to sell Mehrangir so that the NCPA can promote music in its own way.
A PTI report says 'Around 80 eminent people believe that the appeals of scientists are "completely misplaced" as they were based on only "partially" correct information. One of them claimed that Homi Bhabha lived in Mehrangir only for a few years whereas (his younger brother) Jamshed Bhabha (the guiding light of the NCPA for many years) lived in it all his life.'
This claim was repeated in an interview granted to a national television channel. It was also stated that when the Bhabha family bought the home Homi was overseas and later he spent a lot of time in Delhi.
Evidently, sympathisers of NCPA's scheme have no access to various archives which tell the correct story. When the Bhabha family bought the house in 1937, both brothers were studying overseas. They returned in 1939.
According to the Tata Archives:
'A Cambridge graduate with a historical tripos, Jamshed Bhabha was due to take the bar finals at Lincoln's Inn, London, when the outbreak of hostilities interrupted his studies and brought him back to India in 1939. He joined Tata Steel the following year and became assistant chief town administrator at Jamshedpur in 1941.'
In 1939, both Bhabhas lived in Mehrangir with their mother. Shortly afterwards Homi went to Bangalore and Jamshed went to Jamshedpur. The claim of NCPA sympathisers that Homi was always in Delhi is incorrect. He never lived in Delhi.
Homi successfully prevailed on Pandit Jawaharlal Nehru to ensure that the Department of Atomic Energy is headquartered in Bombay (Mumbai). The DAE was the first department and for a long time the only government department to get this privilege.
How can we prove that Homi Bhabha lived in Mehrangir during his most productive years? We could not get, a ration card, driving license, passport, electricity bill and other sundry documents belonging to Homi. The munificence of the NCPA's present officials helped.
While the cash-strapped organisation sold about 900 priceless articles like clocks, textiles, rare rugs and carpets, silverware, glass and pottery and antique furniture and paintings and other artifacts which are inseparable parts of the Bhabha legacy at three auctions, they handed over letters addressed to Homi Bhabha to the Tata Institute of Fundamental Research.
This writer saw letters written by Homi Bhabha and his mother which show that the Bhabha family moved in to Mehrangir on March 16, 1939. Homi and Jamshed lived with their parents when they came back from England.
We could gather letters from V T Krishnamachari, deputy chairman, Planning Commission, Sri Prakasa, Governor of Bombay, Miss Lucille Kach, Captain K K Lalkaka, besides 15 other post marked envelopes addressed to Homi at the Mehrangir address during 1945 to 1966. Are they not enough to prove Homi Bhabha's stay in Mehrangir?
Another half truth spread by an NCPA official is that the 'Bhabha Atomic Centre' razed Kenilworth at Peddar Road, a cottage in which Homi Bhabha was born and constructed the DAE's staff quarters there.
Dr Bhabha himself ensured that the DAE purchased this prime property and erected the staff quarters there. This writer found that contractors completed the construction of Kenilworth in 1962-1963. The DAE allotted the flats on April 1, 1964, nearly two years before Dr Bhabha's death.
The thoughtfully prepared auction brochure from NCPA itself bears testimony to the heritage nature of Mehrangir. The main photograph in the brochure has a telling quotation from J R D Tata: 'Whatever he built had to be beautiful and had to have gardens.'
The brochure thus describes the eminence of Mehrangir:
'Mehrangir can boast of visits by some of the most prominent personalities of those times, including Pandit Jawaharlal Nehru, the first prime minister of India, who was a dear friend of Homi Bhabha. Also in 1960, the family entertained the Queen of England in the very dining room, which had witnessed visits by many famous personalities.'
'Mehrangir was designed by Dr Homi Bhabha himself and he was responsible for christening the bungalow "Mehrangir".'
'Homi Bhabha made a portrait of his mother Meherbai, wearing an intricately embroidered Chinese gara saree, which adorned the walls of the massive dining room.'
An unbiased observer will plead that the government must declare Mehrangir a national monument if s/he reads the artistically designed and carefully drafted auction document on Meharngir published by NCPA!
'...Having a museum and a monument is only useful for historians,' a supporter of NCPA's scheme argued. The inspiration and pride, the compatriots get while visiting a museum and a monument dedicated to someone who influenced the whole generation of scientists and young people cannot be counted in terms of their cash value.
There is a palpable contradiction here. Scientists who are expected to be objective and rational are accused of suffering from 'misplaced sentiments.' Music lovers who are generally endowed with finer sentiments are accused of selling the 'family silver', for promoting music in their own way.
Sentiments and sense of pride are invaluable human qualities. Let us not forget that we are honouring an individual who by persistence and inspiring hard work demonstrated to the world how a country which had only soaps and may be some electric transformers as industrial products in 1947 could achieve self sufficiency in the frontier areas of nuclear technology.
The foundation laid by this visionary helped India to deliver a jolt in 1974 to the world to wake up and take note.
Every blade of grass and grain of sand in Mehrangir has a story to tell: The story of how one of the greatest sons of India lived here, planned and executed from here a technological and scientific enterprise which became the envy of the world.
The government must save Mehrangir for future generations.
Let us thus honour Homi Bhabha, the great visionary who, as Sir C V Raman described, 'was a great lover of music, a gifted artist, a brilliant engineer and an outstanding scientist... the modern equivalent of Leonardo da Vinci.'
Dr K S Parthasarathy is a former secretary of the Atomic Energy Regulatory Board.