'For Mallya, it seems 'the night is dark and full of terrors' and if you believe his lawyers, he's only looking for some sunshine,' says Veer Arjun Singh.
Illustration: Uttam Ghosh/Rediff.com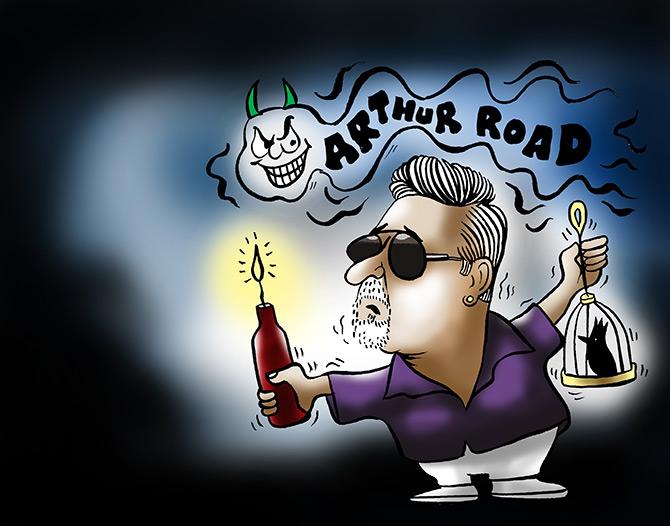 Who: The king of good times fallen on bad times needs little introduction.
Vijay Mallya, erstwhile Kingfisher boss, defaulted on a bank loan of Rs 90 billion before he fled the country.
Now facing an extradition trial in London, he is willing to settle his dues.
But the Central Bureau of Investigation and Enforcement Directorate teams chasing him down are unimpressed.
After they finally sold Kingfisher Villa in Goa, Mallya's playboy mansion, they want him to settle into Arthur Road Jail's Barrack 12 in Mumbai.
What: The prison cell is the bone of contention.
Mallya's lawyers are trying to convince the Westminster magistrates' court that the cell, which they say is a boxed, steel cage with no light or ventilation, is not a place to lodge even a criminal.
And that Mallya, 62, is innocent till proven otherwise.
While there may be some truth in their argument about the living conditions in Indian prisons, Indian authorities want to call Mallya's bluff on the exaggeration.
There's a window in each cell, with an attached lavatory, clean bedding and a courtyard with direct sunlight, they have argued.
Ask actor Sanjay Dutt, who had a brief stint in the same barrack, or television honcho Peter Mukerjea who is still there.
But let's not go into how Ajmal Kasab, the terrorist behind the 26/11 Mumbai attacks, must have felt in the bombproof and bulletproof 'anda cell' of the jail.
Where: At the hearing, which was expected to close the arguments and set a date for a final decision, the Indian authorities' legal representation in London presented a set of pictures to allay Judge Emma Arbuthnot's concerns.
But looks like she is now even more concerned. Before adjourning court till the next hearing in September, she has asked Indian authorities for a highly specific video. It should be shot in the day with no artificial lights.
The first-person view should have a person walking in from the front door of the jail, all the way up to the cell.
Simple enough, it would seem to the folks in London. Indian authorities have sought three weeks to pull it off.
How: The deplorable conditions of most Indian prison cells is no secret.
But people in India have never been able to digest why politicians, rich businessmen and actors should even request what most see as 'VIP treatment'.
Amid the barrage of criticism and opinions, it is the memes and cartoons taking a crack at Mallya's future in India that keeps him trending.
In cartoonist Satish Acharya's first piece, Home Minister Rajnath Singh is seen in conversation with director Karan Johar who is known for his larger-than-life film designs. 'Karanji, I want you to design a prison cell for us,' Johar is told.
Acharya's next is a thug mesmerised by a large banner of Mallya holding what appears to be a beer can outside the Arthur Road Jail, captioned 'Coming Soon'. His mate warns him against falling for the 'marketing ploy to get us in'.
Some predict that other 'fugitive economic offenders', like the first of the wolf pack, Lalit Modi, would also return to India with Mallya, and they will both teach 'Lootology'.
There were some signs of sympathy, however, on social media feeds for the man who some say introduced them to 'a sexy calendar, a luxury airline, a Formula One team and a lot of booze'.
For Mallya, it seems 'the night is dark and full of terrors' and if you believe his lawyers, he's only looking for some sunshine.