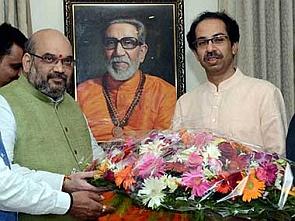 The bonhomie that once characterised the Shiv Sena and BJP was clearly missing this time. Is there a deeper divide than what was apparent?
Is there more to the Bharatiya Janata Party and Shiv Sena -- electoral partners for 25 long years, through thick and thin -- finally parting ways?
Is there a Gujarati versus Maharashtrian background to what is clearly a clash of personalities?
As a teenager growing up in Mumbai, I was closely associated with both communities, Gujaratis and Maharashtrians.
While there was some friendship and some bonhomie, there was no real social bonding between these communities. Marriages between the two communities were rare.
While Gujaratis believed that Maharashtrians were not as hard working as they were, the Maharashtrians felt that the Gujaratis were too money-minded. A certain mistrust prevailed between the two communities who dominate Mumbai.
There was also a historical background to this sentiment, going back to the 1950s, when the Gujaratis wanted Bombay to be a part of Gujarat, before the Bombay state was reorganised into Maharashtra and Gujarat in May 1960.
Morarji Desai, a Gujarati and the then chief minister of Bombay state, ordered the police to open fire on Samyukta Maharashtra agitators in which scores of people died. When Maharashtra came into being on May 1, 1960, Bombay was its capital.
Slogans from that era reflect the feelings the communities had for each other. While the Maharashtrians chanted 'Mumbai aamchi, nahi kaunachya bapachi (Mumbai is ours, not anyone's father's),' the Gujaratis countered it with, 'Mumbai tumchi, bhandi ghasa aamchi (Mumbai is yours, but do our house work).'
Gujarati merchants, stockbrokers and traders dominated Mumbai's business; the Maharashtrians were more service-oriented. Unfortunately for Maharashtrians and the Shiv Sena, which sprang up in 1966 to articulate the demands of the sons of the soil, the last decade has seen Mumbai rapidly losing its Maharashtrian flavour, with neighbourhoods once considered Maharashtrian making way for the mercantile, upwardly mobile, non-Maharashtrian classes.
In 2013, when Forbes magazine published its list of Indian billionaires, Shiv Sena leader Sanjay Raut fumed in the party daily newspaper, Saamna, 'Why is there no Marathi manoos on the list? Lakshmi Pujan (for new projects) is being held in Maharashtra, but where is the Marathi manoos on the list?'
'While Maharashtra produced stalwarts like Chhatrapati Shivaji, Lokmanya Tilak, the Chaphekar brothers and Veer Savarkar who made great sacrifices for the country, as well as intellectuals,' Raut, who is also the editor of Saamna asked angrily, 'when will it produce billionaires?'
In the last decade the mistrust between the two communities has grown further with previously Maharashtrian areas like Girgaum, Malad and Vile Parle turning Gujarati bastions. Maharashtrians have either moved out of those areas, with many moving out to distant satellite townships like Thane, Dombivli and Badlapur, or they have been reduced to a minority in areas like Girgaum and Malad.
Cuisine too has played a part in this divide. Maharashtrians feel the Gujaratis, who are mostly strict vegetarians, have ostracised them in housing colonies because they are fish eaters. Housing societies in Mumbai with predominantly Gujarati residents have barred Mumbai fish-sellers from entering the premises.
Little wonder then that the hit Marathi movie, Me Shivajiraje Bhosale Boltoy with its villain Ramniklal Gosalia, a Gujarati builder who tries to usurp a Maharashtrian's property, struck a chord among Mumbaikars.
In the film, when the Maharashtrian says he wants to live in the same area where his original home was located, the builder tells him that 'non-veg food' won't be allowed once the new building comes up and moreover, a Maharashtrian like him won't be able to afford the high maintenance cost of the building.
This prologue is to put into perspective the split between the BJP and Shiv Sena, which I insist is nothing but a feud between a Gujarati (Amit Shah) and a Maharashtrian (Uddhav Thackeray), a social clash that dates back to the 1950s.
The late Shiv Sena supremo Bal Thackeray never wanted Narendra Modi to be the BJP's prime ministerial candidate; his stated preference was Sushma Swaraj. Balasaheb did not like Modi being portrayed as a Hindu leader; Shiv Sainiks had always called the senior Thackeray 'Hindu Hridaya Samrat (Emperor of Hindu hearts).'
Amit Shah, in true Gujarati style, has gambled big in these state elections, be it in Haryana, where he dumped his alliance partner Kuldip Singh Bishnoi to go it alone, or Maharashtra, where he stood up to the Shiv Sena, the bigger partner in the alliance.
Surprisingly, the BJP's two Maharashtrian leaders at the Centre, Nitin Gadkari and Prakash Javadekar, played no role at all in resolving the differences between the BJP and Shiv Sena, indicating that Shah had a free run in the matter.
Amit Shah believes that the new voters of a new India have overcome regional biases and will vote for Narendra Modi and the BJP because they want development and growth.
The Shiv Sena is sticking to its basics -- Marathi manoos and Marathi asmita (pride) -- in the coming assembly election. Posters saying 'Adil Shah aale, Nizam Shah aale, haa Amit Shah koun? (Invaders like Adil Shah, Nizam Shah, couldn't conquer Maharashtra, who is this Amit Shah?)' have appeared in Mumbai and other parts of Maharashtra.
On October 19, when the votes are counted, we will know if Maharashtrians have moved on from the Shiv Sena's regional chauvinism to support Narendra Modi, Amit Shah and the BJP's development plank, or not.
And whether Maharashtrians have indeed overcome their mistrust of Gujaratis.
Image: BJP leader Amit Shah calls on Sena President Uddhav Thackeray in November 2012 to condole Shiv Sena chief Bal Thackeray's death.