Girgaum in South Mumbai, once a thriving neighbourhood of Maharashtrians who loved their seafood and meat, has slowly been taken over by the vegetarians, forcing eateries serving non-vegetarian food to shut down, says Neeta Kolhatkar.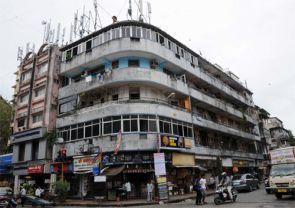 I am not being parochial, or communal, when I write this article, but if someone wants to misread what I write I simply cannot help it. I mean no offence to anyone.
But the truth is, this is not the old Girgaum I grew up in.
We had a mix of neighbours, mainly fish-eating and some meat-eating Maharashtrians, a Bengali family that thrived on their fish-in-mustard dish, mostly Gujaratis, few Jains and many Brahmins, different communities co-existing without any discomfort in the bylanes of Girgaum.
The buildings too were different then -- old architecture, not more than three-four storeyed, broad buildings, mostly old wadis. All festivals were celebrated together and the booze bars outnumbered the temples. More importantly, imprinted in my memory was the mutton shop opposite Central Plaza that shared the door of Datta Mandir till the 1992 Bombay riots.
Every Thursday the smell of the 'Sunday' masala grind wafted to our house from the kitchens of the Saraswat neighbourhood.
In the summer, the pungent smell of Bombil (Bombay Duck) hung out to dry made us kids run around holding our noses while playing. All this was a part of our living and growing up in Girgaum.
While slowly our wide blue Girgaum skies was lined with towers, we knew change was the mantra of this area. But little did we know the rapidity with which the shops and eating habits would be replaced in one of the oldest areas of our metropolis, and Girgaum has never been the same. The number of bars went down, but little did it make us sit and take note because most uncles in the neighbourhood would say, "chala, daruchi dukana tar ahet na," (never mind, at least the wine shops still remain) and they would enjoy their fish fry or chicken with their evening drink. That was the last few happy moments for non-vegetarian Girgaonkars. No one then imagined that Girgaum would soon turn 'pure-veg'.
I hold the Girgaonkars, us Maharashtrians, responsible for this very change. Most of us were not visionary. The Maharashtrians left South Mumbai for bigger houses in the northern suburbs. Their houses were taken over by Jain families that came from Rajasthan and Gujarat, who realised the worth of these old properties, renovating the insides like no one had seen before.
Slowly, with the increase in the number of towers, the Maharashtrian population started dwindling. This included restaurant-owners too, mostly people who resided in these old chawls. The redevelopment bug had bitten many; Maharashtrian families opted to take the money and leave Girgaum. Obviously, the number of meat and fish-eating customers had decreased, replaced by vegetarian families. By then, Girgaum became a hub for many commercial businesses, primarily jewellery and diamond markets.
Among the first eating places to turn 'veg' was the Free India Bakery -- my favourite joint that served the most delicious mawa cakes. Anybody who knows how paav (bread made with foot) or khari is made knows that yeast is used. Free India opened up its kitchen, sold egg-less cakes and started a Jain counter. I was disappointed, but appreciated their business sense. I was happy they had picked on the pulse of the locality, which was not decidedly vegetarian. Unlike other Irani café owners, who like many Maharashtrians felt isolated and sold off their prime spots, the Free India owner, an Irani, consolidated his position.
Thankfully, Voice of India, the only Muslim restaurant, thrives and is my last hope of the old Girgaum I love. A little ahead was the butcher's shop that was burnt down during the 1992 riots.
Slowly and steadily many non-vegetarian restaurants began shutting down. They have been replaced by sweets and chocolate shops. It is not an exaggeration if I say that the new Girgaum will soon be a 'diabetes' zone. I don't know whether pure vegetarianism practised by some communities has anything to do with wanting to eat more sweets.
Every second shop is a chocolate, egg-less bakery and confectionery outlet. There are just two bars in the vicinity, which obviously will never stop selling non-veg food.
Some restaurants that were owned by families, like Anantashram, shut down due to disputes. Residents who had newly moved in started complaining of the smell of prawns and fish.
Nearly two decades ago, when McDonald's began flourishing, one outlet near Charni Road served non-vegetarian burgers. But that outlet was pelted with stones and out of frustration the store shut down. Later, a popular pizza place at Chowpatty was forced to turn vegetarian. Within a few years it was sold to a leading clothes brand. The latest of the conversions was last month, near my home at Opera House. I saw the Subway outlet with a huge banner announcing they were 'Pure Veg'.
I am a vegetarian who can't stand the smell of baingan (aubergine), but have tasted pork, egg, chicken and mutton.
And I am strictly opposed to Girgaum turning into a 'pure vegetarian' area, that too out of sheer compulsion. Well, in this case Subway was compelled, as the owner admitted, "for business reasons."
While I can't blame him for resorting to this step for survival, my point is Girgaum had turned into a Jain heartland before we even knew it.
Neeta Kolhatkar is a senior political journalist from Mumbai