They will fawn over a prize catch who has brought a rich dowry of Gwalior-Chambal politicians.
But in the end, all BJP members are prajas of Amit Shah and Narendra Modi, notes Sunanda K Datta-Ray.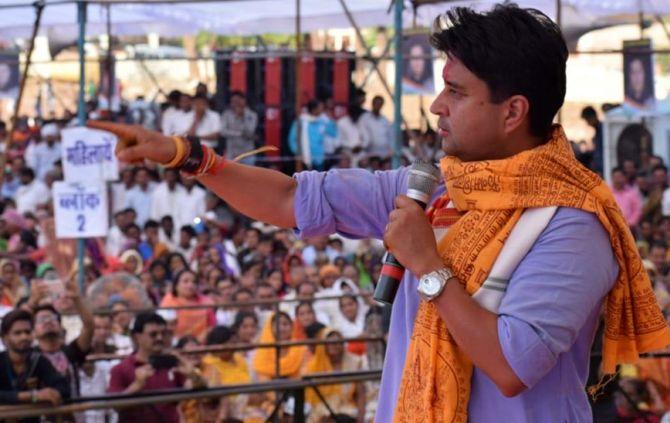 When Madhavrao Scindia was so tragically killed in 2001, I wrote he was one of the best prime ministers the Congress couldn't provide because even Manmohan Singh's wisdom and experience were 'totally obscured by Sonia Gandhi's alien aloofness'.
It's sadly ironical that nearly 19 years later the same factor should be cited as a major reason for his son's transformation from party loyalist to political soldier of fortune.
I asked Madhavrao about party morale before the 1991 election.
"Fighting fit!" he shot back.
"We're all set to fight the Opposition", adding after a moment's pause, "after the results are out we'll be fighting fit to fight ourselves!"
That's what has happened nine months after the 2019 Lok Sabha election when Sonia and her son excluded from any responsible position the man who probably feels there would have been no victory in Madhya Pradesh without him.
Where father and son differ strikingly is that Madhavrao was a gentleman amateur in politics.
He didn't crave advancement.
Nor did he take the political menagerie too seriously.
He went through the motions of playing the game convincingly enough, but it was my feeling he always saw politics as a joke.
Authority was his by right: Party support only legitimised tradition.
Hearing about the Jain hawala case, I telephoned from Singapore to find him angry, bitter and raging about political chicanery.
He left to float the Madhya Pradesh Vikas Congress, but though he did return to the fold his relations with the political centre remained as fraught as before.
Rahul Gandhi's implicit charge of betrayed friendship because Jyotiraditya Scindia was the only man who could walk into his house at any time reminded me of Madhavrao exploding once that the Gwalior flag had flown for 500 years and would still fly if the Congress flag was withdrawn.
It seemed clear then that Arjun Singh's campaign of calumny which the media lapped up might never have been possible without Rajiv Gandhi's tacit nod.
Madhavrao was quick to correct me when I repeated the popular version that Rajiv had inducted him into Congress.
"No! It was Indira Gandhi."
Morarji Desai had offered him any ambassadorship he wanted excepting Nepal, presumably fearing that a Hindu prince with a Rana mother and Rana wife might be less than objective in Kathmandu's durbari politics.
Indira proposed Congress membership when he won Guna as an independent in the teeth of the Janata wave.
She needed someone to thwart Atal Bihari Vajpayee from Gwalior.
Madhavrao did so magnificently.
He reciprocated with boundless loyalty, even accusing his own mother of bad faith because she had promised to eschew politics as the condition of release from jail and broken her word, unlike Gayatri Devi of Jaipur.
He refused to question the Bofors deal.
"Can you see Indira Gandhi's son betraying his country for money?" he stormed.
Many such memories were recalled recently when I read Taya Zinkin's comment in French Memsahib that the only display of wealth comparable to the Bombay races was 'when the daughter of the Maharajah of Gwalior was married... Casting prudence to the winds, Their Highnesses turned out in full regalia as if to cock a last fling at the sham Gandhian austerity of their new masters.'
Taya meant the marriage of Madhavrao's sister Padmavati to the maharajah of Tripura when the jewellery was reportedly designed by Van Cleef & Arpels and Tiffany's.
I read about it in England but well remember the 1987 wedding of Madhavrao's own daughter (Jyotiraditya's sister), Chitrangada Raje, with Karan Singh's son Vikramaditya and the furore it provoked.
Ostensibly, the hullabaloo was to protest against the power of money.
In reality, it was resentment of what money could never buy.
That's a distinction modern India, dazzled by a Hinduja wedding that took place around then in Mumbai, doesn't understand.
When Indira appointed a noted Calcutta barrister, Sachin Chaudhuri, finance minister in 1965, his younger brother joked that their raja had become a mantri (minister).
Jyotiraditya's demotion is from raja to ryot, maharaja to praja (subjects).
As the Bharatiya Janata Party's publicly-despised and secretly-envied 'naamdar', he may be raised to titular 'kaamdar' and graced with the title of mantri.
They will fawn over a prize catch who has brought a rich dowry of Gwalior-Chambal politicians.
But in the end, all Bharatiya Janata Party members are prajas of Home Minister Amit Anilchandra Shah and Prime Minister Narendra Damodardas Modi.
Aya Rams and Gaya Rams merit scant respect.