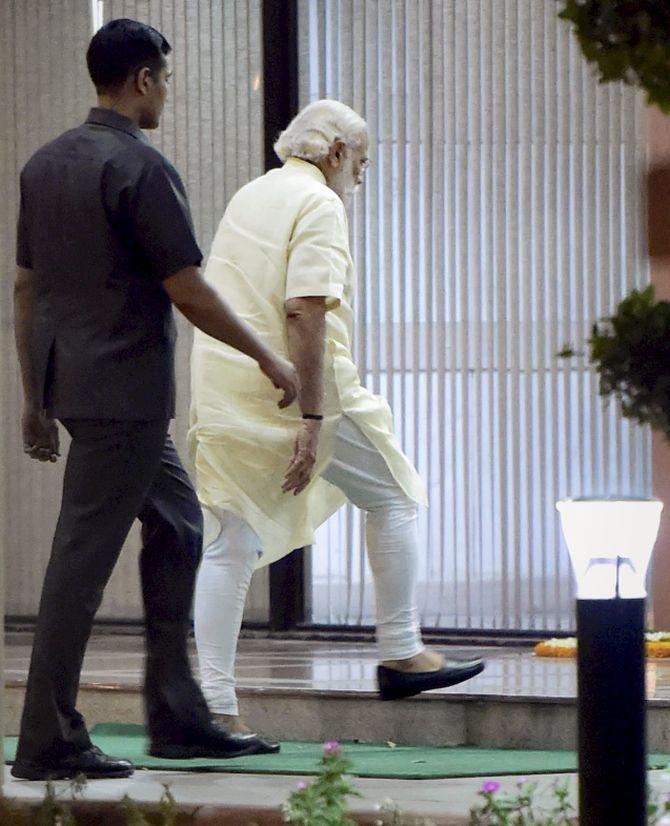 Two years is when the honeymoon surely starts to sour, so what should Prime Minister Narendra Modi focus on ahead of 2019? Devanik Saha offers some ideas.
With two years of the Narendra Modi government over, the Bharatiya Janata Party hasn't had an easy time till now. The lowest job growth in six years, falling exports, severe drought in several states, reduced activity in the real estate sector all of which would cause disenchantment to creep in among the masses.
These policy and governance battles, however, are also linked to global economics and therefore, so it is best we leave it to the concerned ministers and departments to manage. There are several other issues, however, which the BJP needs to take care if it wants to achieve its vision of a Congress mukht Bharat and retain power in 2019.
Nurture and cultivate intellectual firepower: It is no secret there is an anti-BJP bias among the Lutyens media aided by the liberals and left-wing intellectuals. On the contrary, the BJP, or the right wing – although the BJP is the primary face of the right wing in India -- doesn't have too many intellectuals who can counter the Congress's ecosystem and focus on promoting the BJP's agenda.
A closer observation reveals that the unofficial supporters or, if I may dare say, propagandists of the BJP such as Vivek Agnihotri, Anupam Kher, Ashok Pandit, Mohandas Pai, among others have defended the BJP and their agenda much better than the BJP spokespersons, the JNU nationalism incident being a case in point. However, they are not academics, activists or journalists; rather, they are successful public figures with an inclination for the party.
Therefore, pro-Modi columnists and academics like Ashok Malik, Tavleen Singh, Minhaz Merchant, Madhu Kishwar and Surjit Bhalla, all of whom hold a strong pro-right wing view, should be nurtured and cultivated to advance the BJP's narrative across debates. Swapan Dasgupta was finally given a Rajya Sabha seat, which goes to show that having a well established right-wing ecosystem is imperative.
Stop the hegemony of Modi-Shah: It is a well known fact that the authority enjoyed by Prime Minister Narendra Modi is primarily due to his vote-gathering ability, which was shattered in Bihar, Delhi and therefore, the party went with a local face in the Assam elections. Additionally, all major decisions are taken by the Modi-Shah duo, which has led to dissent within the party, with recent newspaper reports confirming the fact that the final call regarding Rajya Sabha seats allocation were also taken by them. Going forward, the party should focus on reducing their autocracy and adopt a democratic approach, where multiple leaders are given due importance and everyone's opinion is taken into account. Modi must realise that India isn't Gujarat, and centralisation of power would prove detrimental in the long run.
Bring good leaders to the forefront: The BJP has several experienced ministers with good track records -- Manohar Parrikar, Sushma Swaraj, Suresh Prabhu, Piyush Goyal, Nirmala Sitharaman, Arun Jaitley, Chandan Mitra, Vasundhara Raje, etc -- who, unfortunately, are not given much limelight and attention and remain confined to conferences and media conclaves. Rather, controversial fringe leaders like Yogi Adityanath, Sakshi Maharaj and Sadhvi Niranjan Jyoti gain more attention due to their ludicrous statements, which hurts the party's image.
Going forward, the BJP should focus on giving more responsibilities to these leaders and keep them in the forefront. It is highly surprising that someone like Arun Shourie, who has extensive experience and calibre, has been kept out of the party. Despite his recent attacks on Modi, the BJP should consider calling him back.
Improve relations with allies: Post its 2014 massive mandate, the BJP has not worked on maintaining cordial relations with its allies, with Shiv Sena being a classic example. The Sena and BJP have been long ideological partners but in the past two years, their relationship has been under stress with the Sena taking several jibes at the BJP. Last year, there were some signs of strains even with the Telugu Desam Party led by N Chandrababu Naidu.
Instead of maintaining existing relationships, Modi has been toying around with Mamata Banerjee, J Jayalalithaa and Mulayam Singh, who are extremely unreliable and can change sides at the drop of a hat. Modi should take a cue from Atal Bihari Vajpayee, who successfully managed a coalition government during his tenure.
Given that the index of opposition unity has increased and the road to 2019 has unofficially started with Nitish Kumar already calling for an anti-BJP alliance, the BJP would do well to keep its allies closer.
Image: Prime Minister Narendra Modi walks to Parliament Library to chair a Cabinet meeting in New Delhi. Photograph: Kamal Kishore/PTI Photo.