What got the Jats of Haryana so furious? Shekhar Gupta explains.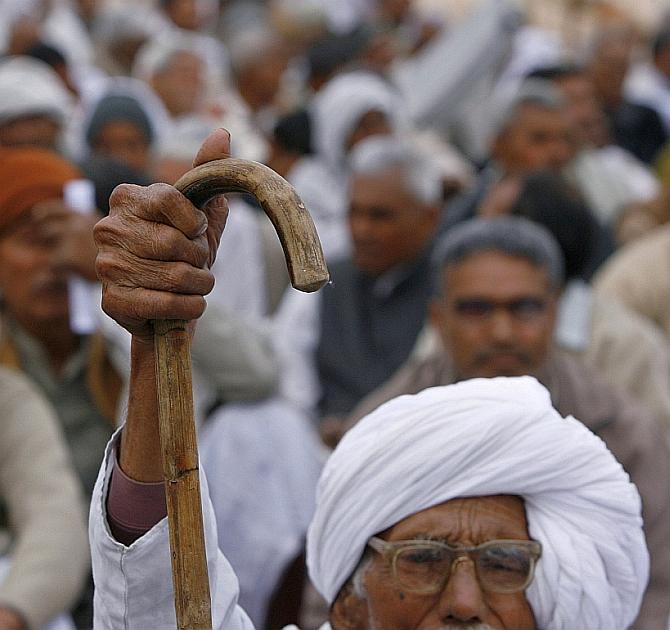 How does one explain to non-Haryanvis -- approximately 98.1 per cent of fellow Indians -- what the destruction of a most peaceful state has to do with that eminently dispensable part of human anatomy, the moustache?
I can try explaining that what moochh means in Haryana, particularly to its dominant Jat community (about 30 per cent of the state's population), is not exactly what sits on top of your upper lip.

It is something else, more complex. Not izzat, or prestige, or ego, or self-respect.

It is a bit of all four -- but mostly a function of a unique Jat view of life.

How do I explain it? Of the many popular sayings about the Jats, one is: Jat ganna nahin dega, gud ki bheli de dega. What it means, literally, is that a Jat would never give you a sugarcane stick, but will happily give you a chunk of jaggery.

More accurately: you try and steal sugarcane from my fields, you so-and-so, I will crush you to pulp. But request me for a chunk of jaggery, and I will give it to you with a smile.

And why would the Jat do this? Because this involves his moochh.

You give him respect, appeal to his generosity, you leave him no choice but to be big-hearted. You mess with him? See the pictures and videos of what happened to Haryana over this week from hell.

Far from being a justification for the angry mobs' destruction of Haryana, this is the sociology of what unleashed the fury -- and the political errors and miscalculations that fuelled it.

It may be overly simplistic, but the minds of Haryanvis are also not particularly complicated. That is why, over the decades, it has become India's richest large (population above 2.5 million) state in per capita income.

It is just about two per cent of India's population, but brings nearly 75 per cent of all its Olympic/Asiad medals, most of them in contact sports like boxing and wrestling -- though badminton (Saina Nehwal) and athletics are also on the up now.

It is among the largest contributors of women officers to Indian armed forces. Some proud Haryanvis call themselves the little China of India. Others prefer little New Zealand, given its farming and dairy.
One more fact: Most of these medallists, including women wrestlers and armed forces officers, also happen to be Jat.

How does that square with female infanticide, khap panchayats and the country's poorest gender balance, don't ask me yet -- because, as I said, we Haryanvis are not so complicated. But it again has something to do with moochh.

When you decide to do something, you want to beat the whole world at it, and doesn't matter if you are Jat or Jatni.

And another fact, which my friend Ajay Singh, former journalist, central minister (from Agra) and now president of the All India Jat Mahasabha underlines to me, Jats have peacefully agitated for reservation for 23 years, once packing the boat club with two lakh protestors.

"Lekin, bhai saab, kisi kee mooli bhi nahin ukhdi (how do I translate that -- not even a radish from somebody's garden was pulled away)."

So what got them so furious?

Until exactly 50 years ago, there was no real conception of a state or even political entity called Haryana. Yes, 2016 is the 50th year of Haryana's formation and it is doubly unfortunate that it has seen such riots now.

In undivided Punjab, its districts were the drier eastern region.

Much of today's Haryana bordered Rajasthan and was an extension of that arid zone.

It was poor, with no cities, no intellectual or entrepreneurial elite, physical infrastructure -- and, frankly, very little political depth or talent, though that will be contested.

Haryana came into being because Sikhs wanted a separate state (Punjabi Suba) and as that linguistic polarisation caused a Hindu-Sikh divide, Punjabi Hindus reported Hindi as their mother tongue -- though they spoke about as chaste a version of it as Sadat Hasan Manto found Pakistani Punjabis to speak of Urdu, and which persuaded him to say: when a Punjabi speaks Urdu, it sounds like he is telling lies.

Seriously, though, the result was that several urbanised districts came to Haryana despite their large Punjabi populations.

A vast majority of them were from families that shifted from Pakistan during Partition. They are still called "refugees".

The current chief minister, Manohar Lal Khattar's family shifted from Jhang. Though they were welcomed with open arms and contributed greatly to the new state's rise, they were seen neither as players in politics nor as claimants to power.

Over the decades, Punjabis became 26 per cent of Haryana, just a shade less than the Jats.

Native versus outsider was never an issue in Haryana, until the power balance shifted.

If Jats are 30 per cent now, you can presume they were a larger proportion before the Punjabi migration.

Then new suburban centres grew around Delhi (Gurgaon) and Chandigarh (Panchkula). These, in a way, calmed Haryanvi anger over Punjab and Centre not keeping their promises over Chandigarh or their share of river waters.

Prosperity from these industrialising towns also trickled to the natives, particularly the land-owning ones as the value of their property rocketed.

In spite of the fact that the new towers and new-age factories of Gurgaon employed hardly any Haryanvis, local people were welcoming of them, becoming property agents, or paropty (property) agents as they would call themselves.

A small entrepreneurial and trading impulse developed too: some of India's fastest growing firms of late, DLF and India Bulls, for example, were built by Haryanvi Jat entrepreneurs and, inevitably, deal with land.

Underlying this sharing with the outsider was a simple fact. That political power remained with the Jats, or even if occasionally not Jats, native Haryanvis.

Bhajan Lal (a Bishnoi) ruled successfully but he was a Haryanvi who could get away pretending to be a Jat among Jats and non-Jat among others.

All other ruling dynasties in recent decades, Bansi Lal's, Devi Lal's and the Hoodas, are Jats.

Punjabis, Brahmins and Banias became the economic and social elite of urban Haryana while political power remained with the rural Jats.

That compact kept Haryana cohesive and peaceful, with two worlds within a small state.

One of Gurgaon and the other, say, of Kaithal, deep inside green revolution Jat heartland, not far from Captain Pawan Kumar's home.

The Bharatiya Janata Party's unexpected rise to power last year shook this up.

Haryana, which I once described as "In A Tearing Hurry-ana" given how impatient its young were for change and how impatient with Rahul Gandhi's povertarianism, voted for Narendra Modi.

But the BJP decided to challenge the basic postulate of the division of spoils and power by appointing a non-Jat chief minister and a Punjabi "refugee" at that.

His second most prominent colleague, Anil Vij is a Punjabi too.

The new DGP was a non-Jat and so were many others in key positions including the chief secretary.

Even the two new brand ambassadors for Haryana, "Baba" Ramdev and Parineeti Chopra, are non-Jats -- Yadav and Punjabi respectively.

The Jats saw all this as disenfranchisement. That is what built into this kind of anger. And what sparked it finally? The madness of a campaign run by another BJP MP, a Saini from Kurukshetra who started raising what he called an "OBC" army, asking for Jats to be crushed like Maoists, even calling them s..ne (in more colourful Hindi).
Do check out his official Facebook page and Google the videos.

The state government kept looking the other way, busy setting up gaushalas, gurukuls and making teaching the Gita compulsory in schools.
For the Jats, this was now a question of moochh.

Haryana then lived up to the dire warning from the Gurgaon cop to the well-heeled couple in Anushka Sharma's brilliant NH-10: "Your law, your Constitution, works in these 10 km. Outside, it is a different world altogether."

The worst ravaged parts of Haryana, including Rohtak, sit astride NH-10.