Kishore Singh salutes Akbar Padamsee, the legendary painter who passed into the ages last fortnight.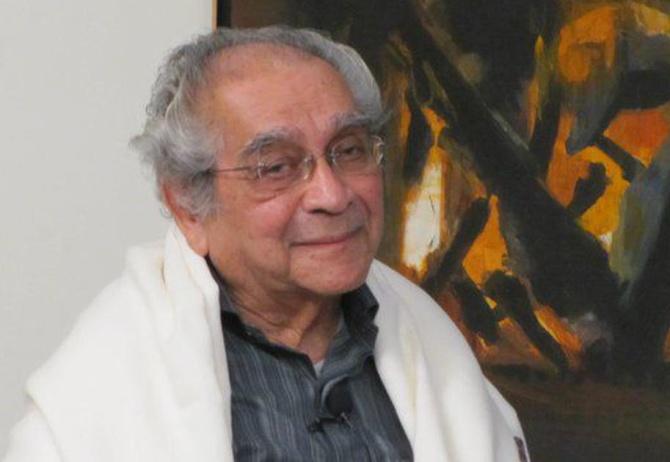 It is a pity that the first column of 2020 should begin with an obituary marking the passing of one of the last remaining giants of the Indian art world.
Ninety-one-year-old Akbar Padamsee went gently into the Coimbatore night, away from his home in Mumbai, but he did not go unmourned.
His was a familiar, gentle, even wise presence recognised by art lovers as not very different from the quietly melancholic faces of so many of his portraits of anonymous people rendered in a warm, orange haze.
His outings over the last years had become restricted; he spoke little and was wheelchair-bound; he carried his celebrity lightly around him.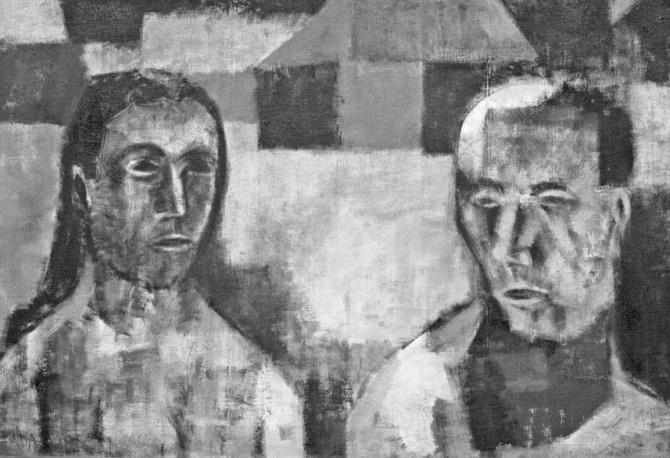 For Padamsee, unlike several of his peers from the Progressive Artists Group, lived to see his success as well as his contribution to the field of art.
Early in his career, he won a case for a series of paintings titled Lovers that had famously offended a visitor who filed a PIL against the denigration of Indian culture -- yes! -- but a progressive judge ruled that an artist must be allowed his expression of freedom, setting a legal precedent that kept artists outside the purview of prickly, thin-skinned prejudice.
At the time, Padamsee's work might have been mistaken for F N Souza's given the similarity in bold outlines and jewel-like tones that he subscribed to in his portraits of bearded, robed figures, and his landscapes -- with one exception: Padamsee did not have Souza's scathing sense of anger, and so his lines were strong but never savage, lacking violence.
His departure from the style followed soon after, paving the way for a practice that was distinctively his own.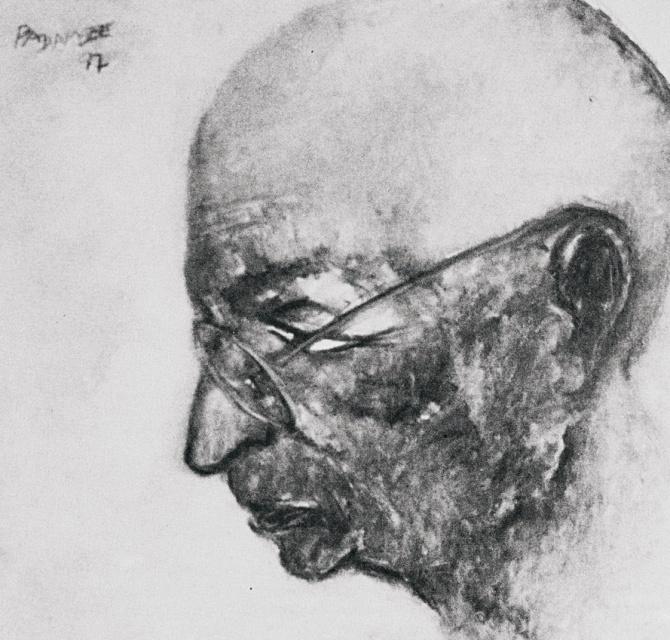 Before he arrived at his familiar style, it seemed that Padamsee wanted to purge himself of all that he had been doing thus far.
In 1960, he began work on his much-touted Grey Series, an almost ethereal body of works shorn of any pretence at colour, that was exhibited to critical acclaim.
His friend and fellow artist Krishen Khanna, then working with Grindlays Bank, bought the astonishing landscape that was printed on the invitation card, and it accompanied him on his travels and hung over his dining table for 55 years before being sold at an auction in 2016 for a record Rs 19 crore (Rs 190 million) to an Indian collector based in New York.
Even before, and since, his value has increased steadily. Khanna and Padamsee remained friends over the decades and Padamsee agreed to appear in a film on Khanna made for the Piramal Art Foundation a few years ago.
A nude from the same series is part of the collection of the Kiran Nadar Museum of Art.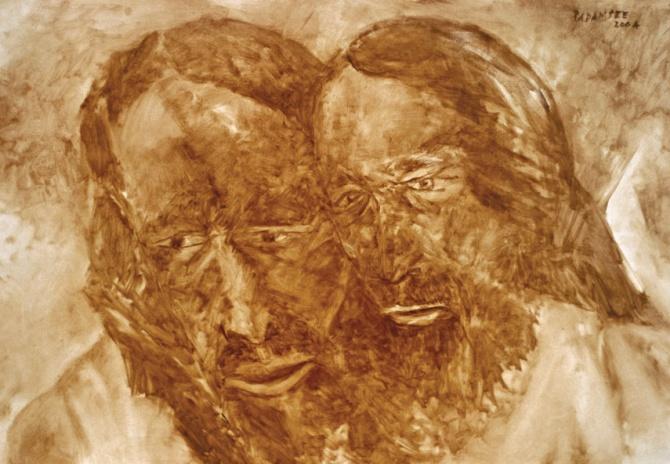 It was ironical then that Padamsee's metascapes, or abstract landscapes, teem so richly with colour.
Divided over planes, they allude to fantastical landscapes with flaming oranges, deep, tranquil blues and a heaved earth, but have a quality of tranquillity all the more amazing because of the turmoil.
This contradiction marked much of Padamsee's career who also turned to nude photography, using the magic of light, form and his favourite tones of black, white and grey to reach out to an entirely new -- and young -- audience seeking out these editions of his work.
Padamsee will go down as pensive, thoughtful, reserved -- that is how many of us who saw him infrequently and knew him from his work -- regarded him.
From his close circle of friends and admirers who vouch for his mirth, we know also of his enjoyment of conversations; fortunately, he has left behind a vast body of work to do the talking on his behalf.
Photographs: Kind courtesy AkbarPadamsee.net
---
Kishore Singh is a Delhi-based writer and art critic. These views are personal and do not reflect those of the organisation with which he is associated.