Manubhai, 79 now, is exhilarated about newer possibilities and prospects.
The past is done with; the future holds the key to evolving forms of exploration.
Kishore Singh salutes the Master.
Illustration: Dominic Xavier/Rediff.com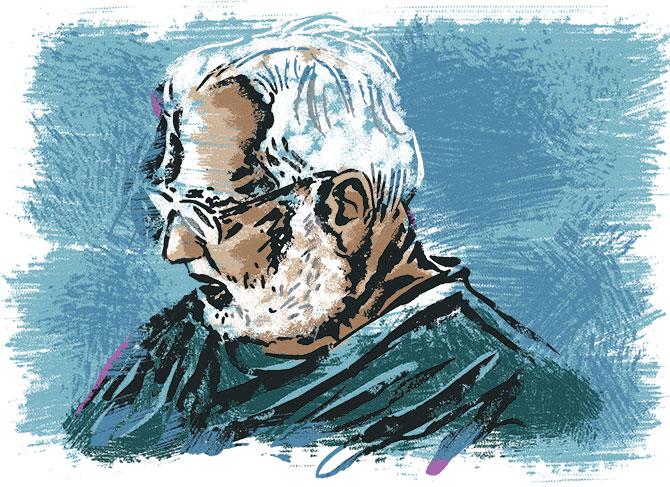 Slotting Manu Parekh the artist is almost as difficult as slotting Manu Parekh the person.
He's outspoken to a fault, but also warmly expressive.
He might occasionally rile his peers, but there's neither rancour, nor bile, only advice and affection.
He's never shied from praising the masters, those who have influenced him and those he admires, but he's equally dismissive of the antics of others whose talent he is prone to question.
He can hold students and young viewers in thrall because he talks openly to them about taboo subjects like sexuality, yet is conservative and even moral in his own life.
Whether in New Delhi, where he lives and works, or in Mumbai, where he has an apartment and a galaxy of collectors, or in Kolkata, a city that gave his career a second wind, he attracts and has several friends and enthusiasts.
In Mumbai, he recently celebrated 60 years of his career with a retrospective of his works at the National Gallery of Modern Art following a successful outing at NGMA New Delhi last year. I have heard it said that Manubhai has not got his due, and it is probably true.
Having grown up in Gujarat, studied and worked in Ahmedabad, been associated with Pupul Jayakar's Weavers Service Centre in Mumbai and Kolkata, the many nuances of his life and career were on view at the exhibition, but it needs Manubhai as a guide to enrich that experience.
Having tackled the vicissitudes of the textile and handicrafts trade that took him into India's embrace, he experienced epiphanies in Kolkata, where the great cultural traditions and links of the city with Durga and her many magnificent manifestations emboldened his art practice, his shift to New Delhi in 1974 resulting in a sterile lull till a visit to Banaras gave him a lifelong muse that has remained with him to this day.
Most art lovers know him for his Banaras landscapes, enigmatic glimpses of the city of temples with their shrines, the sanctums where the cycle of life and death is enacted in floral offerings, which is the inspiration for another equally fascinating, but abstracted, series on spirituality and fertility.
While these are commendable works and odes to India's cultural traditions, they fail to do him complete justice.
Before the respective retrospectives, I had a chance to spend time poring over his earlier works, and despite having some little knowledge of them, found them revelatory.
His earliest drawings are reminiscent of Paul Klee and William Kandinsky, followed by portraits, studies and heads that are a major development in his career, something that had gone unnoticed till recently.
It was from this that his series on the Bhagalpur blindings evolved, an indictment of social mores and responses in the 1980s.
And it is this he turned to when he planned one of the largest works of his career, an iteration of The Last Supper, which is overwhelming in scale but needs to be seen intimately to understand its true impact and context.
But Manubhai, 79 now, is exhilarated about newer possibilities and prospects.
The past is done with; the future holds the key to evolving forms of exploration.
Glimpses of it were on view at the Mumbai retrospective -- the multiple drawings in the rotunda, pages from his newfound passion for filling up pages in his sketchbooks, sometimes waking up in the middle of the night to paint.
What form will they take on canvas? The retrospective offers some suggestions.
Kishore Singh is a Delhi-based writer and art critic. These views are personal and do not reflect those of the organisation with which he is associated.