Tubes gone, Irom Sharmila the brand is dead. As long as she was trying to kill herself, she had value to the cynics trying to build their careers over her fast, says Shekhar Gupta.
Why would the turn in the Irom Sharmila story remind us of late Dev Anand's defining film of the 'sixties, Guide. By the way, I am using 'defining' rather than the more convenient 'iconic' as I banned that much-abused metaphor in my newsroom after I found it used for the Ajmer Sharif dargah.
Sharmila's story should remind some of us of Guide, precisely because we are the children of the 'sixties. It was the decade of much trouble, but also one marked by politics of fast-unto-death -- Punjabi Suba's Sant Fateh Singh being the most prominent usual suspect.
The film, based on R K Narayan's book by the same name, has Dev Anand, just out of jail for forgery, take refuge in a rural temple, in a drought year. The villagers see him as a younger sadhu who the divine has sent to bring them rain.
But only if he fasts until the rain gods melt. Exactly as they had heard in their folklore. Dev Anand, or Raju, the guide, argues desperately that he's no divine gift but a convict. He is suckered in, as nobody's willing to listen.
A lot of the most poignant concluding scenes of that film, are of a delirious, dying Raju talking to himself. He wants to live, even tries to steal the prasad kept in front of him, knows the futility of what he's doing, but yet can't escape.
In one of those brilliant conversations with himself, he asks, "Why would the clouds be bothered with my desperate hunger?" But escaping would break hearts so he stays the course, and dies -- as a hero because rains come, perfectly timed, reaffirming the folklore.
It was half-a-century ago, and it was a movie. Times have changed. Well-meaning people, sometimes victims of circumstances, ego, social pressures, lure of stardom, still get tricked into putting their lives on the line, using this most suicidal form of democratic protest called fast-unto-death, indefinite fast or simply, in Anna Hazare-speak, anshan.
But nobody is willing to die any more. Not for you and your cause, no matter how much you hail them as a hero. They love fame and glory but, it seems, they'd settle for a lesser prize, say a Maha Vir Chakra alive than a Param Vir Chakra posthumously. Jaan hai, toh jahan hai (if I live, the world is mine).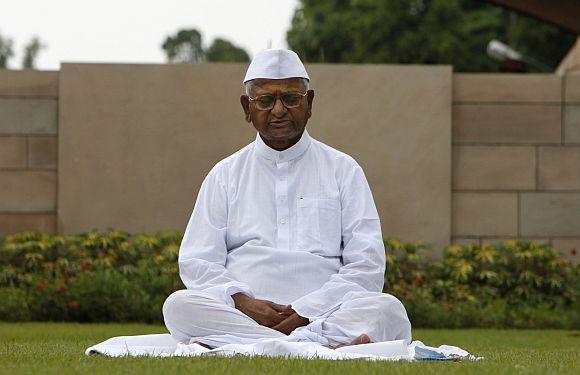 IMAGE: While those around Anna Hazare's fast have attained high political office, the Gandhian is a forgotten man today.
This is precisely the thought that came to Sharmila's mind. With frazzled hair, tubes in her nostrils and a contorted face she became the mascot of a cause, a worthy one, but more a cause for those who built entire careers out of it: Activists, civil rights NGOs, full-time, one-issue television talking heads, even for media companies and television channels that cynically invited her for their gala events to confer on her their many awards, but won't send a reporter to Manipur to tell the rest of the country of its continuing tragedy.
They all needed the Irom Sharmila with the tubes, the archetype. A 'normal' face doesn't work for any of them and for different reasons. For career activists, because she can now speak for herself, denying them the benefit of being her cause's spokespeople. And for the media, simply because, as any brand manager worth her annual bonus will tell you, brands live and die by their archetypes.
Tubes gone, Irom Sharmila the brand is dead. As long as she was trying to kill herself, she had value.
Now she wants to contest elections, become chief minister, win her cause by removing Armed Forces (Special Powers) Act in Manipur. How boring. Is she so stupid as to not know that the state government has no power to lift AFSPA? Or maybe she is smarter than you think, and reads newspapers and knows that in the neighbouring Tripura, a brilliant chief minister (Manik Sarkar) has worked with the Centre to lift AFSPA, police station by police station in his insurgency-hit state.
If all her fans and admirers, even family, have dumped Sharmila, she should take comfort in the fact she isn't the only one. Ever since fasting emerged as a weapon of democratic mass coercion, gullible but courageous people have been exploited by cleverer vested interests, from usual political power-seekers to more exotic causerati.
This reflects in that popular Hindi heartland slogan: 'So-and-so, tum sangharsh karo, hum tumhare saath hain (you put your life on the line, I'm with you)'. And meanwhile, please order me a pizza from Domino's, extra cheese and pepperoni and Diet Coke.
Let's take two recent, and more familiar examples. Anna Hazare's famous 12-day anshan at Ramlila Maidan left him so frail that he went straight to NCR's finest private hospital from the venue and then to recuperate at Jindal Naturecure Institute, the most popular fat-farm of the rich elites in India, though that is incidental.
But, while he fasted, his own people said that one of his key lieutenants, Swami Agnivesh, was 'collaborating' with the government. Hazare had begun to see the light, but his ego was still there, so he sat on another fast a year later at Jantar Mantar but insisted that other key followers -- Arvind Kejriwal, Manish Sisodia and Gopal Rai -- join him. This lasted 10 days, and was broken by our 24th army chief, recently retired then.
Not much later we saw an ugly spat between the former army chief and Rai on live television at Hazare's Ralegan Siddhi Ashram. The third fast, in Mumbai, was even shorter. Very few people came to attend it, and since he had by now realised that his 'followers' saw no loss, and much gain in him making the 'supreme sacrifice', Hazare happily accepted the chief minister's intervention and returned to his pavilion, and oblivion.
Check out television clips of debates on that period. All activists were unhappy he had broken his fast, although only Medha Patkar had the honesty to say so unhesitatingly. So, Anna tum sangharsh karo…
Hazare survived, yet managed to do plenty for his followers. They are now in high government positions, one has built a corporate empire to rival Nestlé, another is a minister with the Bharatiya Janata Party. The holy accountant to the nation who provided fuel for his campaign, liberally loaded with his notional 'zeroes' in losses, now is a national hero and has a couple of post-retirement assignments from this government.
But no one bothers to even make a routine visit to Hazare, not even on the fifth anniversary of his great fast, which just passed us by. Nobody even thanks him for bringing them to power, or even promise to fight for his Jan Lokpal. Hazare only has the satisfaction of having realised in time, jaan hai toh jahaan hai…
Our last example is an ongoing one: Activist Medha Patkar. I have failed to keep count of the number of times she has threatened to go on a fast, or actually sat on one. Even Google and Wiki are fixed. But each one has ended well before it could do her any damage, never mind that no big cause she fought for has been achieved.
First signs of the monsoon, and you will expect her name to pop up from somewhere on the banks of the Narmada, in Madhya Pradesh usually because Gujarat wasn't so welcoming. There will be fasts, jal-samadhis (drowning in waters filling the dams) and then press conferences.
At least she seems to know well, what Sharmila took 16 years realising and Hazare took about a month (cumulatively, over three fasts) and something that foul-mouthed General Patton famously said, at least in the movie: "No bastard ever won a war by dying for his country. He won it by making some other poor dumb bastard die for his country."
So message from Sharmila, as from Hazare and Patkar lately, is the same: You love your cause, you die for it.
Postscript: Since we started with Dev Anand's Guide: In Narayanan's book, the fasting guide dies but there is no rain. In the movie, Dev Anand told me, he was forced by financiers to ensure rain actually came. Who'd accept Dev Anand starving to death for nothing.
Also read:
'I have become more fearless'
The tragedy of being Irom Sharmila