'There is no evidence of newspapers and television channels ganging up to wage a coordinated war to expose the BSP, destroy the AIADMK, malign Kejriwal, discredit Lalu or defame Mamata.'
'But it's of interest that none of these exposés threatens the 12 states the BJP controls,' says Sunanda K Datta-Ray.
Illustration: Uttam Ghosh/Rediff.com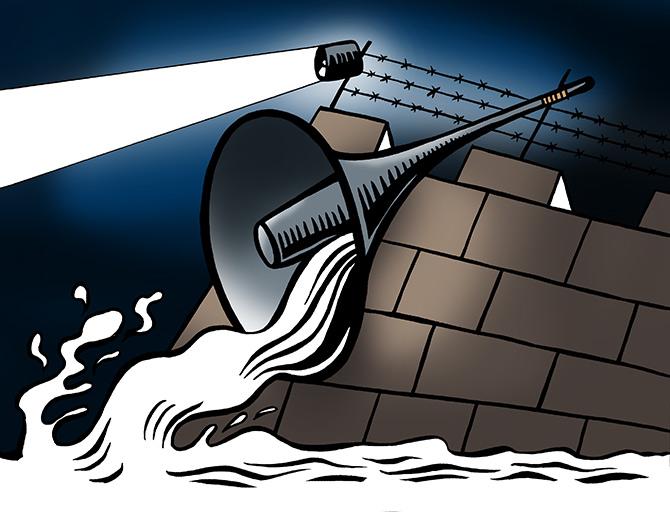 Watching the exciting personal political dramas that are suddenly unfolding on our usually rather staid television channels and wading through details of controversies and crises in the newspapers, I am reminded of the media revelations that were laced into the death rattle of the old Soviet Union.
Not that the Union of India is similarly collapsing, but there do seem to be some remarkable similarities between the interplay of media and politics in the two countries.
The journalists I met in Moscow, Tbilisi, Kiev and what was still Leningrad, although destined to return soon to St Petersburg, in 1989 or 1990 spoke proudly of their brave exploits in exposing Communist repression and highlighting the defiance of unknown heroes and heroines.
I was shown newspaper clippings and regaled with stories that were in turn chilling and exhilarating.
Editors pulled out bulky files of documents that supported their stories.
With my Russian restricted to about "Na zdorovie", I couldn't make head or tail of any of this, but recognised from the summaries that the stories were explosive.
What were the official repercussions after publication? None, I was told.
How did they get hold of such incriminating documents regarding arrests, secret trials, torture and imprisonment?
Moscow sent them, they said, adding the one word Mikhail Gorbachev made famous, Glasnost (openness).
The explanation confirmed my old-fashioned suspicion that there is no such thing as a journalistic scoop.
Every scoop is, in fact, a leak.
There's a Deep Throat with a motive behind every startling disclosure about a leading politician's land speculation, black money or sex life.
Older readers may recall Deep Throat was the pseudonym The Washington Post gave to the shadowy official who provided secret information to two Post reporters, Bob Woodward and Carl Bernstein, about Richard Nixon's complicity in the Watergate scandal.
Many of my colleagues will bristle at this dismissal.
Only recently, when I happened to mention a Delhi newspaper's detailed account of the so-called 'surgical strike' across the Line of Control, a well-known magazine editor scoffed, "That was a ministry plant!"
True enough, but almost all stories on terrorism in Jammu and Kashmir and certainly all on cross-border operations are plants. They are based on official briefings.
In the days when I occasionally dropped in at the government spokesman's informal briefings, I was always surprised at how much the media knew but didn't publish because it hadn't been told to.
Given the pugnacious new spirit of patriotism that is abroad, the media is often even more the willing mouthpiece of ultra-nationalistic authority.
The pattern becomes clearer if the targets are considered.
Titillating tales of Mayawati and her former aide Naseemudin Siddiqui accusing each other of corruption, and the latter being expelled from the party, don't enhance the Bahujan Samaj Party's image.
The Aam Aadmi Party is permanently on the boil. Arvind Kejriwal had already sacked two luminaries before the former water and culture minister, Kapil Mishra, plunged the party into a new scandal by claiming to have seen with his own eyes the health minister, Satyendra Jain, stuffing a bribe of more than Rs 2 crore into Kejriwal's pocket.
I wondered if Mishra counted the notes and how he knew it was a bribe.
Also, can a minister bribe his boss?
As for the AAP's Kumar Vishwas, no one seems to know whether he is coming or going or only singing Koi Deewana Kehta Hai.
Mamata Banerjee totters from one ponzi scam to another.
Naveen Patnaik in Odisha just totters.
An already battered Congress may be left reeling if Shashi Tharoor is brought low.
With a saffron-draped monk in charge of Uttar Pradesh, the cow belt's other bastion may also collapse if property speculation charges can be stuck on Lalu Prasad.
Down south, Tamil Nadu's ruling All India Anna Dravida Munnetra Kazhagam is torn between the jailed Sasikala and the former chief minister, O Panneerselvam, with the late J Jayalalithaa's niece Deepa lurking hopefully in the wings.
A Dalit student's suicide and police excesses cast a shadow over Pinarayi Vijayan's first anniversary in Kerala.
Congress-ruled Karnataka's euphemism for kickbacks is 'diary politics'.
These are all separate stories.
There is no evidence of newspapers and television channels ganging up to wage a coordinated war to expose the Bahujan Samaj Party, destroy the AIADMK, malign Kejriwal, discredit Prasad or defame Banerjee.
But it's of interest that none of these exposés threatens the 12 states the Bharatiya Janata Party controls.
That's why my mind turns to the Soviet twilight and the information that was leaked to the media because of glasnost.