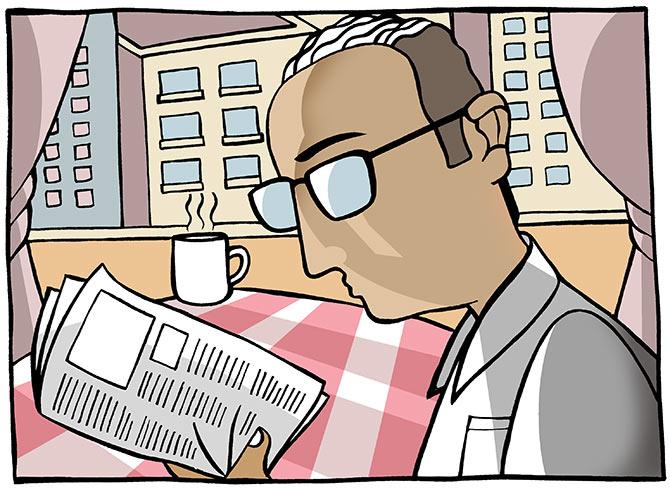 'There are different ways in which some are lucky through their lives. My great boon has been serendipity,' says Subir Roy.
Illustration: Uttam Ghosh/Rediff.com
I was overjoyed when I cast my first glance at the morning paper: Raghavan Srinivasan had been made editor of his newspaper. It was a long journey, one which began nearly three decades ago.
The vice-chairman, who was just getting the hang of his domain, had a novel proposition for me. Could I take a look at this youngster from the marketing department and see if he would fit the bill in editorial -- or at least the part of it which I oversaw? The youngster wanted to leave as he didn't find his job exciting, and the vice-chairman saw something in him which made him (the vice-chairman) want to keep the fellow back.
The vice-chairman was younger than most of us whom he had brought into the Delhi office laterally to usher in a generation change in the formidable old institution. He used us as the medium through which he tried out his ideas -- sometimes strikingly innovative, sometimes simply far out.
A regular senior editor of the paper would have thrown a fit on facing such a proposition, considering the upper-caste attitude that scribes had towards the management people in their organisations.
Very early in our conversation, Mr Srinivasan (whom we called 'Srini') told me that I had just published a letter by him in the 'Letters to the Editor' column which I was then overseeing. I had no difficulty in placing the letter, and made up my mind there and then.
If a fellow could pen such a well-written piece which bore testimony to his command over language and logic and his interest in current affairs, then I would take him on.
That's how it all began, I mused as I sipped my early morning tea. Not too long thereafter he truly earned his spurs. There was a staff shortage in the business section in Mumbai and I asked him to go camp there and help out. And what do you know, he played a key role -- in fact the most important initial one -- in unearthing the Harshad Mehta scandal!
As we both moved on it came back to me that Mr Srinivasan's wide reading, well beyond his professional sphere, was causing him to be unduly discursive when in professional conversations you needed to make your point and get on to the next item on the agenda.
Being a bit of a Wodehousian dilettante made for great company, but it was not good for his career, friends worried. As is now clear, we need not have.
Being focused also gives you tunnel vision which makes you miss the bigger picture, so necessary if you need to define a vision for an entire paper.
Serendipity, in fact, had kept its hand on my shoulder from several years earlier. The new paper that we oversaw in Kolkata sought to challenge the formidable old voice of the establishment and believed in keeping its doors wide open for ideas and bright youngsters to walk in without feeling intimidated. And they often did.
My desk in the big hall -- there were no isolationist cabins then -- was one of the first ports of call for all who thought they had a view and could put it down on paper.
Running the editorial page, I got a lot of articles which simply walked in with their authors. And one day there was this bright looking youngster who said he was still an undergraduate (albeit in one of Delhi's leading colleges) and would I look at what he had typed out. I did, liked it, and there it was on the opinion pages soon.
Rahul Jacob never looked back: He went round the world to work for the planet's best known publications, came back home for a time to find out what makes Indian tongues wag today, and is now off to work for another global name at the best listening post for keeping a watch on perhaps the most critical country in the world -- looking out at China from Hong Kong, the expat scribe there immortalised by John le Carre's 'Old Craw.'
In the new paper, it was also my job to most often write the single editorial that the paper carried. As I also had to clear the opinion page copy, I hit upon a stratagem. I would ask one of the young reporters to go to the library, consult the clippings files (the internet had not yet arrived) on a particular topic and bring back a few points which I would write up as an edit.
Then one day I was in for a big surprise. One of the bright young reporters in the business section was sent off to the library all right, but came back with something quite different -- a complete and comprehensive piece neatly typed over one-and-a-half pages, the usual length for an edit. My job was done, I did not have to rewrite and Joydeep Bose wrote his first edit very early in his twenties.
When I moved to Delhi, the vice-chairman asked for names of bright youngsters we, the newcomers, had worked with and Mr Bose ('Jojo') was prominent on my list. At the interview the vice-chairman liked him immediately and the rest is history.
There are different ways in which some are lucky through their lives. My great boon has been serendipity.
Raghavan Srinivasan is The Hindu BusinessLine's new Editor. Rahul Jacob was a senior editor at Business Standard until recently. Joydeep Bose is the top-most editor at The Times of India group.