'China has refused to act upon the threat posed by Pakistan using terrorism as an instrument of its foreign policy.' says Rajeev Sharma.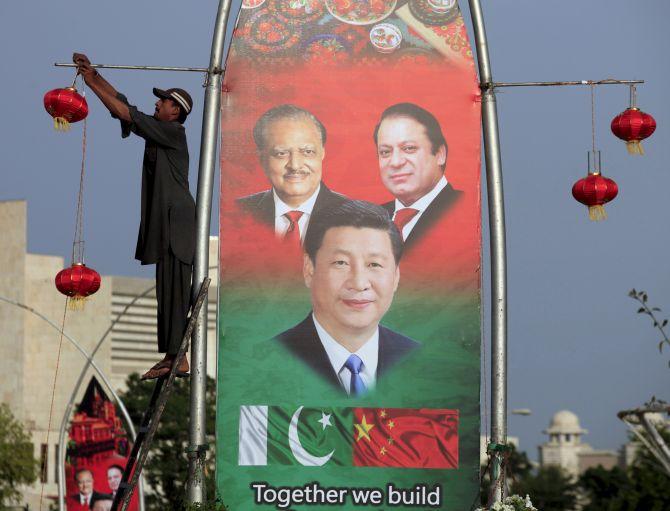 As Prime Minister Narendra Modi's Pakistan policy threatens to reach a dead end, his government's strategic and diplomatic narrative will soon going to shift to Pakistan's 'all weather' friend: China.
National Security Advisor Ajit Doval is Modi's interlocutor for both Pakistan and China. The NSA will soon don his diplomatic hat and reach out to China.
Doval will travel to China, not merely as a Special Representative for the India-China boundary talks, but for a much larger role as the PM's special envoy to discuss a wider gamut of bilateral relations.
Pakistan will be one of his core thrust areas during his interactions with his Chinese counterparts this month.
Doval was scheduled to visit China in the first week of January, but canceled his trip after the terror attack on the Pathankot airbase.
The diplomatic scenario has changed since then and the already complicated India-Pakistan-China triangle has become messier with China bailing out Pakistan before a UN committee last week over the issue of notorious terrorist Masood Azhar.
On Thursday, March 31, China intervened a couple of hours before the expiry of the deadline on India's resolution before the UN Sanctions Committee seeking a ban on Azhar, who heads the terror outfit Jaish-e-Mohammed, whom India has accused of being the main conspirator behind the Pathankot attack.
China blocked India's bid on technical grounds. Significantly, it was the fourth time in the past 18 months when China has saved Pakistan from major embarrassment before the UN Sanctions Committee.
China had earlier blocked Indian resolutions to outlaw Azhar and another Pakistan-based terrorist Syed Salahuddin, chairman of the United Jehad Council.
China also blocked India's resolution in the UN Sanctions Committee for action against Pakistan for contravening UN Resolution 1267 after Lashkar-e-Tayiba terrorist Zaki-ur Rehman Lakhvi, a prime accused in the 26/11 Mumbai terror attacks, was released on bail.
The Chinese conduct before the UN committee last week came as a shocker and a lesson for India. A shocker because India had engaged China continuously at the bilateral diplomatic level in New Delhi and Beijing and at the multilateral diplomatic level in New York for over two months after the Pathankot attack.
A lesson because despite intense and sustained engagement, China has continued with its old policy and refused to acknowledge and act upon the larger threat posed to the world, including to China, by Pakistan's questionable conduct of using terrorism as an instrument of its foreign policy.
The Modi government's interactions with two key neighbours -- Pakistan and China -- is being handled by the Prime Minister's Office, not the ministry of external affairs.
Doval has a tough and delicate task cut out for him as China is increasingly wary of the Modi government's foreign policy. I had flagged this in an earlier column wherein the warning emanating from Beijing was that India should be wary of the China-Pakistan axis.
It is now apparent that the Modi government's diplomatic efforts in the United Nations to seek action against Pakistan for its various sins of omission and commission on the terror front have hit the China Wall.
India has engaged robustly with Pakistan's three biggest friends -- China, Saudi Arabia and the United States, in that order of importance from Islamabad's viewpoint. China has proved to be the most difficult customer for India.
China has demonstrated to India that the road to diplomatic action against Pakistan on the terror issue or any other issue goes from Beijing, not New York.
Rajeev Sharma is an independent journalist and strategic analyst who tweets@Kishkindha
IMAGE: An Islamabad street is spruced up for Xi Jinping's visit to Pakistan last year.