'Mr Trump is too capricious to be trusted,' says Sunanda K Datta-Ray.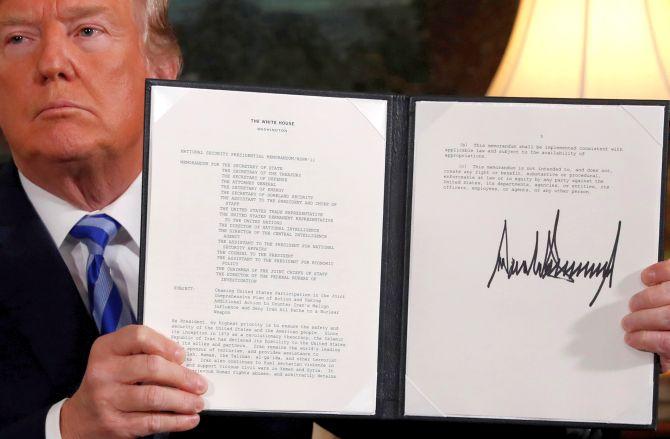 Donald Trump looked sulky and stubborn as he made his mark on the memorandum to pull the United States out of the Joint Comprehensive Plan of Action, known as the Iran nuclear deal.
Graphology experts, especially those specialising in forensic analysis of signatures, would no doubt find the US president's broad-nibbed black hieroglyphics pregnant with meaning. But looking at the heavy features and pouting lips, I wondered what might persuade him not to rush towards another West Asian conflagration.
As Pascal reminded posterity, the history of the world would have been different if Cleopatra's nose had been shorter or longer.
Some claim that being blackballed by the Allahabad Club drove Jawaharlal Nehru into nationalist politics.
The light on the road to Damascus for Mohandas Karamchand Gandhi was being thrown out of the first class compartment of a South African train.
Small events can have large consequences.
If Iran's president, Hassan Rouhani, sought the 'real, comprehensive and lasting solution' Mr Trump says he yearns for -- instead of the 'decaying and rotten structure' Barack Obama had saddled him with -- he might have found a way of worming his way into the US president's heart.
Diplomacy being the art of the impossible, the obvious means would be to encourage Jared Kushner to convert 82 million Iranians -- as he converted his wife -- to Judaism.
The president's personable young son-in-law is a man of parts.
If Israel's prime minister, Binyamin Netanyahu, is his best foreign friend, his second best friend abroad is Crown Prince Mohammed bin Salman of Saudi Arabia.
The prince may not have demanded the 95 per cent of Iranians who are Shias crossing the theological divide to become Sunnis.
As a pragmatist, he might be content if Mr Rouhani ditches Hadi Al-Amri, the Shi'ite militia chief who was a strong contender for power in the May 12 parliamentary election in Iraq, swings his missiles against Bashar al-Assad's forces in Syria instead of against the rebels, and if Iran's Revolutionary Guards attack Saudi Arabia's Houthi opponents in Yemen.
The Israelis, Saudis and American might also insist on the US Fifth Fleet being as free in the Persian Gulf as in Pearl Harbour.
The law of the sea being of special interest to both sides, Mr Rouhani might ask Donald Trump Jr to deliver in Iran the speech on 'Reshaping Indo-Pacific ties: the new era of cooperation' that Americans wouldn't allow him to deliver in India even though India was quite happy to hear it. Americans protested Trump Jr had no right to speak on policy.
When politics fails, there's always commerce.
If Calcutta can boast a Trump Tower, Tehran should be a forest of the glass and marble high-rises that are an improvement on the restaurants and hotels that made grandaddy Frederick Trump's fortune during the Yukon Gold Rush.
Mr Rouhani might find it even more rewarding to take a leaf from Narendra D Modi's book and invite Ivanka Trump to speak on women's rights.
Twelve-year-old Barron Trump might be 'strong', 'smart', 'tough', 'vicious' and 'violent' -- his doting daddy's flattering adjectives — but Ivanka is the favourite.
Beyond the family, Mr Trump has given the stunned Teresa May, Angela Merkel and Emmanuel Macron a chance of showing him up as a paper tiger.
Six parties signed the pact with Iran: Regardless of the president's bluster and bullying, it can be business as usual for the three European allies, Russia and China.
All seven nations know that the glibness with which Bill Clinton and George H W Bush testified that Pakistan wasn't developing the bomb, and the fervour with which George W Bush swore that Iraq was, that American policy decisions are seldom rooted in truth or morality.
Even American newspapers reported that Pakistani-Americans had raised substantial funds to smoothen the way for a waiver that would end the ban on military aid and sales.
They also know how counter-productive Mr Trump's tantrum might turn out to be.
It might deal a snub to his predecessor and pander to Riyadh and Tel Aviv, but it also warns Mr Trump is too capricious to be trusted.
His only achievement is to have pushed the unwelcome story of $130,000 of hush money being paid to a pornographic film actress off the front pages.
As a beaming Mr Trump basks in the glory of three American prisoners returning from North Korea, Kim Jong Un is probably wondering whether to go ahead with an agreement with a capricious head of government who doesn't know the difference between statecraft and showbiz.