Considering the common linkages, high-level trust, complementarities, and convergent interests between the two nations, Malaysia has the potential to become India's key partner in Southeast Asia, says Dr Rahul Mishra.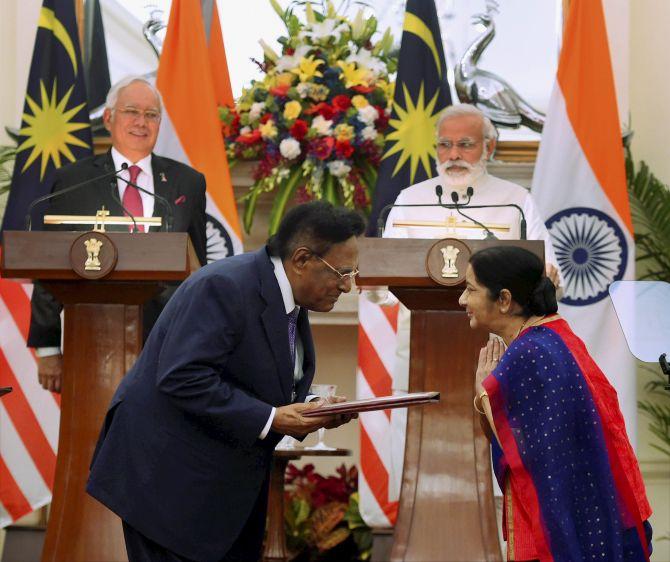 Image: Prime Minister Narendra Modi with his Malaysian counterpart, Najib Razak, looks on as External Affairs Minister Sushma Swaraj exchanges documents at Hyderabad House, in New Delhi on April 1, 2017. Photograph: Shahbaz Khan/PTI Photo.
Malaysia holds a special place in India's ties with the Southeast Asian countries.
In the formative years of independent Malaysia, India supported it on every front, to the extent of almost upsetting the other Southeast Asian countries. The relationship has strengthened over the years but not without witnessing periods of lull.
Through its Look East, Act East policy, India has rejuvenated ties with Malaysia. Prime Minister Narendra Modi's 2015 visit was a major landmark in that effort.
Reciprocating that visit, Malaysian Prime Minister Najib Tun Razak has undertaken a six-day state visit to India that ends on April 4.
He kickstarted his visit by meeting with Tamil Nadu Governor Ch Vidyasagar Rao and Chief Minister Edappadi K Palanisami. He also attended a business meeting organised by the Malaysian Associated Indian Chamber of Commerce and Industry and met with the Malaysian diaspora in Chennai.
He wrapped up his TN visit by meeting Tamil superstar Rajinikanth at his residence in Chennai on March 31.
After spending a day-and-a-half in Tamil Nadu, Prime Minister Razak headed to New Delhi for his political engagements. He is expected to conclude his visit in Jaipur, Rajasthan, and take stock of Malaysian investments in infrastructure projects worth US$ 1.2-1.4 billion.
There have been regular high level exchanges between the two countries, and this is Prime Minister Razak's third visit to India since 2010.
From the Indian side, former prime minister Manmohan Singh visited Malaysia in 2010, when both sides agreed to elevate the bilateral relationship to the level of strategic partnership.
In 2015, Prime Minister Modi paid an official visit to the Southeast Asian country which led to the establishment of 'enhanced strategic partnership'.
Taking place against the backdrop of the 60th anniversary of India-Malaysia diplomatic relations, the visit by Prime Minister Razak is timely and significant.
Razak's India visit is an indication of the success of India's Act East policy and its remarkable equation with the Southeast Asian country. Indonesian Prime Minister Joko Widodo's visit to India in December 2016 too is a case in point.
This year also marks the 25th anniversary of the India-ASEAN dialogue partnership. Therefore, it is vital for India to not only engage the Association of Southeast Asian Nations but also focus on relations with individual countries in the region.
Economic diplomacy has been at the forefront of Prime Minister Modi's foreign policy, something which several countries including Malaysia have been appreciative of. Naturally, therefore, the prime focus of Prime Minister Razak's visit is to strengthen economic ties with India, and he is accompanied by a strong business delegation.
Malaysia sees India as a strong economic partner in the South Asian region. With two-way trade of US$ 12.79 billion in 2015-16, India was Malaysia's 10th largest trading partner.
However, bilateral trade has been falling and is currently much below potential. It has gone down from US$ 16.93 billion in 2014-15, but the trade deficit remained almost the same. In 2014-15, it stood at US$ 5.3 billion, and US$ 5.03 billion in 2015-16.
With respect to investment, India is Malaysia's 20th largest source of investment with a total investment of US$ 2.3 billion, against US$ 7 billion from Malaysia into India.
During Razak's visit, both sides will be deliberating upon possible options to improve investment opportunities. In addition, India wants the multilateral economic arrangement, Regional Comprehensive Economic Partnership, to be concluded at the earliest which would allow it to integrate further with the East Asian economic mechanism.
Knowing the standing of individual Southeast Asian countries as well as ASEAN is crucial for India.
Prime Minister Razak is sensitive to the point that Malaysia is home to seven percent Malaysians of Indian (mainly Tamil) origin, and is keen to make this a 'major plus' in Indo-Malaysian ties.
As of 2015, there were as many as 1,70,000 Tamils living in Malaysia. This visit will help rekindle the people-to-people ties between the two countries. It will not only allow the Malaysian leadership to get closer to the Indian diaspora, but will also be help India reach out to its people in Malaysia.
In fact, Prime Minister Razak's Chennai visit and his meeting with Rajinikanth are part of wooing Indian-origin Malaysians and to highlight the commonalities between the two countries.
Both sides should finalise the much-awaited air service agreement which would boost air connectivity and tourism in India as well as Malaysia.
Both the countries are firm believers in making the United Nations a truly international forum. In the 2015 joint communiqué, Malaysia took note of India's aspirations for permanent membership of a reformed United Nations Security Council.
Given that the Asia-Pacific region is in a state of strategic uncertainty, with the United States' changing approach towards the region and China's increasing assertiveness, countries such as Malaysia are looking for opportunities to deal with common challenges, traditional as well as non-traditional, in a peaceful manner.
Undeniably, given its size and image of being a benign power in the region, India is an important part of the efforts to make the region peaceful and prosperous.
Referring to freedom of navigation and urging parties to resolve disputes through peaceful means under the United Nations Conventions on the Law of the Sea in the joint statement is an indication of this.
While India-Malaysia defence ties are considerably strong, both sides need to ensure that exchanges between defence personnel are strengthened through regular joint military exercises and dialogue at various tiers. Malaysia is one of India's significant defence partners for India, and robust ties with Malaysia are vital to the success of India's positioning in the Indo-Pacific region.
Considering the common linkages, high-level trust, complementarities, and convergent interests, Malaysia has the potential to become India's key partner in Southeast Asia.
What India needs to do in order to improve its standing in Malaysia and in the region, is to show more sincerity in improving trade and investment ties, and fast-track the implementation of pending regional and intra-regional infrastructure and connectivity projects.
Dr Rahul Mishra is a Delhi-based strategic affairs expert.