'New Delhi feels that given the internal dynamics in Pakistan and the overwhelming powers wielded by the army, one will have to wait for better times to see any meaningful progress in the India-Pakistan relationship,' says Ambassador G Parthasarthy.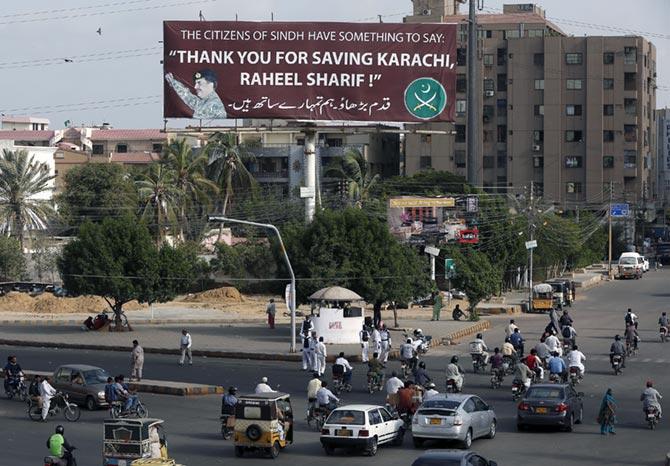 IMAGE: General Raheel Sharif -- seen here on a billboard in Karachi -- is the de facto ruler of Pakistan, says G Parthasarthy, with Nawaz Sharif the lameduck prime minister. Photograph: Akhtar Soomro/Reuters
Over the past two months, both India and Pakistan have marked the 50th anniversary of the 1965 conflict with great gusto. While the conflict was militarily inconclusive, it proved a diplomatic disaster for Pakistan.
Pakistan's ally, the United States, was furious that its military ruler, Field Marshal Ayub Khan, egged on by his then foreign minister Zulfiqar Ali Bhutto, triggered the dangerous conflict.
The Pakistan government, using armed infiltrators, the army and sophisticated US supplied weapons, including tanks and fighter aircraft, sought to militarily seize control of Jammu and Kashmir.
In undertaking his military misadventure, Ayub did not anticipate India's readiness to escalate and widen the conflict zone. The Indian Army went on the offensive crossing the cease-fire line and seizing strategic positions in Pakistan occupied Kashmir. Washington responded by cutting off all arms assistance to Pakistan.
While Pakistan lost its principal arms supplier, India developed a robust military partnership with the Soviet Union, to decisively defeat Pakistan in the Bangladesh conflict, six years later, in December 1971.
After failing to achieve his objective of seizing control of Jammu and Kashmir militarily, President Ayub Khan sought to urge the UN to arrange a plebiscite in the state. He forgot that Pakistan itself had rendered the key 1948 UN Security Council Resolution redundant and un-implementable, by refusing to withdraw its army from the state, as required by the UN Resolution.
By the end of the 1950s, the world had lost interest on the issue, deeming it as intractable, because of the absence of agreement between the two parties.
The Simla Agreement signed in 1972 after the Bangladesh conflict, by then prime ministers Indira Gandhi and Zulfiqar Ali Bhutto, stated that the issue of J&K would be settled by bilaterally between India and Pakistan, discarding recourse to earlier UN Resolutions.
Despite the provisions of the Simla Agreement, Pakistan chose to enact a diplomatic soap opera in annual sessions of the UN General Assembly by demanding UN action to resolve the Kashmir issue.
India routinely responded by pointing out that the issue had to be settled bilaterally. No permanent member of the UN Security Council has shown any interest in taking up the issue in the absence of consent by both parties.
Things were, however, different this year, as Prime Minister Nawaz Sharif decided to visit New York to launch a diplomatic offensive against India. Apart from blaming India for recent tensions on the borders, Pakistan chose to formally level allegations against India for promoting terrorism in its Sind, Baluchistan and the Khyber Pakhtunkhwa Provinces. India was also accused of sabotaging a mutually agreed upon dialogue, on all issues.
New Delhi, in turn, had concluded that Sharif had become a 'lame duck' prime minister, merely presenting the views of his hawkish army chief General Raheel Sharif, who had become the de facto ruler of the country. This became evident when Nawaz Sharif was forced by the army establishment to discard his plans to promote trade and energy cooperation with India.
Worse still, Sharif had to go back on what he agreed to in his meeting with Mr Narendra Modi in Ufa, for a dialogue between the national security advisers, border paramilitary chiefs and directors general of military operations, focusing on measures to end cross border terrorism, infiltration and cease fire violations.
India's response in New York to Sharif's, army-driven proposals, was aimed at firmly telling the Pakistan army that there could be no talks on issues other than restoring peace and tranquility along the borders and ending infiltration and terrorism.
Nawaz Sharif's four-point 'peace initiative' in New York was crafted on entirely predictable lines. He called for measures to formalise and respect a 2003 cease-fire understanding. He conveniently forgot to mention that this cease-fire understanding was accompanied by a categorical assurance from President Musharraf (which Musharraf largely observed when in office) that 'territory under Pakistan's control would not be used for terrorism against India.'
Sharif also sought an agreement that neither side would resort to force in any circumstances. This was seen in New Delhi as a proposal, which sought to give Pakistan the freedom to continue terrorist strikes across India as it had done in Mumbai and tie India's hand, by agreeing not to undertake retribution.
There was also a predictable call to 'demilitarise' Kashmir, thus giving Pakistan the freedom to achieve what it failed to achieve in 1965 and in Kargil in 1999.
External Affairs Minister Sushma Swaraj delivered New Delhi's response two days later. Responding to Sharif's 'Four Points,' she bluntly said: 'We do not need four points, we need just one -- give up terrorism and let us sit down and talk.' She reiterated what the two prime ministers had agreed to when they met in UFA asserting: 'Let us hold talks at the level of national security advisers on all issues connected to terrorism and an early meeting of our directors general of military operations to address the situation on the border. If the response is serious and credible, India is prepared to address all outstanding issues through a bilateral dialogue.'
India responded to Pakistan's call to 'de-militarise' by asking it to first 'de-terrorise' its policies.
More importantly, for the fist time, India declared in New York that the only issue to be discussed with Pakistan in resolving Jammu and Kashmir was the withdrawal of Pakistani forces from areas of the state occupied by it. This was primarily a reiteration of the unanimous resolution passed by Parliament in 1994.
These developments have come at a time when India has moved ahead in rapidly expanding economic and energy ties and widening road and rail connectivity across South Asia. Pakistan is, in fact widely perceived, to be hindering moves for economic integration in South Asia.
There is also widespread recognition and appreciation of India's expanding cooperation with countries across East and Southeast Asia, ranging from Japan and China, to Vietnam and Singapore.
In these circumstances, New Delhi feels that given the internal dynamics in Pakistan and the overwhelming powers wielded by the army, one will have to wait for better times to see any meaningful progress in the India-Pakistan relationship.
The offer for a dialogue on the terms the two prime ministers agreed to recently, is, of course, always open.
Ambassador G Parthasarthy served as a captain in the Indian Army during the 1965 War before joining the Indian Foreign Service. He was India's high commissioner in Pakistan (1998 to 2000) when General Pervez Musharraf seized power on October 12, 1999.