We knew from the moment the pandemic took hold that this would be a long haul -- at least 12 to 18 months.
Nothing should have changed that assessment, says Mihir S Sharma.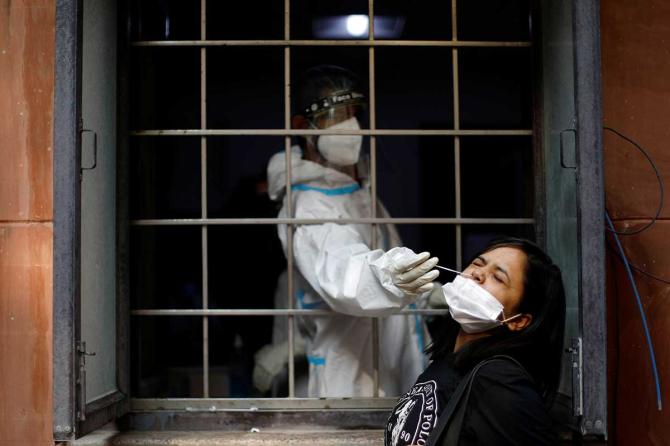 The government and some public health experts are confident that the first wave of the coronavirus has peaked in India.
Daily infections have dropped by about 20 per cent in the past three weeks.
Even the epidemiologists in the Union finance ministry have gotten into the act, saying in its economic review for September that 'India may have crossed the peak of Covid cases' during the period from September 17 to 30.
Maharashtra in particular has seen a clear decline in mid-September of almost 40 per cent in terms of its new cases.
There are four reasons to feel dubious about this assessment.
First, larger countries such as India -- or the United States -- may not have easily distinguishable, single peaks.
In the US, the experience was clear: An initial peak for the more globalised states in the north-eastern seaboard, and then another surge in the southern states later in the summer.
In India, my Observer Research Foundation colleague Oommen Kurien has said that we similarly need to be aware of the possibility of multiple trajectories, and that national averages and trends can conceal as much as they reveal.
The second reason is that India's testing is not up to par; although we do not know the exact proportion, a large number of the tests that India is conducting are the rapid antigen tests, which can provide false negatives, and not the far more accurate RT-PCR tests. (The prime minister himself has urged more RT-PCRs.)
The high test positivity rates in several states suggest that we are not testing enough.
The third reason is that now community transmission might well be occurring in areas of the country less able to deal with a sudden surge of cases than Mumbai, Delhi, or the prosperous south.
The New York Times, reporting from rural India last week, pointed out that the stigma associated with testing positive has caused many to try and avoid tests or conceal infections.
In India's villages, according to the Times, 'many people behave as if there is no coronavirus. Even many police officers who have been empowered to enforce the pandemic rules are not wearing masks.<'/p>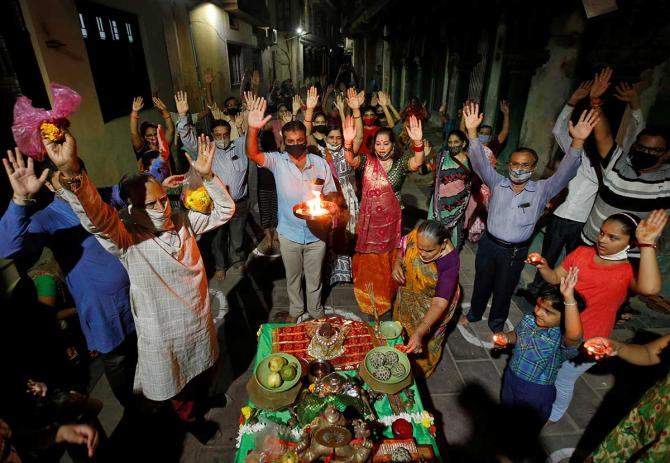 The fourth reason is the approaching festive season.
This is a complex issue to deal with anywhere in the world.
Even in the United States, New York City is seeing demonstrations by ultra-orthodox members of the Jewish community in response to public health-related crackdowns on religious gatherings.
In India, where religion has taken on such political salience over the past years, managing the festive season amid ballooning infections will be a particular problem.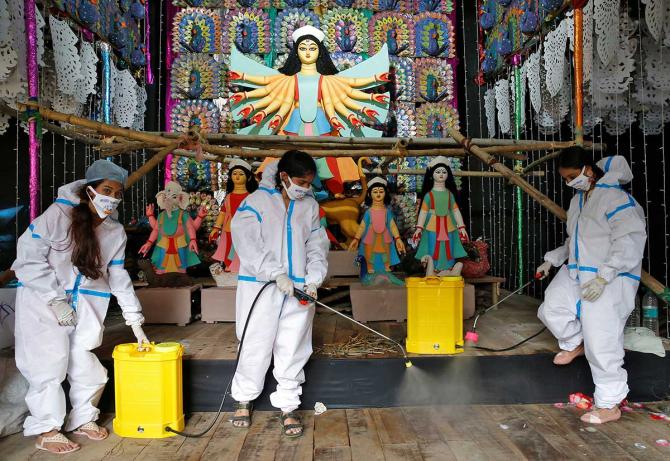 In West Bengal, for example, doctors fear the Durga Puja season -- which is unusually late this year -- will cause in explosion in transmission.
Even half a dozen super-spreader events in any of the 40,000 pandals would burden the state's health infrastructure beyond its capabilities.
The Medical College on College Street in Kolkata wrote to the director of the state's health services, warning that 26 of its staff were quarantined or hospitalised for Covid, and more doctors were desperately needed.
Already, in the run-up to Puja -- as festive-season shopping begins -- the test positivity rate has shot up from 6.6 per cent to 8.3 per cent, alongside a 70 per cent spike in new cases in Kolkata.
The state's doctors have warned Chief Minister Mamata Banerjee of a 'tsunami' of infections if Durga Puja celebrations are not carried out responsibly.
They point out the 750 per cent spike in Kerala after Onam; that Gujarat cancelled garba during Navratri; and that even in West Bengal Eid and Muharram were low-key.
Yet if the West Bengal government had sought to control how Durga Puja was celebrated, they would have almost certainly faced a backlash led by the Bharatiya Janata Party.
The West Bengal BJP chief, Dilip Ghosh, has already dabbled in pandemic denial, saying in early September that 'Corona is over, but Didi is unnecessarily imposing lockdown across the state to stop BJP from holding meetings and rallies'.
Given the febrile nature of India's politics, few state governments are going to risk unpopularity by doing what is right.
All in all, it is hard to feel confident about the next few months.
The virus remains at large.
It is spreading into those parts of India that are the least prepared for it.
Fatigue has set in with lockdowns, norms are largely being ignored, and pandemic denial is taking root in parts of the country.
Political unity on public health measures is hard to discern.
This is the context in which we must evaluate overoptimistic claims about 'peaking', or about a broad-based economic recovery.
We knew from the moment the pandemic took hold that this would be a long haul -- at least 12 to 18 months.
Nothing should have changed that assessment.
Feature Presentation: Ashish Narsale/Rediff.com