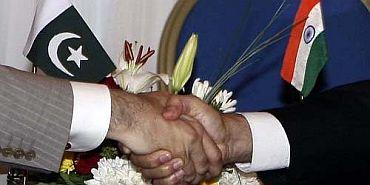 While Prime Minister Modi may pursue the laudable aim of building a cooperative relationship with Pakistan, he and his advisers should never think that concessions (and dialogue is a concession in itself) will change the Pakistan army's approach to India, says Ambassador Vivek Katju.
The major purpose of Foreign Secretary S Jaishankar's Saarc Yatra is about Prime Minister Narendra Modi's general desire to 'push the bilateral agenda' with Pakistan and not the promotion of cooperation in Saarc.
The wish to improve relations with Pakistan is good, but wishes by themselves are meaningless unless there is clarity of vision regarding the agenda backed by stamina and perseverance. Pakistan is clear about what it wants from the foreign secretary's visit; however, Indian policy-makers have not given any specific indications of what they want to achieve from the visit.
Sartaj Aziz, Pakistan's national security advisor, recently said that India had to take the first step to resume the dialogue because it had suspended it last August. As Modi took the initiative to call Pakistan Prime Minister Nawaz Sharif and inform him of Jaishankar's visit, Pakistan has no doubt interpreted the move as a vindication of its stand.
This is notwithstanding any assurance it may have quietly given that its representatives will not meet the Hurriyat before an India-Pakistan official engagement.
The Pakistan army, the arbiters of the country's India policy, will certainly be convinced that Modi is no different from his predecessors and all his strong words on Pakistan are merely bluff and bluster for eventually he too has had to climb down and engage in dialogue. It is possible that the Pakistan may publicly, though subtly, project this impression too.
Pakistan's second aim is to show that while the dialogue may resume, it will robustly respond to the 'provocation' of Indian forces along the International Border and the Line of Control in Jammu and Kashmir.
While touring the posts in the Sialkot area, Pakistan army chief General Raheel Sharif said on February 26: 'Let there be no doubt that any provocation along the LoC and the Working Boundary will meet a befitting response.' He was a sending a signal as much to the Pakistani public as to India.
Pakistan's third objective is to ensure that the structure of the dialogue remains unchanged. This dialogue format goes back to 1998 when it was called the composite dialogue. It included eight areas, including the outstanding issues of Jammu and Kashmir, Siachen, Sir Creek, and the Tulbul Navigation Project.
There were also the issues of peace and security as well as terrorism and narcotics. The last two subjects dealt with trade and an omnibus 'friendly exchanges in various fields.'
Some cosmetic changes were introduced at India's insistence when the dialogue was resumed after the hiatus brought about by 26/11. Pakistan has always focussed on the resolution of outstanding issues and has shown no interest in developing cooperative mechanisms.
It has sought to use the dialogue to highlight the so-called human rights violations in Jammu and Kashmir and has really desired that the Indian Army vacates its positions on the SaltoroRange in Siachen.
The Pakistan foreign ministry spokesperson has said while there was no specific agenda for the talks all issues will be discussed between Jaishankar and his counterpart Aizaz Ahmad Chaudhry. Predictably she focussed on Jammu and Kashmir, Sir Creek and Siachen. The Pakistan media has carried a report, obviously based on an official leak, that India too had agreed to discuss all issues.
Meanwhile, the MEA spokesman has told the media that India is ready to discuss all issues with Pakistan in accordance with the Simla Agreement.
Does all this mean that Jaishankar will not focus on how to resume the dialogue and its future structure but will undertake substantive talks on all outstanding issues, precisely what the Pakistanis want?
This will obviously be a major concession to Pakistan. It will also be at variance with the brief given to Jaishankar's predecessor when she was to visit Pakistan last August, a visit that was correctly cancelled because Pakistan High Commissioner to India Abdul Basit met the Hurriyat despite India's objections on the eve of the visit.
Pakistan is in deep and all round difficulties, but its army continues to view this country as an eternal threat and therefore as an eternal enemy. Thus, while Modi may pursue the laudable aim of building a cooperative relationship with Pakistan he and his advisers should never think that concessions (and dialogue is a concession in itself) will change the Pakistan army's approach to India.
In this context it is important that a firm message is given diplomatically by India by seeking a change in the issues listed in the dialogue structure.
One issue that needs to be dropped is Siachen. Indian forces have been on the Saltoro heights for over three decades. There is a consensus in India for a number of years now that Indian forces cannot afford to leave their posts for many reasons including the growing Chinese presence in the Northern Areas of PoK.
Instead of keeping the charade of discussing the issue India should insist on its exclusion. The temptation that Pakistan may offer of resolving the Sir Creek issue with a resolution of Siachen should be avoided at all costs.
There is a suspicion that Modi's present move has been because of the People's Democratic Party view on the need to open a dialogue with Pakistan. This impression was strengthened when Mufti Mohammad Sayeed told the media after meeting Modi on February 27 that it was necessary to engage Pakistan in order to achieve the dream shared by the prime minister and him of converting the state into an 'island of peace.'
This approach is completely misplaced and dangerous for our national interest. It would give Pakistan a role in the state when it should have no part to play in what is an internal matter of India.
We have to discuss Jammu and Kashmir with Pakistan, but that is about its illegal and forcible occupation of a part of the state. That is what the Simla Agreement is about, not consolidating Pakistan's intrusive instruments in the state.
The PDP-BJP government in Jammu and Kashmir is a welcome development, but Mr Modi needs to forthrightly reject what Mufti Saeed has said on the India-Pakistan engagement.
Ultimately, India-Pakistan ties are hostage to the medieval mindset of the Pakistani establishment and the jihadi thought which is growing rather than diminishing in Pakistani society. Till these remain, the establishment of cooperative relations between the two countries will remain elusive.
Vivek Katju was India's ambassador to Afghanistan, Myanmar and Thailand.
REDIFF RECOMMENDS