'More than anything else, it is pragmatism that is working out in Jammu and Kashmir. It is not a question of convenience, but getting together and understanding that no other better option can work.'
'The very fact that it has taken two months of hard negotiations obviously means that they have taken a very mature approach. This shows the seriousness of intent and statesman-like qualities that they both have displayed.'
'We live in a turbulent environment, a turbulent neighbourhood and what is happening right from West Asia -- from where the winds of ideology are flowing to Afghanistan to Pakistan's internal conflict -- all this has a ripple effect on Kashmir.'
'Therefore, we cannot afford under any circumstances to treat this security situation as something permanent. This can revert to almost what was before in a matter of time,' says Lieutenant General Syed Ata Hasnain (retd).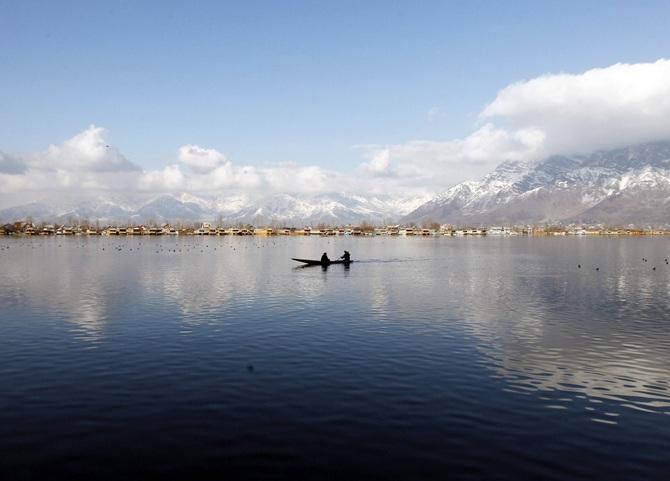 Image: The Dal Lake in Srinagar. Photograph: Danish Ismail/Reuters
Many firsts occurred at the General Zorawar Singh auditorium at Jammu University on March 1, 2015.
Two parties -- the People's Democratic Party and the Bharatiya Janata Party -- from two ends of the political spectrum with divergent ideologies came together to form a new government.
The BJP made its maiden entry into a government in India's only Muslim majority state, Jammu and Kashmir.
The event saw the culmination of a poll exercise where for the first time in 25 years, Jammu and Kashmir saw its highest voter turnout -- indicating how the state's politics has progressed along with the improved security situation.
Many have called this a watershed moment for Jammu and Kashmir. Is it really one or is it another marriage of two radically divergent parties headed for turbulence?
How are the aspirations of its diverse regions going to be met and, most crucially, is the improved security situation going to last?
To get a sense of these issues and what lies ahead, Rediff.com sought Lieutenant General Syed Ata Hasnain (retd) to understand Jammu and Kashmir's real challenges.

A distinguished officer who served seven tenures of distinguished military duty in Jammu and Kashmir, which includes all the three regions of the state -- Jammu, Kashmir and Ladakh -- the general has an astute understanding of the political, social, economic, security and has a reach to the people.

General Hasnain commanded a brigade, then a division and was subsequently General Officer Commanding of the Srinagar based XV Corps.
He spoke to Archana Masih/Rediff.com about why there is reason to be positive about the state's politics; cautious about pulling back the army because it would be premature to deduce that two years of relative peace in a 25-year conflict means permanent peace; and why this is the opportune moment for strengthening grassroots democracy in Jammu and Kashmir.
The first of a two-part interview:
This is being seen as a watershed moment in Jammu and Kashmir politics -- two parties from two ends of the political spectrum coming together to form a government, is this a moment of history or is just another political marriage of convenience?
Whether it is a moment in history will finally be decided by history itself when we see how successful this entire experiment is.
Notwithstanding, I don't think we should be negative. Under the circumstances, 2008 was actually the watershed year.
Most people are not giving any significance to that year when the Amarnath Shrine Board agitation resulted in the fall of the then PDP-Congress government and a National Conference-Congress government came into place in 2009.
It was the first time Jammu got an understanding of its own political power. If you remember there was a huge standoff between Kashmir and the Jammu region and from then onwards Jammu has been always clamouring for its own voice.
In previous governments, it was as if Jammu had a representation, but a political voice commensurate to its strength was never existent.
The 2014 election changed a lot of things.
For the first time you found a very strong politically empowered Jammu, and a strong politically empowered Srinagar -- the PDP in Kashmir, the BJP in Jammu and very coincidentally the Congress in Ladakh.
So Ladakh is also on the fringes of political empowerment.
More than anything else, it is pragmatism that is working out in Jammu and Kashmir. It is not a question of convenience, but getting together and understanding that no other better option can work.
In the national interest, this is the best formula that can happen. All issues that are supposedly insolvable for so many years should be put on the back burner at the moment. They should be looked at by various empowered committees and the one single point agenda for both parties should be development and nothing else.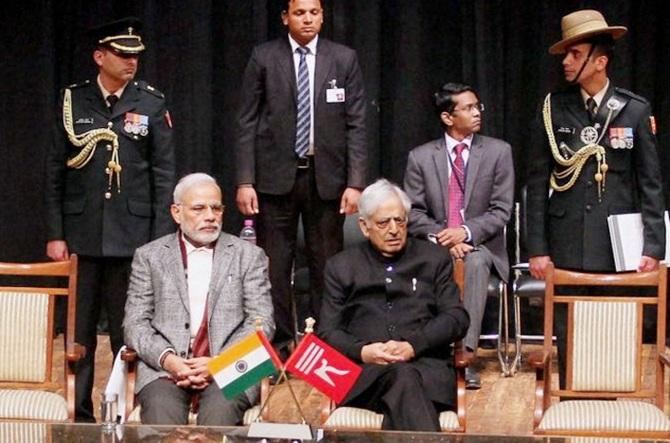 Image: Prime Minister Narendra Modi with Jammu and Kashmir Chief Minister Mufti Mohammad Sayeed at the swearing-in ceremony in Jammu, March 1, 2015. Photograph: PTI
Mufti Mohammed Sayeed himself and the PDP have been vociferous critics of Narendra Modi in the past, being so ideologically divergent, do you think a lasting political relationship is possible?
That is where statesmanship will come in.
The very fact that it has taken two months of hard negotiations obviously means that they have taken a very mature approach. This shows the seriousness of intent and statesman-like qualities that they both have displayed.
I don't want to be negative about it because for me as a J&K observer, there is no better formula.
If this fails, you go back to Governor's Rule again and a re-election. Governor's rule is a good thing in terms of governance, no doubt, but what is lost out is grassroots politics.
Jammu and Kashmir has been missing grassroots politics for far too long. The impression in the rest of India is that you have a political mandate and it is normal politics like any other part of India, it is not so in most of Jammu and Kashmir.
In majority of the J&K region, the security situation for so many years has been such that politicians have not been able to actually involve themselves in politics. Like go down to the grassroots and mingle with the people, take feedback -- this has not happened in the way it happens in true democracies.
It is an opportune moment for it.
Jammu and Kashmir saw its highest ever turnout in 25 years in the state election. How empowered do you think a Kashmiri in the village feels today?
This is something that is improving over time. Take 1996 as a base figure -- which was the first experimental ballot after the problem started in 1989.
We tried to return to democracy in 1996 and had a very poor turnout.
Although a democratically elected Farooq Abdullah government was established at that time.
Then in the Lok Sabha election of 1999, 2002 and onwards, there were pockets of very good turnout like the Line of Control areas of Uri and Gurez, while in the ethnic Kashmiri areas in the Valley floor, the turnout was 5 and 7 per cent. This has progressively improved.
2014 has been a game changer. Both in the April and December polls, there was a huge turnout. I ascribe that to an excitement towards grassroots politics.
The 2011 panchayat election should also not be forgotten which also saw a very good turnout, but unfortunately the politicians did not deliver on that.
Panchayati raj has not really been established in J&K, but that gave a taste to people that they had a hand in ensuring their own government.
That is why you will find more and more people turning up to vote at the polls because it essentially becomes a social and economic agenda.
To a large extent, the lack of energy by the separatist groups also contributed to these elections. The fact that there was lesser negativity from the separatists witnessed through this election.
A huge expectation has been generated and down to the villages of the Kashmir Valley, people are feeling much more empowered today.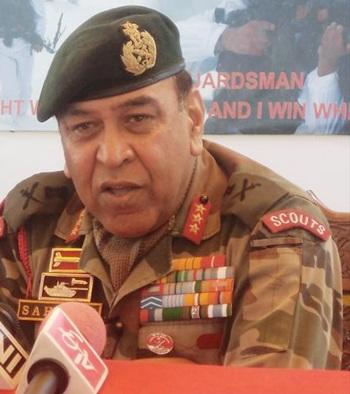 What are some of the biggest challenges the PDP and the BJP will face towards addressing conflict in the region?
Conflict is the major challenge because from that flows everything.
Conflict or lack of conflict will dictate how much the government can do at the grassroots level.
The outreach, the ability of administrators to move around without much fear, all this will depend on the security situation.
The security situation is under control. Infiltration is well under control by the army.
The hinterland areas like Jammu is almost entirely normal, the Valley is near normal because you have a very small terrorist footprint and more importantly, you have a very small presence of terrorist leaders in the hinterland.
The only fear is that this kind of situation has been existent for about two years or so and in a long drawn out internal conflict lasting 25 years, it would be premature to come to deductions on trying to presume that two years of relative peace is permanent peace. It is not so.
We live in a turbulent environment, a turbulent neighbourhood and what is happening right from West Asia -- from where the winds of ideology are flowing to Afghanistan to Pakistan's internal conflict -- all this has a ripple effect on Kashmir.
Therefore, we cannot afford under any circumstances to treat this security situation as something permanent. This can revert to almost what was before in a matter of time.
Image: Lieutenant General Syed Ata Hasnain has served seven tenures in Jammu and Kashmir -- from Kargil, Poonch, Siachen, Chushul to Uri, Baramullah and Awantipur. He commanded the XV Corps in Srinagar.
In 2008, we thought we were having a wonderful tourist season in Kashmir and overnight the trigger of the Amarnath Shrine Board issue resulted in turbulence on the streets of Kashmir for the next three years. So it can't be presumed that everything will be secured for the future.
Part II of this interview: 'The killing of the last terrorist is most problematic'
REDIFF RECOMMENDS