The tearing hurry to form theatre commands has to be replaced by a balanced and deliberate approach.
We need to accept that this process will take time if executed correctly and in the best interests of the Indian armed forces, argues Commodore Venugopal Menon (retd).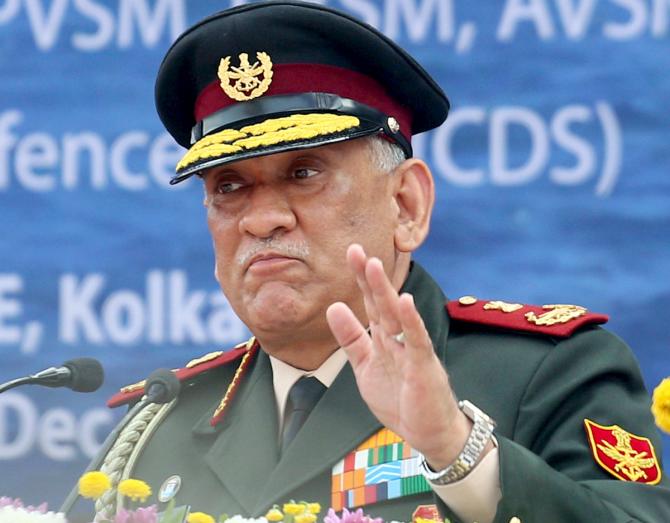 The Government of India had appointed the Chief of Defence Staff in January 2020 as the professional head of the Indian armed forces, the senior-most uniformed military advisor and head of the Department of Military Affairs under the ministry of defence.
In the Integrated Defence Staff, the CDS is Chairman of the Joint Commanders and Staff Committee.
In today's era of hybrid warfare, CDS would play a major role in coordination between the three services, tri-service effectiveness and integration of overall combat capabilities of Indian armed forces.
The Defence Secretary remains as the main defence advisor whilst the CDS has the role of single-point military advisor to the defence minister and government.
The CDS is a four-star general who is first among equals with the service chiefs and is the permanent Chairperson of the Chiefs of Staff Committee.
Some of the important functions of the CDS:
Integration of operations of the Indian Army, Indian Air Force and Indian Navy.
Bring about jointness and ensure optimal utilisation of infrastructure in the three services.
Authority to create theatre commands when needed.
Based on the above charter, the CDS is targeting reorganisation of the command structure of existing commands to theatre commands by 2022.
I would critically examine whether the foundation pillars of our armed forces are robust enough to undergo a paradigm shift in our command structure.
Based on open-source information, it is understood that five theatre commands are envisaged -- Northern Command, Western Command, Peninsular Command, Air Defence Command and Maritime Command.
It may be noted that even these nomenclatures differ between sources and hence I would refrain from commenting on the reorganisation process without analysing the fine print which is not yet finalised.
I would limit my focus on certain key issues -- Career profile of our officer cadre, Training, Infrastructure, Resources and Strategic Aspects which would directly affect the reorganizsation process.
Concept of Theatre Commands
An integrated theatre command envisages a unified command of the three services under a single commander for geographical theatres that are of strategic and security concern.
The commander of such a force will be able to bring to bear resources at his disposal from all services with seamless efficacy to achieve the strategic aim.
The term theatre of operations is an American concept and is defined as land areas and sea areas to be defended or invaded in geographical theatres including areas necessary for administrative activities incident to military operations.
Based on this concept, the world is divided into different geographic theatres to protect US interests overseas, provide a security umbrella for allies overseas, and power projection.
It makes sense for US defence strategy which is focused mainly on their strategic interests overseas as they do not foresee any threat to the homeland.
The US military is divided into unified combatant commands.
A unified combatant command is a joint military command of the US department of defence that is composed of units from two or more service branches of the armed forces.
There are currently 11 unified commands which are organised on a geographical basis or on functional basis -- for instance, Special operations.
Currently, seven combatant commands are designated as geographical commands and four are designated as functional commands.
Each unified combatant command is led by a combatant commander who is a four-star general or admiral.
The combatant commanders are entrusted with command authority over assigned forces regardless of branch of service.
The chain of command for operational purposes flows from the Americann president through the US secretary of defence to the combatant commanders.
It may be noted that the chairman, joint chiefs of staff does not exercise operational control over theatre commanders in the US system.
A look at the US example of a theatre/combatant command would reveal that there is a significant difference between the command and control and concept of operations followed in the US and the current Indian system.
In the absence of a well-defined National Security Strategy, it is difficult to comment on the specific role of theatre commands with reference to our overall military strategy.
However, there are certain aspects that meet the eye.
US defence strategy is a result of their foreign policy objectives which is focused on overseas bases, geographic areas of interest, security umbrella to allies overseas, big-power competition, and power projection.
None of the factors is applicable in our context currently and for the foreseeable future, but for the term areas of interest which is not clearly defined except for statements by officials during seminars/conferences.
Even those statements lack consistency in their content and vary with forums.
Our main threat perception is land centric, from China and Pakistan.
Chinese engagement in the Indian Ocean has resulted in the Indian establishment looking at the maritime domain with concern of late.
Before we migrate to the theatre command concept, we need a realistic vision document on our strategic interests and based on that, the specific roles that the theatre commands are required to perform could be defined.
Training
An officer in the Indian armed forces undergoes professional training at all stages of his career.
Needless to say, the syllabus is structured on the current military doctrines that the rmed forces are adhering to.
The course content followed at the Defence Services Staff College and the War College is mainly focused on the requirement of individual services.
The curriculum needs to be restructured to include a high element of joint operations capsule so that officers at the middle-level career are professionally competent to be seconded to sister services in operational and headquarters level assignments.
The exposure gained through cross attachments to sister services would put them in good stead and prepare them to take up assignments in the envisaged theatre commands.
Military Doctrines
Indian armed forces concept of operations (CONOPS) is basically driven by the doctrines and tactics followed by individual services.
We have less experience in joint operations except in amphibious warfare which is also limited.
Tactics employed in military operations are evolved out of military doctrines.
Currently, the doctrines are based on individual service concept of operations except for an amphibious warfare doctrine; we have limited documentation on doctrines focused on joint operations.
It is pertinent to note that flawed doctrines can lead to disastrous consequences in an operation.
Hence, it is vital that this critical facet be focused on priority before migrating to theatre commands.
Joint operations military doctrines are to be formulated and analysed in detail by professional institutions like the Defence Services Staff College, War Colleges, and College of Defence Management in addition to specialised agencies of the three services.
Thereafter, the final version has to be simulated and war-gamed to validate its efficacy with utmost due diligence.
In my view, the period of one year that has elapsed post setting up of the CDS organization is too short to have formulated any joint operations doctrines after following the due diligence process.
Can we migrate to the joint operations warfare concept without a validated military doctrine? The answer is NO.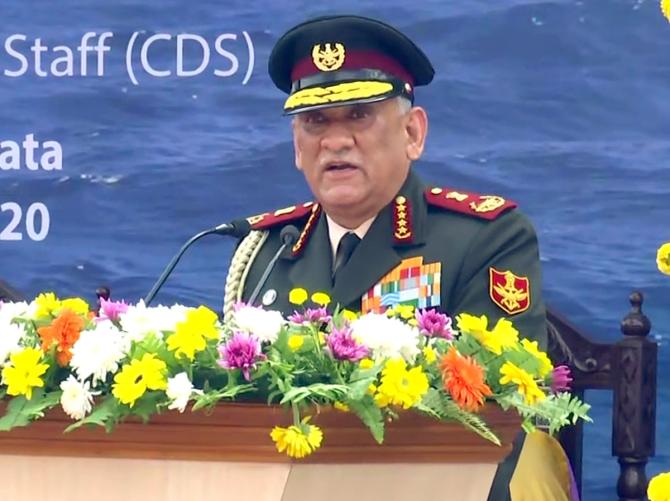 Career Profile
The right man for the right job is applicable in all professions including the armed forces.
In other words, the career profile of an officer should pave the way for his/her future progression.
Currently, we follow a rigid system that is typically catered to individual service criteria.
This system would not suit the professional requirements of a theatre command.
I am of the view that the armed forces consider this vital aspect and modify the career profile to meet future challenges of joint operations.
Formation of theatre commands warrants qualified and experienced personnel in joint operations to be positioned in important assignments.
It takes time to build expertise and select a pool of officers to gradually lay the foundation for joint operations which are envisaged in future wars.
Resources and Infrastructure
It is important that allocation of resources and infrastructure to theatre commands should ideally flow out of threat perceptions and military strategy for joint operations.
In this regard, we should also note that our threat perceptions in the northern borders are land centric which is dealt with by the Indian Army and Indian Air Force.
The involvement of three services is only limited to the maritime domain.
A mere rejig of resources is not the answer as it may comply with political directives for achieving short term objectives but may turn out futile in the long term.
Additional budgetary allocation to build capacity is inescapable before migrating to theatre commands.
Each country has a time tested command structure of armed forces in place which have been designed based on a grand strategy, threat perceptions, geography and nature of wars.
Modern warfare undoubtedly would require greater synergy between the services for joint operations.
However, the restructuring of the command system to meet the challenges has to be undertaken in a gradual and deliberate manner.
Quick-fix solutions to suit a political agenda or a strategy to reduce defence expenditure by sharing of resources could prove counterproductive and disastrous in the long run.
Our intent of creating a tri-services command in the Andaman and Nicobar islands has not been very successful because of the reluctance of individual services to allocate resources.
I am of the view that before we migrate into the theatr ecommand concept, it would be worthwhile to study and analyse the problems experienced at our tri-services command at the A&N islands as a test case and make sure that the same is not repeated whilst undertaking the reorganization.
Proposed Way Ahead
1. We have managed to fight three declared wars and one Limited Intensity Conflict without a National Security Strategy thus far.
This may not be possible in future as the dimensions of modern warfare have changed exponentially.
Our system has to change with times and the National Security Strategy should play a significant role in formulating our military strategy to meet future threats.
Allocation of resources to each theatre command would also depend on the threat perceptions formulated by the National Security Strategy.
Hence it is imperative that the government works towards the formulation of a NSS and ratifying it as per laid down procedure.
2. Military doctrine is the bible for operations and it is vital that doctrines focused on joint operations are to be formulated based on our National Security Strategy on priority before setting up theatre commands.
3. There is an urgent need to review the training syllabi/course content at the Defence Services Staff College, War Colleges, and College of Defence Management to focus on joint operations based on newly formulated joint operations doctrines.
4. The career profiles of our officers are tailored to meet individual service requirements.
The need of the hour is to restructure the same to meet the complexities of joint operations.
A suggested model would be to identify a pool of officers from the three services during the staff course at the Defence Services Staff College for cross attachment with sister services.
Ideally, these officers should form a separate stream to specialise in joint operations and their career profile should be structured by the Integrated Defence Staff HQ.
This is a complex task and each service may need to be flexible to accommodate this requirement.
Our concept is different which is centred on threat perceptions in the immediate neighbourhood.
Hence, a radical change in career profile is inescapable at the initial stages to build the core of specialised officers for the new system.
Critics may argue that the issues highlighted above would be addressed after the reorganisation is completed.
In my view, the foundation has to be strong for the construction of a building and its long life.
On the same note, an organisation assumes its strength from the quality of personnel who man it, the reliability of its resources, the documents that outline its functioning and the higher directives that govern it.
These critical aspects need to be addressed in earnest before we attempt the reorganiSation process.
The tearing hurry to form theatre commands seems to have been catalysed by the Chinese incursions in Ladakh and the support the move has galvanised from senior military veterans and analysts.
This euphoria has to be replaced by a balanced and deliberate approach.
We need to accept that this process will take time if executed correctly and in the best interests of the Indian armed forces.
Commodore Venugopal Menon served in the Indian Navy for 29 years in operational roles, including commands at sea, and training and staff assignments at Naval HQ.
In addition to the staff and war courses in the Indian Navy, he underwent the executive course at the Asia Pacific Centre for Security Studies, Honolulu.
Post retirement he worked in Oman as the head of operations and logistics for a shipping company.
Feature Presentation: Rajesh Alva/Rediff.com